Spring has officially sprung! And you know what that means for us at College Fashion? That's right, Spring 2013 trends are in full bloom and in our closet rotation starting now. You've already figured out which Spring 2013 color trend to wear. But do you know which of the fashion trends is best for your style? We've created this newest personality quiz to help you sift through the crazy and pinpoint exactly what trend works for you.
Just take this quiz below to find out which Spring 2013 trend you should try! Once you get your answer, find your letter and corresponding result below for a sample outfit based on your personality type.
Quiz: Which Spring 2013 Trend Should You Try?
Quiz Results – No peeking!
Below are the results of the quiz. Don't look if you haven't taken it yet! I've created one outfit for each result to help give you some ideas for what to wear. Enjoy!
Mostly A's: Black & White Stripes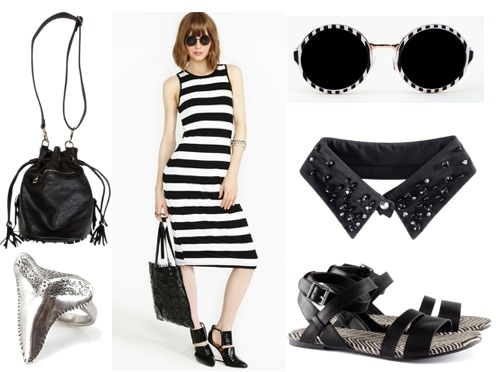 Product Information: Bag, Dress, Sunglasses, Collar, Sandals, Ring
This look is edgy and bold, but the classic colors keep it from being too crazy. For this look, start with a horizontal-striped tank dress. Next, add accessories like a jeweled collar and striped sunnies. Finish the look with simple black sandals, a drop bucket bag, and a shark tooth ring.
Mostly B's: Monochromatic Look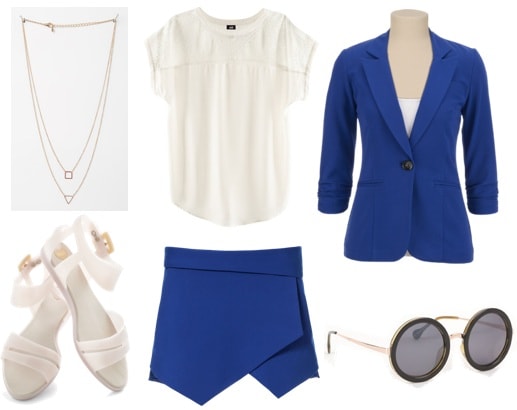 Product Information: Necklace, Top, Jacket, Sunglasses, Shorts, Sandals
Bright hues are all the rage this season. You can choose a bright red, yellow, green, pink, or any of your other favorites. For this look, I decided on a bright cobalt blue with some shorts (that look like a skirt from the front) and a matching jacket. Layer a simple white tee underneath the jacket, then accessorize with a geometric necklace, white sandals, and black circle-shaped sunnies.
Mostly C's: Peek-a-boo Cutouts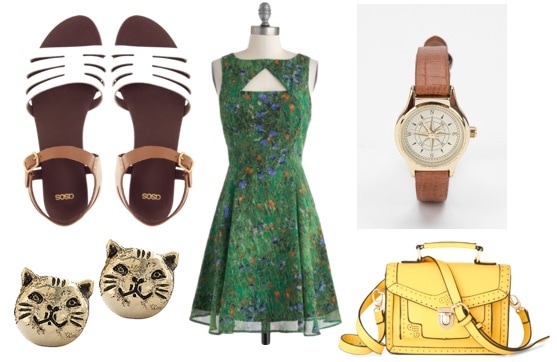 Product Information: Sandals, Dress, Watch, Bag, Earrings
Cutouts were wildly popular on the runway for spring. They can be found in the most unexpected places and in unexpected shapes, and since this trend is so popular, it's easy to find a piece with flattering cutouts that work for you. This floral print dress with triangular chest cutout is a good option since it's conservative, but still a little bit flirty. Complete the ensemble with flat sandals, a leather band watch, a bright yellow purse, and cat stud earrings.
Mostly D's: Sports Luxe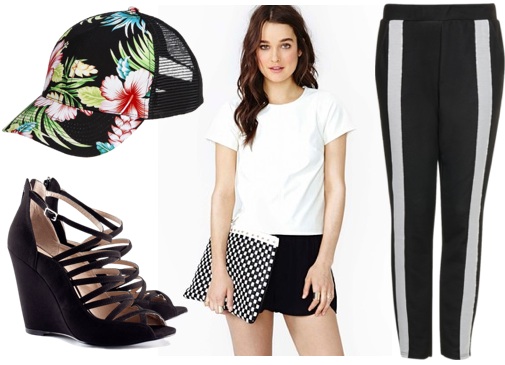 Product Information: Baseball Cap, Top, Pants, Shoes
This look is all about combining the tomboy and casual look of sportswear with updated feminine details. For this look, pair a plain white tee with some racer-striped jogging pants. Next, add on a floral baseball cap and some strappy wedge shoes. Finish the look with a coral lip for an added pop of color and feminine detail.
What do you think?
What was your result? Does this Spring 2013 trend fit within your style? Which is your favorite outfit? Do you have any other favorite trends for spring? What are they? Please let us know what you think by leaving a comment below!