This post may contain affiliate links, which means we may receive a commission if you purchase through our links. Please
read our full disclosure here
.
Spring is officially here, and with it, of course, comes a whole new set of fashion trends. We already showed you some of the most popular trends you'll be seeing in stores this season, and have quizzed you about which Spring 2012 color you should try. Now, we're back with another quiz to help you decide which Spring 2012 trend you should try.
Just take this fun quiz below to find out which of the Spring 2012 fashion trends best fits your personality! Once you get your answer, find your letter and corresponding result below for a sample outfit based on your personality type.
Quiz: What Spring 2012 Trend Should You Try?
Quiz Results – No peeking!
Below are the results of the quiz. Don't look if you haven't taken it yet! I've created one outfit for each result to help give you some ideas for what to wear. Enjoy!
Mostly A's: Black & White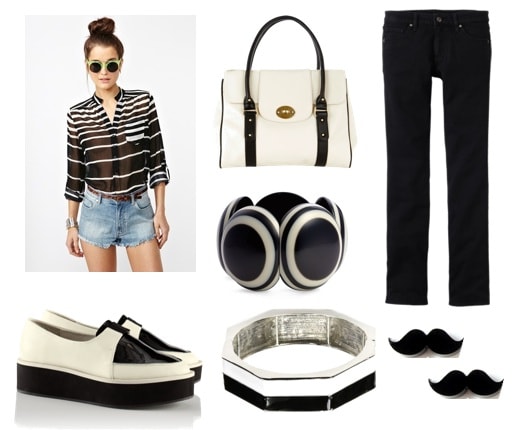 Product Information: Top, Bag, Pants, Earrings, Striped bangle, Shoes
The black and white trend is all about contrast. I love this shirt because it offers a fresh take on the classic black and white horizontal stripe; if you're feeling brave, you can wear it with a bandeau underneath, otherwise any black tank would work. Pair the top with classic straight-leg black pants and trendy black and white flatforms. Finish with a contrasting white and black bag, some bangles, and some mustache earrings for fun.
Mostly B's: Bold Florals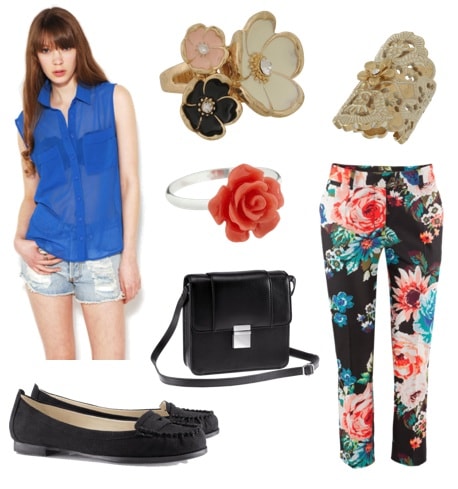 Product Information: Top, Multi-flower ring, Gold ring, Rose ring, Pants, Bag, Shoes
You are not afraid to stand out, and these bold floral pants (seen in our latest campus fashion feature at Bucknell University) will let your personality shine through. Pair the pants with a sheer button-down like the one above. (Again, you can wear it like the model with a bandeau underneath, or over a tank for more coverage.)
On the runways, we saw head-to-toe floral looks incorporating contrasting prints. To make this trend more wearable, I decided to bring in contrasting florals with the addition to some flower rings. Finally for added balance, complete the look with a simple black bag and penny loafers.
Mostly C's: Pastels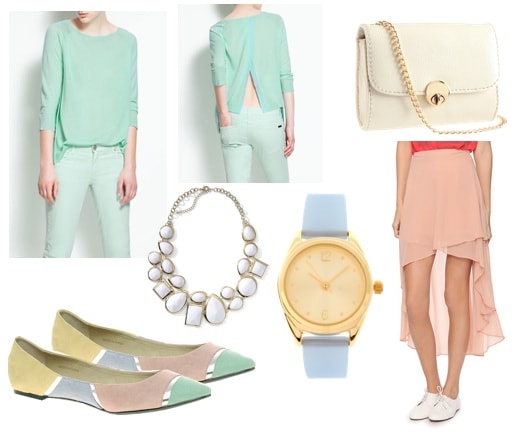 Product Information: Top, Necklace, Bag, Skirt, Watch, Shoes
Your style tends to be soft and feminine, so this season's color-blocked pastels are a fantastic fit with your look. Start off with this mint green top and peach high-low skirt. Then just add some simple accessories like a statement necklace, pastel watch, white bag, and of course these flats which showcase the color-blocked pastel look oh-so well.
Mostly D's: Peplum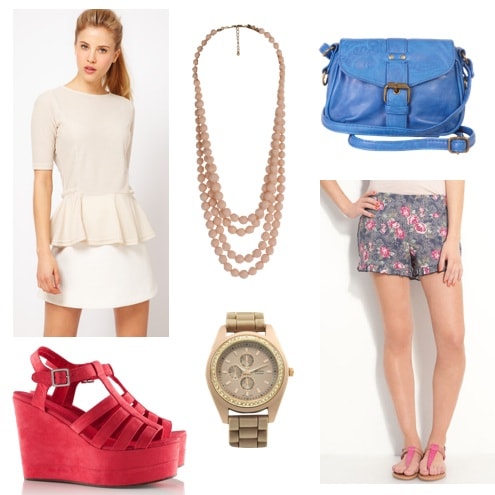 Product Information: Top, Necklace, Bag, Shorts, Watch, Shoes
Peplum is a great trend for those who have a feminine, yet bold sense of style. Start by pairing this peplum top with some floral shorts. Accessorize with a beaded necklace, blue bag, and gold watch. To finish the look, throw on a pair of bright pink sandals. (And yes, again, we saw these on campus recently too – fashionista Brittany was wearing in a recent University of Iowa street style post).
What do you think?
What was your result? Do you think you will try this trend this season? Does your result compliment your style? Which outfit is your favorite? How would you wear your trend? Please let us know what you think by leaving a comment below!