After lusting over sweaters, jackets, boots, and tights since Fall 2012 Fashion Week back in February, the time is finally here to showcase these pieces to the world! With so many trends, though, it can be hard to choose which one is right for you. This personality quiz we created, however, will navigate you through the craziness and start you off on the right path.
Just take this fun quiz below to find out which Fall 2012 trend you should try! Once you get your answer, find your letter and corresponding result below for a sample outfit based on your personality type.
Quiz: Which Fall 2012 Trend Should You Try?
Quiz Results – No peeking!
Below are the results of the quiz. Don't look if you haven't taken it yet! I've created one outfit for each result to help give you some ideas for what to wear. Enjoy!
Mostly A's: Baroque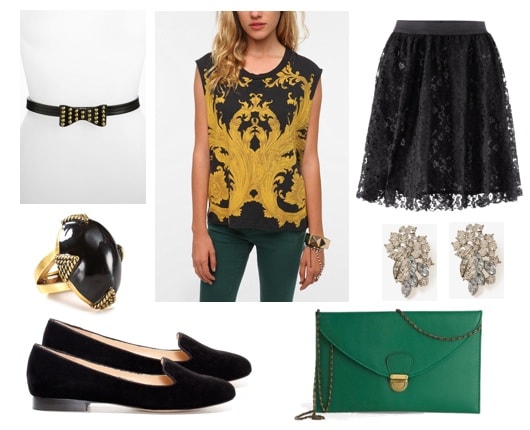 Product Information: Belt, Shirt, Skirt, Earrings, Bag, Shoes, Ring
For a look inspired by the popular baroque pattern trend, try something like this printed muscle tee and tuck it into a lacy, A-line skirt to keep the look soft and feminine. Next, add on a pretty bow belt around your waist. Accessories like intricate rhinestone earrings and a statement cocktail ring add that extra touch of sparkle to the look. Finally, complete this regal ensemble with luxurious velvet slippers and an emerald-colored bag fit for a queen.
Mostly B's: Graphic Sweater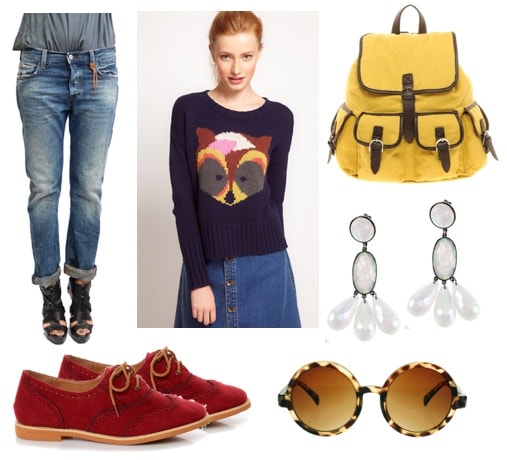 Product Information: Jeans, Sweater, Backpack, Earrings, Sunglasses, Shoes
Classic pullover sweaters got an update this season with standout graphics adorning their fronts. It was difficult to pick just one, but rest assured that if raccoons aren't your thing, you are sure to find another graphic sweater to match your personality. For a casual and stylish look, pair your graphic sweater with distressed boyfriend jeans and red suede brogues. Lastly, finish the look with a mustard backpack, circle sunnies, and some pretty drop earrings that bring that hint of femininity back to this otherwise androgynous look.
Mostly C's: Leather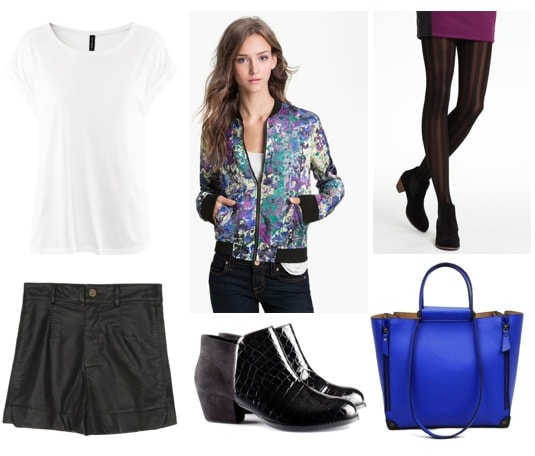 Product Information: T-shirt, Jacket, Tights, Bag, Shoes, Shorts
Even though we featured leather in our Summer 2012 Trend Quiz, its overbearing presence this season made it impossible not to include it once again for Fall. For a fall take on this trend, I paired these faux leather shorts with some fun striped tights, a simple white tee, and a floral, baseball-style zip-up. Finish this look with these patent leather and suede booties and add on an electric blue tote to carry around all your daily essentials.
Mostly D's: Printed Trousers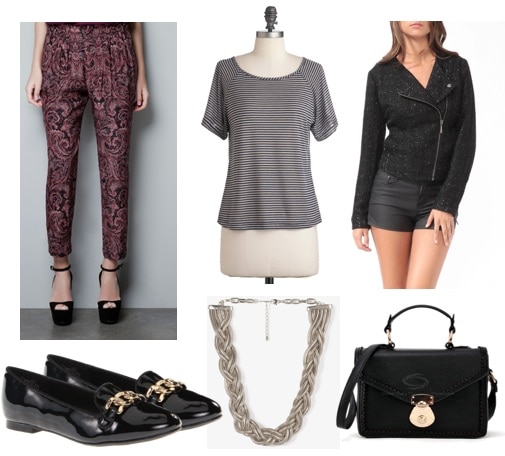 Product Information: Pants, Shirt, Jacket, Bag, Necklace, Shoes
There is something so chic about a pair of printed trousers. And the fact that they can take you from class, to the office, to a night out is insanely amazing (and helpful for a busy collegiate like yourself!). For this look, I paired these paisley printed trousers with a striped gray tee-shirt. Next, I added on a tweed moto-jacket that keeps the look feeling sophisticated but not too stuffy. A braided silver necklace and an adorable black bag are the perfect sweet touches to the look. Lastly, slip into some patent loafers and you'll be ready for whatever the day entails.
What do you think?
What was your result? Did you like the quiz? Will you be trying any of these new trends? Did you like the outfit for your result? Are there any other fall trends you are excited to try out? Which outfit do you like the best? Please be sure to leave a comment and let us know what you think!