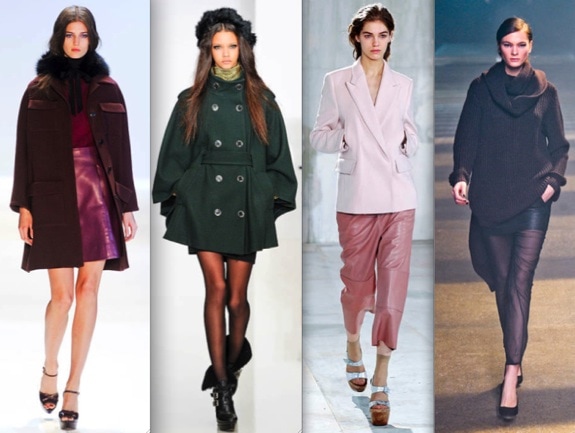 Ever have those days when you stare blankly into your closet and don't even know where to begin? I sure do. The best way to tackle this common dilemma is to start with a color you feel like wearing for the day. We've already shown you some hot color trends for Fall 2012 and have done a few personality quizzes inspired by previous seasons. Now we're back again with a new quiz for Fall 2012.
Just take this fun quiz below to find out which Fall 2012 color you should rock today! Once you get your answer, find your letter and corresponding result below for a sample outfit based on your personality type.
Quiz: Which Fall 2012 Color Should You Wear Today?
Quiz Results – No peeking!
Below are the results of the quiz. Don't look if you haven't taken it yet! I've created one outfit for each result to help give you some ideas for what to wear. Enjoy!
Mostly A's: Burgundy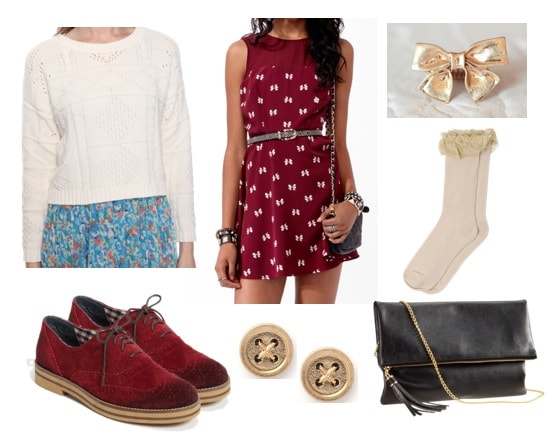 Product Information: Sweater, Dress, Ring, Socks, Bag, Earrings, Shoes
Burgundy is a great color to wear when you want to stand out without seeming like you're trying too hard. For this look, I chose a cable-knit sweater you can wear over a burgundy bow-print dress. To further incorporate this beautiful hue into your look, try these lovely oxfords and some trendy frilly socks. Lastly, accessorize with these adorable button earrings, a bow ring, and a simple black handbag.
Mostly B's: Green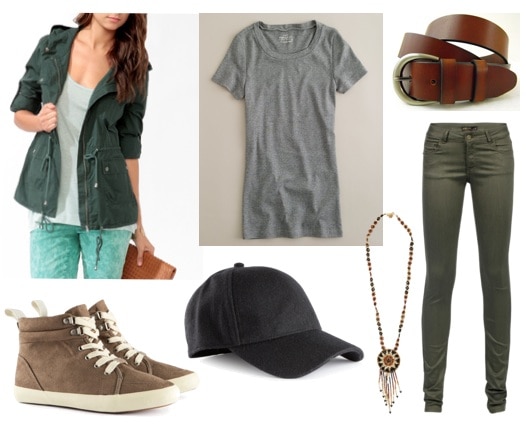 Product Information: Jacket, T-shirt, Belt, Pants, Necklace, Hat, Shoes
To complement your busy day, try a comfy-cool look like the one above. Wearing two different tones of green will evoke your laid-back mood, but also shows the world that you didn't just roll out of bed… even if you did. (Don't worry – it'll be our little secret!) To offset the two shades of green, pair these pieces with a simple grey tee and wide leather belt. Finish the outfit with some hi-top sneakers, an eye-catching necklace, and a baseball cap.
Mostly C's: Pink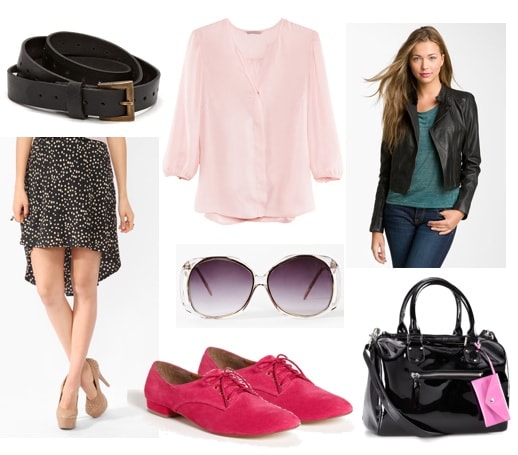 Product Information: Belt, Shirt, Jacket, Bag, Shoes, Sunglasses, Skirt
You're feeling fun and flirty today, making pink the perfect color to complement your current mood. I love the idea of pairing a spotted high-low skirt with pieces in different shades of pink, like a cotton candy-colored blouse and hot pink suede oxfords. To keep the look from going full-on Barbie, toughen it up with a black leather jacket. Complete your ensemble with a patent tote, black belt, and sunglasses. And if you're feeling up for it, try out a bright pink lip, too!
Mostly D's: Brown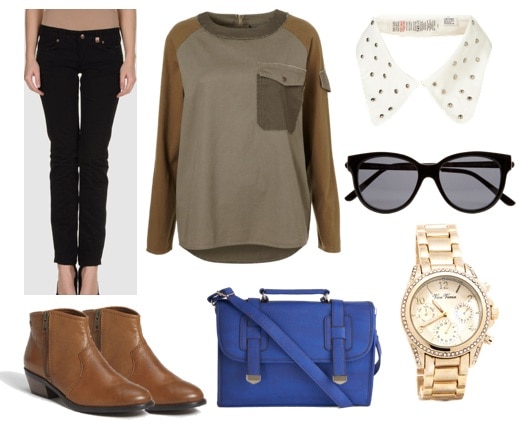 Product Information: Pants, Sweater, Collar, Sunglasses, Watch, Bag, Booties
Just because you don't feel like getting all glammed up today doesn't mean you can't look stylish. First, throw on this color-blocked brown sweatshirt over some black skinny jeans. Next, slip into some brown ankle boots, and put on your everyday watch and black sunglasses. Finally, a bright blue bag adds a necessary pop of color while a studded removable collar adds that unexpected, fashion-forward touch. Finish the look with a trendy top-knot to keep your tresses up and out of the way.
What do you think?
What was your result? Did you like the quiz? Will you be trying these new colors? Which color is your favorite? Does your color represent the mood you are in today? Which outfit do you like the best? Please be sure to leave a comment and let us know what you think!