A great way to start the process of choosing an outfit is to assess your current mood for the day and go from there. We've already done a quiz that does a more general assessment of what color you should wear on a particular day, and we've also done one similar to this one for Fall 2011. Now we're back with a new quiz that shows you what Spring 2012 color you should wear today.
Just take this fun quiz below to find out what Spring 2012 color you should rock! Once you get your answer, find your letter and corresponding result below for a sample outfit based on your personality type.
Quiz: What Spring 2012 Color Should You Wear Today?
Quiz Results – No peeking!
Below are the results of the quiz. Don't look if you haven't taken it yet! I've created one outfit for each result to help give you some ideas for what to wear. Enjoy!
Mostly A's: Coral Pink
Product Information: Necklace, Top, Bag, Skirt, Ring, Shoes, Sunglasses
Coral Pink is a fun color: It mixes both a grown-up flair and the girly, feminine vibe that's associated with pink. To capture the mood you're feeling today, tuck a coral pink top into a feminine lace skirt. Add on a coral and gold statement necklace to add some fun to the outfit. A floral printed bag, simple ring, neutral shoes and ever-classic tortoiseshell glasses finish off the ensemble.
Mostly B's: Mint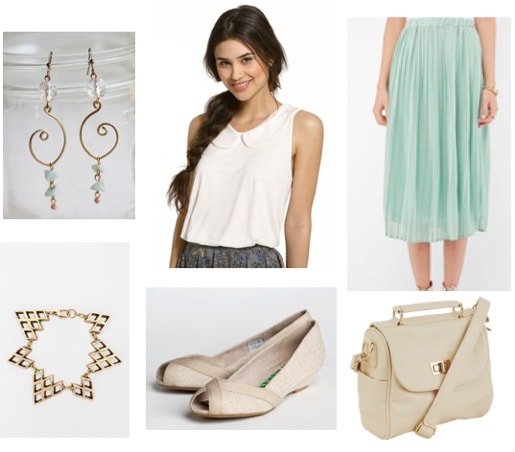 Product Information: Earrings, Top, Skirt, Bag, Shoes, Bracelet
Mint is a color that evokes relaxation and calmness. Capture the feelings evoked from this popular spring color with a pleated mint midi-skirt and a white peter pan-collared top. Delicate drop earrings and a geometric bracelet add touches of glamour to the look without overpowering it. Finally, finish the look with a neutral bag and peep-toe wedges.
Mostly C's: Tangerine
Product Information: Sunglasses, Top, Scarf, Bag, Shoes, Pants
Tangerine is bright and cheerful, just like you are today! A great way to incorporate this color into a look is to grab a pair of pants in the color. In order to keep the pants as the focus of the outfit, slip on a pretty lace top and drape on a subtle floral scarf. Complete the outfit with neutral sunglasses and shoes, plus a cross-body bag in the same color as the pants.
Mostly D's: Ocean Blue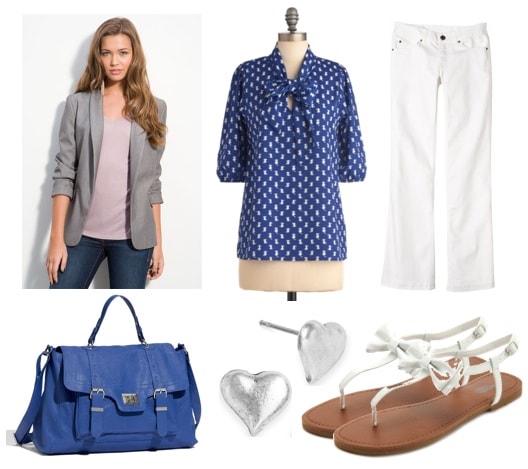 Product Information: Jacket, Top, Pants, Sandals, Earrings, Bag
Like mint green, ocean blue is relatively calming, but its vibrant hue also brings a sense of excitement to any outfit. For a relaxed and tailored look incorporating this hue, try pairing a printed blue top with some wide-leg white pants and a structured grey blazer. Accessorize with some simple silver studs, a bag in a similar color to the shirt, and some pretty bow sandals.
What do you think?
What was your result? Did you like the quiz? Will you be trying these new colors? Which color is your favorite? Does your color represent the mood you are in today? Which outfit do you like the best? Please be sure to leave a comment and let us know what you think!