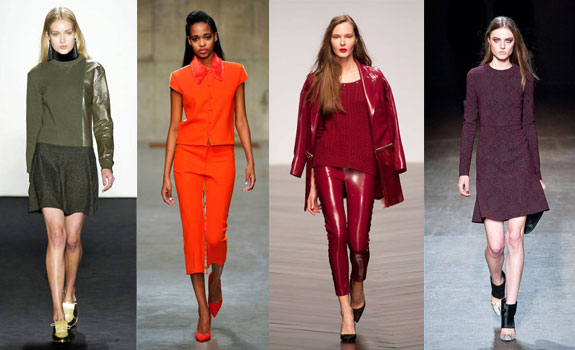 With each new fashion season comes new color trends. Fall colors are typically rich and dark, but that doesn't mean they can't be vibrant and fun, too. This fall, designers proved that to us on the runways with a wide variety of subdued yet vibrant hues. But which one of these colors best suits your personality?
Want to know which Fall 2013 color you should wear? Just take this quiz below to find out! Once you get your answer, find your letter and corresponding result below for a sample outfit based on your personality type.
Quiz: What Fall 2013 Color Should You Wear?
Quiz Results – No peeking!
Below are the results of the quiz. Don't look if you haven't taken it yet! I've created one outfit for each result to help give you some ideas for what to wear. Enjoy!
Mostly A's: Moss Green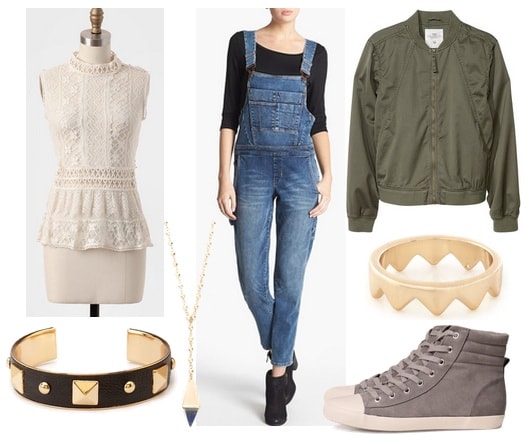 Product Information: Top, Jumper, Jacket, Ring, Shoes, Necklace, Bracelet
This moss green shade is the ultimate utilitarian color. For an outfit that reflects your low-key style, layer a lacy top under a denim jumper. Next, incorporate the casual-cool, moss green jacket over the overalls. Finish the look with some cool gray kicks, a knuckle ring, pendant necklace and studded bracelet.
Mostly B's: Tangerine Orange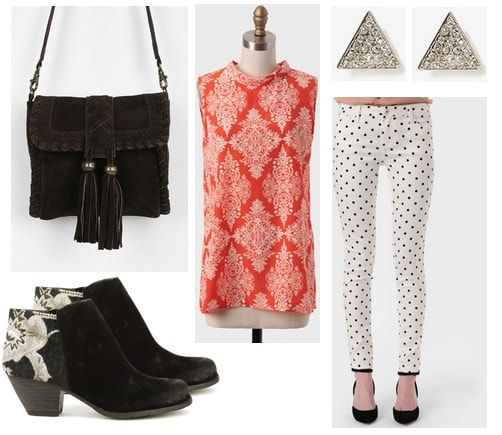 Product Information: Bag, Shirt, Earrings, Pants, Shoes
Tangerine orange is a bold hue for fall. To capture this color into an entire look, mix patterns with a printed top and polka dot pants. Keep the rest of the ensemble simple with a black suede bag, geometric rhinestone earrings, and patterned boots.
Mostly C's: Carnelian Red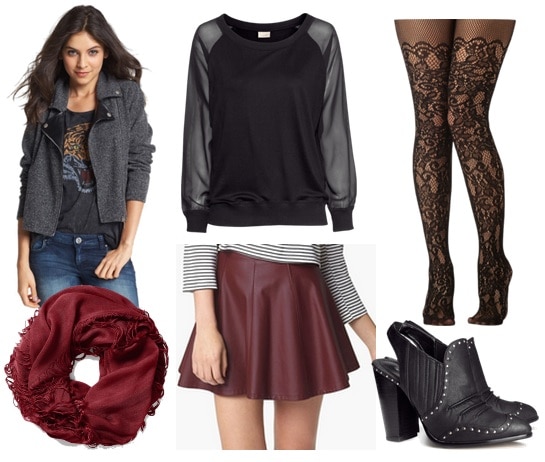 Product Information: Jacket, Top, Tights, Shoes, Skirt, Scarf
Carnelian red is a rich, feminine shade. To complement this passionate color, pair a flirtatious skater skirt with a sheer-sleeved sweatshirt. Next, add on an infinity scarf in a similar hue. Add in some texture and pattern to the ensemble with printed lace tights. Studded sling-back boots and a charcoal jacket finish the look.
Mostly D's: Deep Purple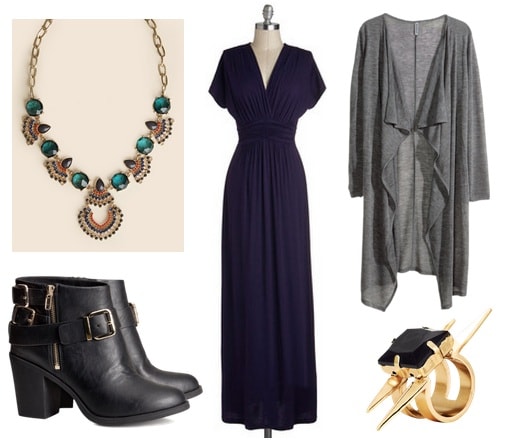 Product Information: Necklace, Dress, Sweater, Ring, Shoes
Another popular color for fall is a deep royal purple. To capture the regal and elegant essence of this hue, I chose to use this maxi-dress with a cinched waist. Next, add on a jeweled statement necklace and a long cardigan. Complete the look with some buckled booties and spike ring to add a touch of edge to the otherwise delicate look.
What do you think?
What was your result? Do you think it fits your style personality well? What Fall 2013 color are you most excited to wear? Which of these outfits are your favorite? Please let us know what you think by leaving a comment below!