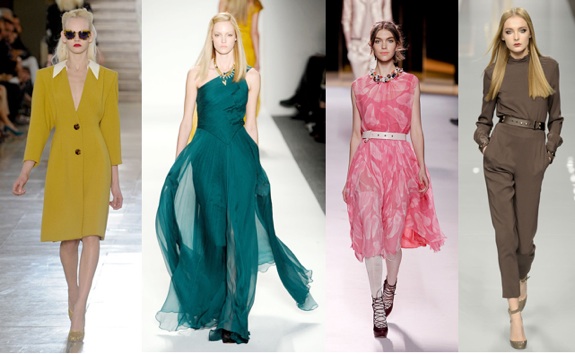 I don't know about you, but my mornings are always crazy – between waking up, getting myself ready, and packing my bag, I always find myself rushing around. And when time is of the essence, I need to pick out what to wear fast.
A great way to start the process of choosing an outfit is to asses your current mood for the day and go from there. We've already done a quiz that does a more general assessment of what color you should wear on a particular day. Now we're back with a similar quiz that shows you what Fall 2011 color you should try today.
Just take this fun quiz below to find out what Fall 2011 color you should wear today. If you take the quiz here on the site, the widget will automatically total up your answers for you. If you print the quiz, total up the letters you got and find which one you selected the most. Once you get your answer, find your letter and corresponding result below for a sample outfit based on your personality type.
Quiz: What Fall 2011 Color Should You Try Today?
Quiz Results – No peeking!
Below are the results of the quiz. Don't look if you haven't taken it yet! I've created one outfit for each result to help give you some ideas for what to wear. Enjoy!
Mostly A's: Bamboo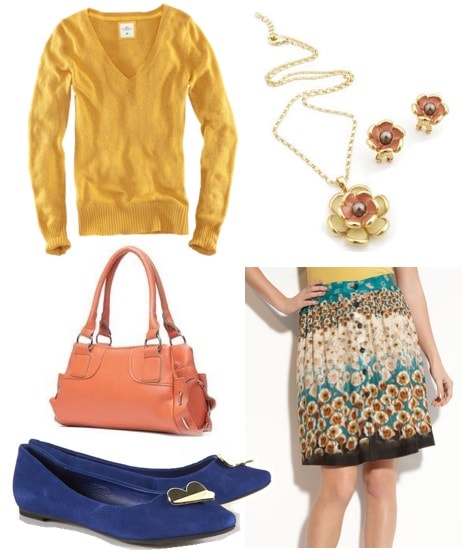 Product Information: Sweater, Jewelry, Skirt, Shoes, Bag
To capture your energized spirit today, pair this bamboo yellow sweater with a floral print skirt. Accessorize with items that pick up on the other colors and patterns in the skirt – I love the idea of wearing some simple floral jewelry and blue suede flats. To finish the look, add on a muted orange bag.
Mostly B's: Deep Teal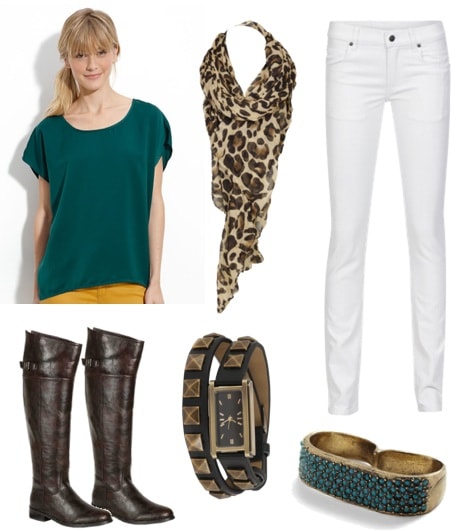 Product Information: Top, Scarf, Pants, Ring, Watch, Boots
Deep teal is an interesting color in that it stands out but it is still muted enough to work as an almost-neutral. For this look, paired a deep teal top with some white pants and dark brown riding boots. A leopard scarf is a cool complement to the outfit. Complete the look with a studded wrap-around watch and a teal ring.
Mostly C's: Honeysuckle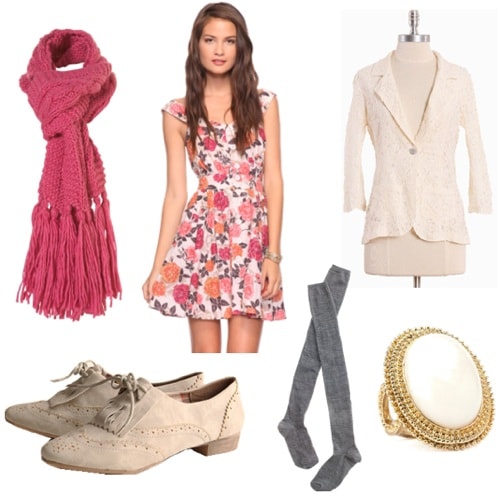 Product Information: Scarf, Dress, Blazer, Ring, Socks, Shoes
Today you feel like a girly-girl and this outfit will help you achieve that look. Start the look with a floral dress. Throw a lace blazer and a honeysuckle pink scarf on top to keep you warm. Wear a pair of grey cable-knit socks with a pair of oxfords. A classic cocktail ring completes the ensemble.
Mostly D's: Coffee Liqueur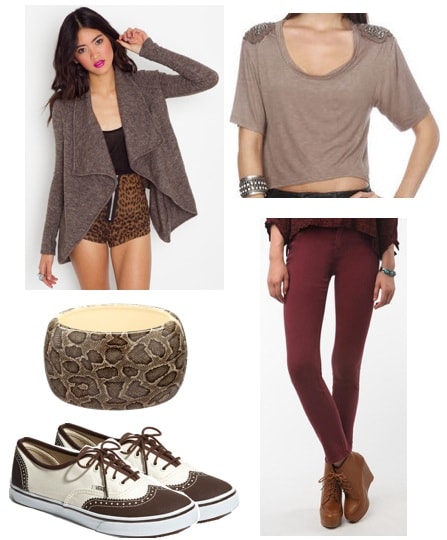 Product Information: Sweater, Top, Pants, Sneakers, Bracelet
On days when you're feeling relaxed and unfussy, wearing neutral colors such as coffee liqueur can capture your mood perfectly. I love the idea of wearing a slightly lighter brown top under this cozy, darker brown sweater. For an unexpected twist, try pairing this top and sweater with a burgundy pair of jeans. Accessories should be simple, to work with your easygoing mood, so all you need is a simple bangle and some comfy sneakers.
What do you think?
What was your result? Did you like the quiz? Will you be trying these new colors? Which color is your favorite? Does your color represent the mood you are in today? Which outfit do you like the best? Please be sure to leave a comment and let me know what you think!