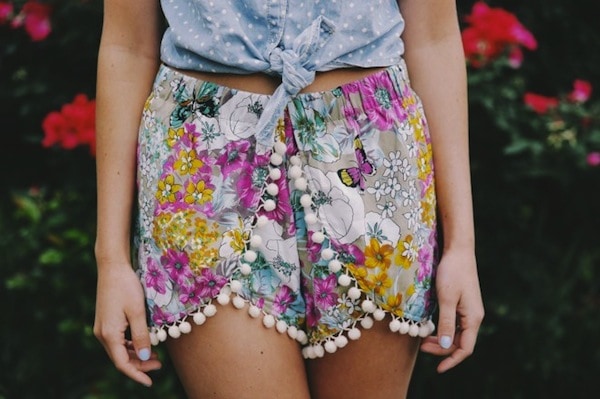 Have you noticed that pom pom fringe has been popping up everywhere lately? I've been seeing it all over home decor items, like pillows and throws, and my favorite personal style bloggers have been rocking pom pom-adorned shorts and dresses.
Although this pom pom trend couldn't be cuter, I have a feeling it will die out at the end of summer. Trends like this are always fun to try, if you can do so without spending much money.
For this post, I've put together three different outfits, each featuring a pom pom fringed item that you can get for under $20. That way, you can hop on board with this fun summer trend and still have plenty of money to go out for ice cream in your adorable outfit!
Outfit #1: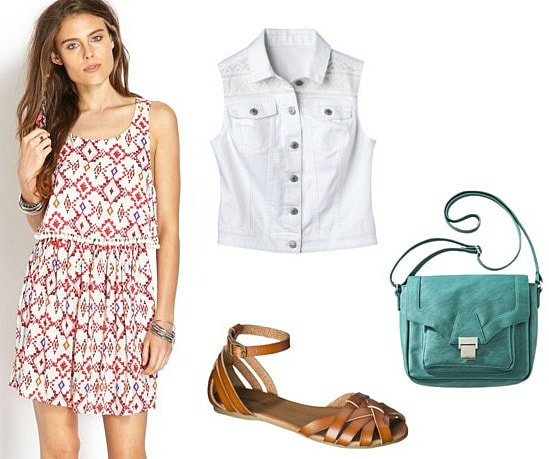 Product Info – Dress, Vest, Sandals, Bag
This dress, in a perfectly summery print with subtle pom pom trim, would look so cute when paired with a denim vest for an easy layered look. Finish the outfit with simple sandals and a crossbody bag for a pop of color!
Outfit #2: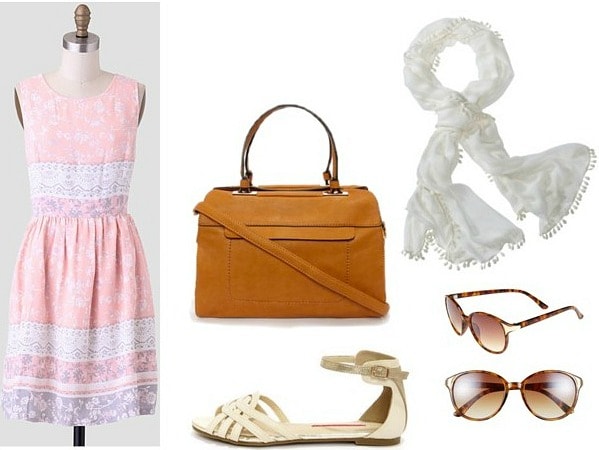 Product Info – Dress, Bag, Scarf, Sandals, Sunglasses
A breezy summer scarf is the perfect way to test out the pom pom trend, since it won't go out of style as quickly as the rest of these pieces. After all, a simple summer scarf is always going to be part of your summer wardrobe.
For this ensemble, try tying the scarf around the handle of a ladylike satchel, then throw on a sweet pink and lilac dress. Add cream and gold sandals and a pair of classic sunglasses to complete this city chic look. Bonus: This scarf can also be tied around your waist to double as a swimsuit cover-up!
Outfit #3: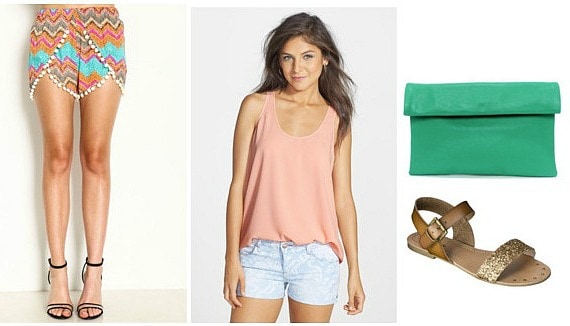 Product Info – Shorts, Tank, Clutch, Sandals
I've seen a lot of bloggers wearing fun and flirty pom pom shorts, and the under $20 price tag on this chevron-patterned pair is too good to pass up! Style them with a loose-fitting peach tank top and flat sandals to balance out all the leg these high-cut shorts show off. Don't forget to grab a green clutch for the perfect summer date night look.
Tell me what you think!
What do you think of the pom pom trend? Would you wear any of these outfits? Leave a comment and tell me your thoughts!