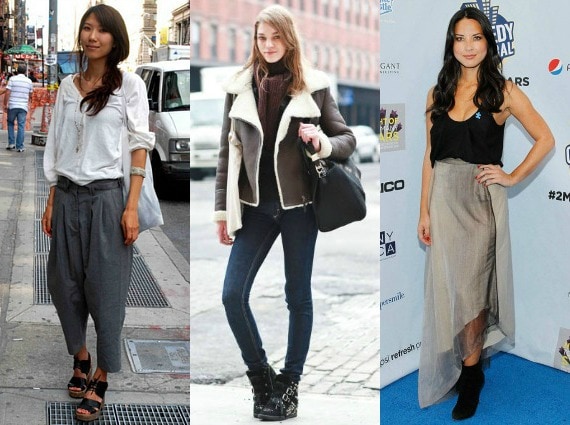 Photos: ELLE
Recently, the Huffington Post asked men which trends they hate the most. Beyond the complete ridiculousness of some responses (high-waisted skirts "lack a certain degree of subtlety" apparently), the article was problematic for a number of other reasons. Most importantly, it was because women don't dress or exist for the viewing pleasure of men.
As discussed in my previous post, it's sexist to assert that women should dress for men's sexual approval, since it reduces women to their physical appearances and places undue emphasis on looking attractive. Rather, fashion is a form of self-expression and everyone should be free to dress however they want.
In response to the Huffington Post article, New York Magazine's The Cut published a deliciously sarcastic summary, which concluded, "The question [now] is how to wear all of these things at once." Similarly, Leandra Medine of The Man Repeller has been intentionally dressing in "sartorially offensive" (aka man-repelling) ways since 2010.
Here at CF, we're firm believers that you should be able to wear whatever you want, and no one (male or female) should tell you otherwise. So, we decided to feature three of the conventionally "unattractive" trends from the HuffPo article and share how we would style them:
Harem Pants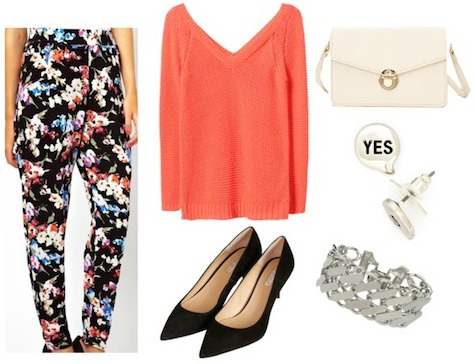 Product Information: Pants- ASOS, Sweater- Zara, Shoes- Topshop, Bracelet- Topshop, Earrings- Modcloth, Bag- Forever 21
Have you tried harem pants? They are so comfortable! The material on this pair makes them presentable for an internship or work, while the bright floral pattern keeps them playful and fresh. They also aren't as extreme as the knee-length crotch versions so they're appropriate for a variety of settings.
Because they're so voluminous, harem pants are often paired with fitted tops, but for a laid-back yet stylish twist, try wearing them with a loose sweater tucked into the front. Complement the masculine vibe of the pants with an industrial bracelet and a structured bag, while finishing off with a demure pair of kitten heels.
Wedge Sneakers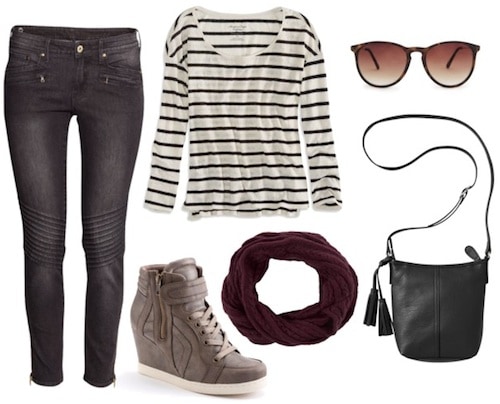 Product Information: Shoes- Kohl's, Jeans- H&M, Shirt- American Eagle, Scarf- New Look, Bag- Old Navy, Sunglasses- Mango
Wedge sneakers are another "ugly" trend that I'm not-so-secretly in love with. When wearing these shoes, the key is keeping the rest of your silhouette streamlined and simple.
Try pairing these taupe sneakers with a pair of moto skinny jeans and a long-sleeve striped tee. The detailing on the jeans combined with the statement sneakers make for an edgy twist on classic basics. Add a scarf for a pop of color; if you're bold, you could even try pattern mixing with a floral or plaid scarf! Top it off with a crossbody bag and a pair of on-trend cat-eye sunglasses.
Asymmetrical Hemlines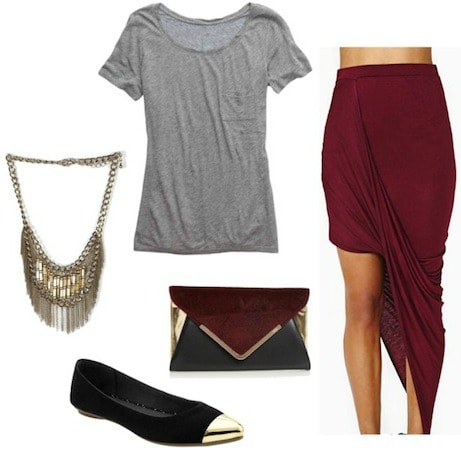 Product Information: Skirt- Nasty Gal, Shirt- Aerie, Necklace- Urban Outfitters, Shoes- Old Navy, Bag- Debenhams
From mullet skirts to handkerchief hems, asymmetrical hemlines are everywhere you look. Try pairing this skirt with a tucked-in solid fitted tee to balance the silhouette and highlight your waist.
A statement necklace in mixed metals draws the eye upward and adds a unique element to the outfit. Pair it with this fabulous clutch that complements both the gold from the necklace and the burgundy color of the skirt. Finally, throw on a pair of black flats to lengthen your legs. I like how this gold-tipped pair repeats the colors used in the clutch and necklace!
What do you think?
Would you ever wear any of these trends? Do you have a favorite trend that's considered unattractive? How do you style it? Let us know what you think by leaving a comment below!