There's a fresh crop of spring trends this year, including destroyed cut-offs, crochet tops, fringe and flashbacks to the '70s. Scroll down to see how I'm styling them this season:
1. The Summer Uniform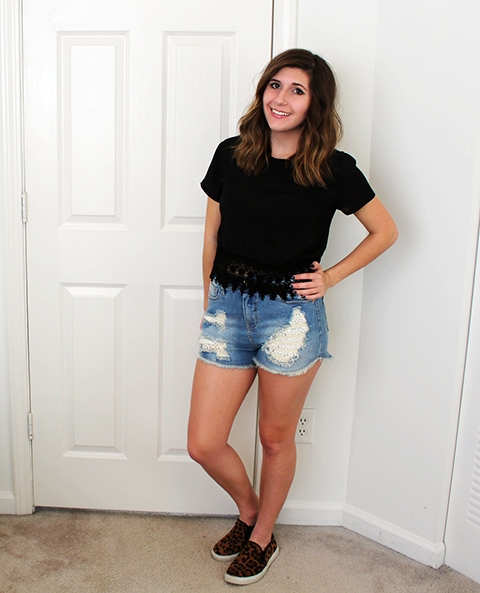 Product Info: Crop Top — Boohoo, Shorts — Target (similar), Slip-Ons — Target
Nothing says summer casual (or zombie movie casual) like destroyed shorts and half a shirt. To keep things from looking too apocalyptic, balance out rugged, torn denim with a put-together blouse.
Crop tops (I prefer mine long enough to not show skin), high-waisted shorts and slip-ons are my go to uniform this spring and, most likely, this summer as well.
2. Crochet For Days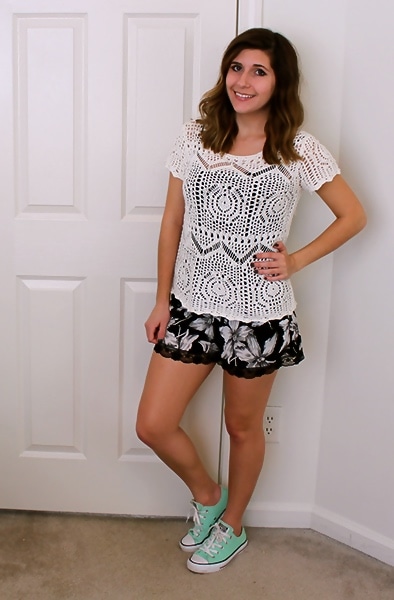 Product Info: Top — Pacsun (similar), Shorts — Forever 21 (similar), Shoes — Converse
It doesn't take a trip to Coachella to see that crochet tops are having their moment in the sun, desert or otherwise. I've had this one for years (from H&M), and recently fell in love with it all over again.
The downside to these tops? Having to wash them very, very carefully.
RIP my beautiful mint Converse. Let's just say that my free Ben & Jerry's cone took no prisoners last Tuesday. It was hot. My ice cream melted. My Converse are now mint chocolate chip. Mmm.
3. Hanging On by the Fringe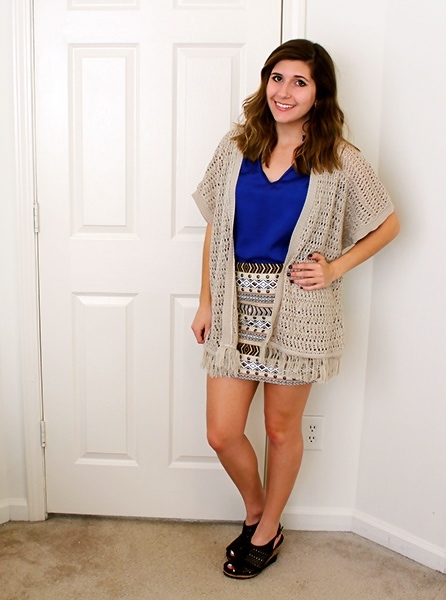 Product Info: Blouse — Lulu's (similar), Kimono — Garage (similar), Skirt — local store, Shoes — Aldo (similar)
Let's talk about fringe; I have mixed feelings. I like my fringe in small doses, like wasabi on sushi or the fringe on this kimono jacket. Too much spells trouble. And by trouble, I mean long strands potentially falling off your clothes and leaving a trail behind you. (Am I the only one who worries about this or have seen this happen?)
On the other hand, if you are a wasabi overachiever/fringe aficionado who likes to live life on the wild side, go for it.
Speaking of fringe…
4. That '70s Style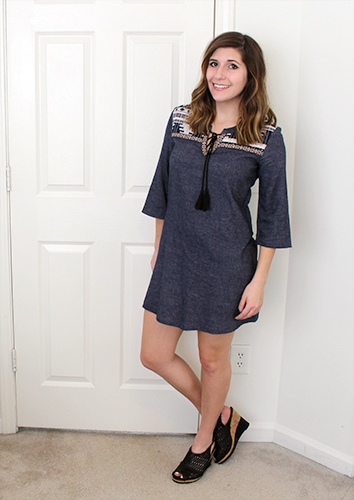 Product Info: Dress — Forever 21 (similar), Shoes — Aldo (similar)
That '70s Show? More like, that '70s style.
Molly recently wrote an article all about the '70s-inspired dresses that are making a comeback this spring. While I haven't succumbed to bell-bottom pants, the sleeves of this denim dress, as well as the boho trim on top, provide a flashback to that decade.
In addition to boho dresses, peasant tops, suede, chunky heels and fringe are making headlines this season.
Your thoughts?
What's your favorite spring trend? Are you already rocking any of these trends? Would you wear these looks? Remember to tell me what you think by leaving a comment.