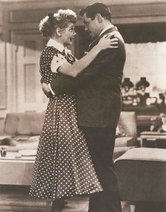 Any true fashionista knows the power of a LBD (little black dress), and this summer we've even heard a lot about the LWD (little white dress) that every woman should have in her closet. But have you ever heard of an LPDD?
That's right, I'm talking about a Little Polka Dot Dress. First made popular on I Love Lucy, the LPDD is now a hot Summer 2007 fashion trend.
Polka dots were big this winter and the trend has remained popular into summer. Dresses with polka dots are everywhere, and there is something so classic and 50's-glam about them. If you like this look, here are some affordable options.
Some cute little polka dot dresses for UNDER ONE HUNDRED DOLLARS each:
Have an opinion on polka dots? I'd love to hear from you. Sound off in the comments or take the poll below and let me know what you think of this trend!
[poll=3]