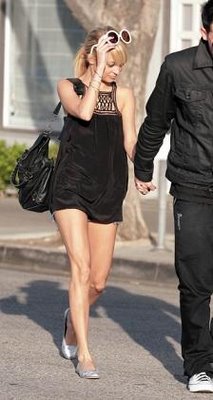 Summer 2007 fashion seems like it's all about legs – 60's mod minidresses, cut off shorts and tiny skirts are everywhere, paired with the highest heels imaginable. The look is fearless, fun, and in-your-face sexy.
The problem? Running around in a dress that barely hits the tops of your thighs isn't exactly practical for every day. There are way too many opportunities to flash someone, and as Paris Hilton has demonstrated, that's a look that's never cute.
So what's a stylish girl to do in this situation? Easy. Take a cue from stars like Nicole Richie and pair your short mini dresses (or long tunic tops) with shorts or a mini skirt.
Wearing your clothes this way still shows off your legs without the danger of showing off TOO much.
Try wearing your supershort mini skirts under long babydoll tops that are too short to be dresses by themselves. This creates almost a new type of dress and a very cute and modern look.
What do you think – do you think this trend rocks or wish it would just go away? Fill out the poll below and let me know your opinion!
[poll=2]