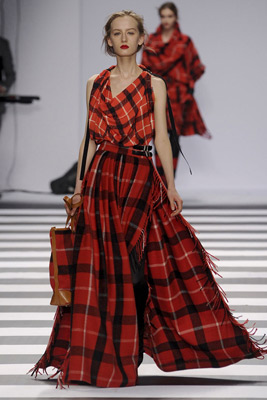 Eat your heart out, Rachel Berry, because this season, plaid skirts have officially gone beyond "schoolgirl chic". Although plaid is a perpetual fall trend, the classic print is hotter than ever for the upcoming season, having been seen all over the Fall 2011 runways. Interested? Keep reading to learn how to add some tartan to your wardrobe this fall – for less.
Plaid Skirt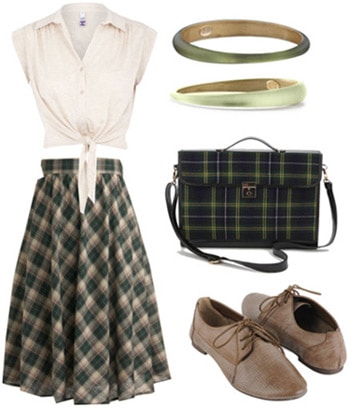 (Plaid Skirt- Modcloth; Tie Blouse- debenhams; Oxfords- Forever 21; Plaid satchel- Urban Outfitters; Bangles- Alexis Bittar)
This outfit has a bit of a Mad Men feel, thanks to the '60s silhouette created by the high-waisted plaid skirt and tie-waist blouse. For accessories, I added a fun and comfortable oxford shoe, a professional-looking briefcase satchel (also in plaid), and bangles. These bangles add to the Mad Men vibe; they're inspired by the now-ultra-collectible "bakelite" bangles that were popular in the late fifties and early sixties. You can find real bakelite bangles at antique stores for anywhere between $20 and $1,000, but these replicas cost a whole lot less.
Classic Plaid Shirt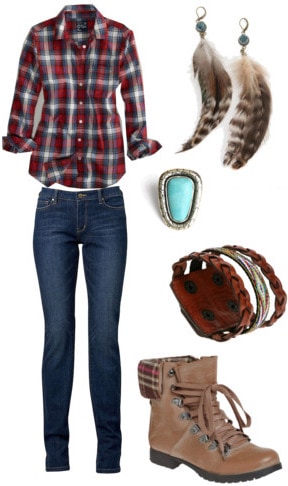 (Plaid shirt- American Eagle; Straight Leg Jeans- Witchery; Boots- Modcloth; Leather Cuff Bracelet- Urban Outfitters; Feather Earrings- Urban Outfitters; Turquoise Ring- threadsence)
In Portland, OR, where I'm from, grunge is still very much alive. And what's more synonymous with the '90s grunge era than the flannel plaid shirt?
Here, I've paired a classic plaid shirt with straight leg jeans that have a relaxed fit and are not overly tight. I then added low-heeled lace-up boots with a plaid lining that would be worn over the jeans. I accented the ensemble by adding accessories with an organic feel, such as feather earrings, a turquoise ring, and a braided leather cuff.
Plaid Dress Splurge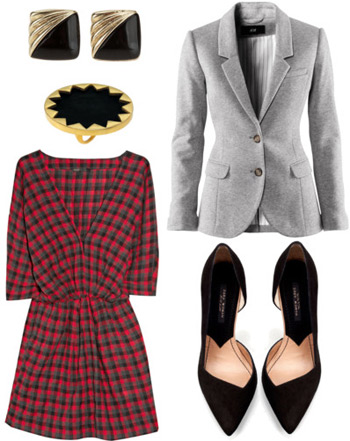 (Plaid Dress- net-a-porter; Grey Blazer- H&M; Black Asymmetrical Pumps- Zara; Black and Gold Vintage Posts- Urban Outfitters; Sunburst Cocktail Ring- Charm&Chain)
I know that this post is called "Fall Trends for Less", but I just couldn't resist showing you this amazing plaid mini dress! At $215, it's definitely a bit of a splurge, but depending on how much you love plaid, it could easily be worn enough to mean a low cost-per-wear. Here I've compiled a bit of a dressier look with a light grey blazer, asymmetrical black pumps (which I personally LOVE!), and black and gold geometric accessories.
Plaid Accents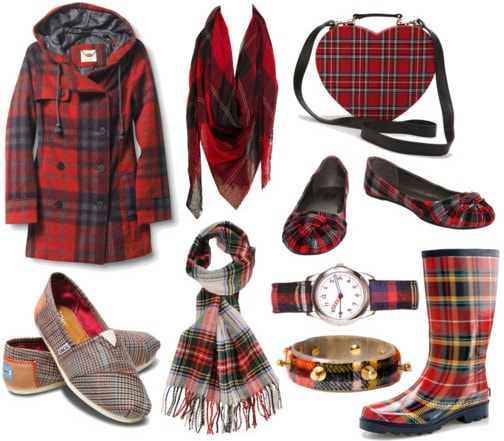 (Plaid Peacoat- Quicksilver; Plaid Scarf (upper)- Nordstrom; Plaid Scarf (lower)- Forever 21; Plaid TOMS- TOMS.com; Plaid Heart Bag- Urban Outfitters; Red Plaid Flats- Hot Topic; Plaid Wellies- Zappos; Plaid Watch- American Apparel; Studded Plaid Cuff- Young British Designers)
If you're not looking to do an all-out plaid ensemble, you could accent your look a little (or a lot) with some adorable plaid accessories! These pieces vary in price, but keep on giving in the trendy department. Plaid is a classic print, so although it is "trendy" at the moment, these plaid items are pieces that you won't be discarding anytime soon.
Thoughts?
Will you be rocking plaid this fall? Which look is your favorite? How do you wear plaid? Let us know by leaving a comment.