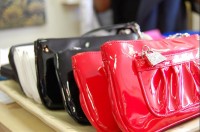 From flats to handbags, heels to belts, the biggest trend in accessories this fall is patent leather. The super-shiny material was huge all spring and is going to stay that way into 2008.
Although some prefer patent on jackets and other articles of clothing, I recommend college girls stick to patent accessories only. Too much shine in one outfit and you'll end up looking more futuristic-raver than trendy chic.
How to wear this trend: Pick up some super-shiny patent leather flats to spice up your everyday going-to-class look, rock some PL mary janes with a mini dress and tights for a night out, or simply invest in a basic patent-leather tote to carry everywhere.
Cute Patent Flats:
Patent Leather High Heels:
Patent Bags & Accessories:
How do you feel about the patent leather trend? Do you like it, or are you hoping it will be over soon? Let me know what your opinion is by taking the poll below or leaving some comments!
[poll=6]