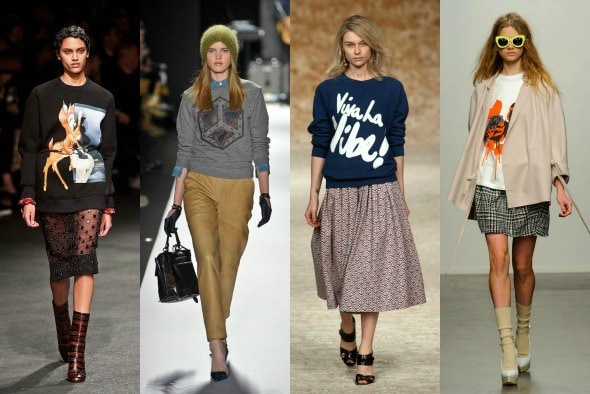 The sweatshirt trend as seen at Givenchy, Rebecca Minkoff, House of Holland & Karen Walker F/W '13. | ELLE
Although they're usually associated with lazy days, this season sweatshirts have gotten a chic makeover after being featured heavily on the Fall 2013 runways. A comfy alternative to your basic knit sweater, these fitted pullover sweatshirts are going to be popular throughout both fall and winter.
Below, we've rounded up several of our favorite sweatshirt styles for this season, as well as some ways to wear this trend for fall. Read on to learn more:
Get the Look
There are so many sweatshirt styles out right now, so we suggest branching out beyond your basic solid-colored pullover and looking for a unique print or embellishment to really amp up the style factor. Some of our of-the-moment faves are bold graphics (à la Phillip Lim for Target) and sweatshirts made from mixed materials.
Everyone from designers to budget-conscious retailers have been stocking these stylish sweatshirts, making it fairly easy to find one within your price range. Scroll down to check out a few of our fave under $60 styles for this season: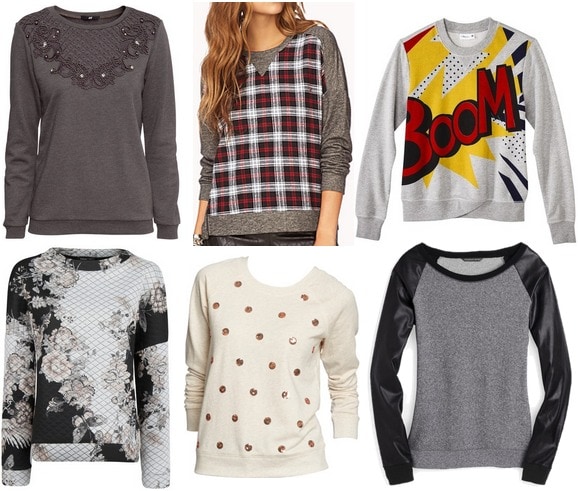 Top Row: H&M, Forever 21, Target
Bottom Row: Mango, Old Navy, Victoria's Secret
How to Wear the Sweatshirt Trend
Aside from all the different styles out there, we were also surprised at just how versatile this trend is. Whether you dress them up or dress them down, these updated sweatshirts can work for just about any occasion. And, when it comes to outfit ideas, you can't go wrong by styling a sweatshirt the same way you would your favorite sweater or long-sleeved tee.
Looking for more specific outfit inspiration? You're in luck! Below are two cute ways to rock the sweatshirt trend this fall:
Classroom Chic:
For a cute and casual vibe that's perfect for a classroom setting, opt for a fun printed sweatshirt. Create an on-trend mixed print look by layering a polka dot blouse underneath this floral sweatshirt. Boyfriend jeans keep things comfy, as do a pair of menswear-inspired loafers. Accessorize with some adorable owl-shaped earrings, then grab a faux leather backpack to complete the ensemble.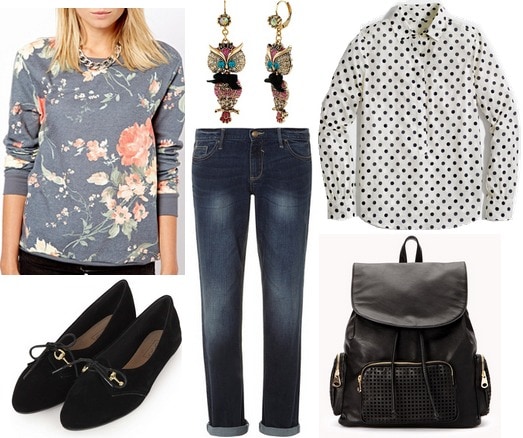 Product Info: Sweatshirt- ASOS, Earrings- Betsey Johnson, Blouse- J. Crew Factory, Shoes- Topshop, Jeans- Dorothy Perkins, Bag- Forever 21
Nighttime Glam:
We love the way an embellished sweatshirt looks for nighttime. Take this budget-friendly one from Forever 21 for instance – the studded detailing around the collar adds a glam touch and eliminates the need for a necklace… score! Pair it with a faux leather skater skirt for an edgy vibe.
Heeled ankle booties amp up the trendiness, while sheer tights add warmth to the look. Accessorize with a cutout black clutch as well as several gold rings. For the finishing touch, add a pop of color with a deep red lipstick.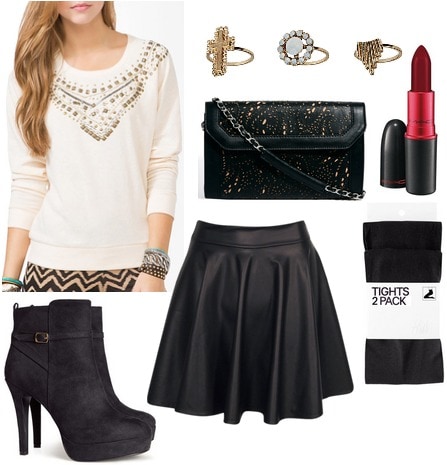 Product Info: Sweatshirt- Forever 21, Rings- Topshop, Bag- ASOS, Lipstick- MAC, Shoes- H&M, Skirt- Boohoo, Tights- H&M
Your thoughts?
What do you think of this trend? Would you wear a stylish sweatshirt? Which kind is your favorite? Would you wear either of these outfits? Remember to tell us your thoughts by leaving a comment below!