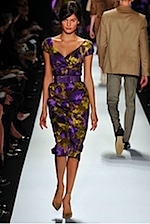 Michael Kors winter floral dress
When you think about fall fashion, what comes to mind? If you're anything like me, you think of muted colors, plaids, preppy argyles, and lots of denim. But floral prints? Not so much.. until now.
Yes, it's true. Floral prints are one of the hottest fall fashion trends for 2008!
It's an unwritten rule of fashion that florals are always popular for spring, but rarely "in" for fall. This year, designers like Michael Kors and Giorgio Armani decided to shake things up, using spring's hottest print for their fall collections with fabulous results!
I'm in love with this trend for a few reasons – first, it's so much fun. I love the idea of channeling spring, even in the middle of winter. Second, it gives us an easy way to wear our spring and summer clothes into winter, which is great if you're on a budget!
Want to learn more about winter florals & how to wear them this fall? Read on for all the info.
Runway Inspiration
Here are some of my favorite runway looks that incorporated winter florals. Check them out and let them inspire you! Click on each photo to enlarge.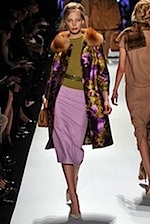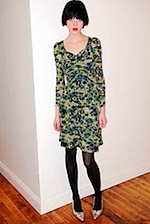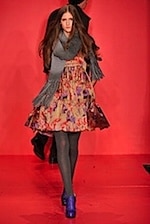 From Left: Michael Kors, Jovovich-Hawk, DKNY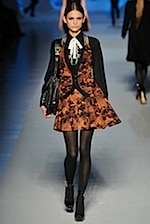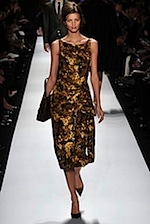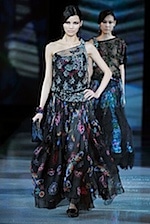 From Left: Etro, Michael Kors, Giorgio Armani
Photos courtesy of Style.com.
How To Wear Winter Florals
So how can you go about incorporating winter florals into your wardrobe? It's not hard at all, and if you're on a budget, you don't have to go out and buy something new! Here are some tips:
Use what you already have.
Using things you already own to create new looks without spending money is the best way to stay stylish on a budget. Here are some ways to wear this trend without going out and buying anything new.
Take your floral spring dresses and pair them with a pair of opaque black or jewel-tone colored tights. Add flats or ankle boots in a dark color, and throw on a jacket or cardigan.
You can also layer a sleeveless floral dress over a long-sleeved top in a dark color, like the models at the Etro show in the photo above. Chic and practical!
Wear one floral piece at a time.
Since floral prints are normally eye-catching, wear just one floral item at a time to avoid looking over-the-top. Try a floral dress mixed with solid colored tights and flats, or a floral top with basic jeans and a simple jacket.
Try floral accessories instead.

BKE Flower Ring ($8.00)
Who says this trend is about your clothing only?
If you don't have any floral dresses, skirts, or tops, and you still want to rock this trend, wear some flowery accessories.
Some great ideas for fall: floral scarves, flower rings, and necklaces in floral shapes. Wear them with your other fall pieces for a look that's very now, but not overly trendy.
Fabulous Floral Fashion
If you don't own anything floral yet, consider picking something up for fall!
Here are some of my favorite floral dresses, skirts, tops, and accessories from around the web. Most of them are budget friendly, so you'll still have money for less important things like books & food. (Kidding!)
Winter Floral Dresses: From Left: Ditsy Floral Dress $26.99, Floral Tube Dress $32.99, Ditsy Floral Dress With Belt $29.99
From Left: BCX Floral-Print Bar-Back Top $14.99, Alfani Petite Floral-Print V-Neck Top $35.99, MICHAEL Michael Kors Petite Empire-Waist Floral-Print Top $89.50
Floral Accessories: From Left: Large Sterling Silver Cubic Zirconia Flower Ring $29.99, Vintage Flower Necklace $7.50, Ditsy Floral Scarf $3.99
Your Thoughts?
What do you think about wearing florals in fall? Is it a no-go for you, or do you like the idea? Will you be wearing this trend or skipping it?
Discuss this trend in the comments!