It's hard to believe the new year is literally right around the corner! If you're like me and have been living in a whirlwind of chaos between finals and Holiday festivities, your New Year's outfit has probably been placed on the back burner. Also, maybe with all of the hustle and bustle you haven't had a chance to try out any of the great Winter trends!
New Year's Eve is a great time to try out a new trend, because you can really go as crazy with your look as you want. Here is a list of three trends you might want to rock for NYE. Hopefully this post will reach you with enough time to rummage through your closet or make a quick (inexpensive) shopping trip!
For even more New Year's Eve clothing inspiration, see Liza's post, 5 New Year's Eve Outfit Ideas!
Fashion Trend #1: Metallic
Metallics are very festive for New Year's events because "sparkle" is a common motif for New Year's- sparkling champagne, sparkling disco balls, sparkle in your eye before your New Year's kiss…Well, maybe not the last one, but nonetheless, metallics are a great choice for ringing in the new year!
Rule: Don't go overly glitzy with the other pieces in your outfit- let your metallic dress be the "shining" focal point of the outfit. Otherwise, you risk looking seriously overdone and a little trashy.
Suggestion: I personally prefer a neutral color palette when it comes to metallics. Stick with a bronze, silver, or white-based metallic dress with complementary pieces in another neutral color. If you have suggestions on how to mix color into a metallic outfit, feel free to share your insight with a comment!
Here's an example of what you could wear to play with the metallic trend: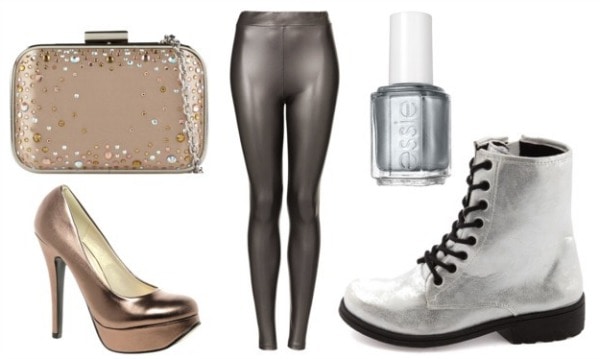 Product Information: Large Pave Dome Stud Earrings- Urban Outfitters, La Regale Clutch- Endless, Cuff- Forever 21, Dress- Forever 21, Pumps- Endless, Champagne Flute- Cooking.com, Eye Shadow Duo- Lancome through Dillard's
Fashion Trend #2: Purple & Black
Purple and black are two great night time colors that will give your ensemble a little mysterious edge. The black-and-purple trend has been worn by many celebrities and was displayed in several Fall 2009 RTW shows by designers such as Akris.
Rule: I shouldn't have to tell you this, but it bears repeating: if you wear a purple dress, do not wear purple shoes and a purple clutch. You will resemble a purple people eater, which is not a very attractive party look!
Suggestion: I personally like a 25/75 color-to-color ratio when it comes to two-toned outfits. For example, for a purple and black combination I would go for either 25% purple and 75% black or the reverse.
Here's an example of how I would wear this trend. The JJ Winters clutch is out of my budget, but it totally fits with this outfit, no?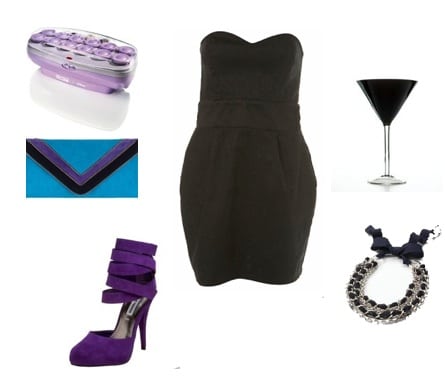 Product Information: Hot Curlers- Conair, available at Macy's, Clutch- Revolve Clothing, Black Dress- Top Shop, Silver Necklace- Ann Taylor, Shoes- Steve Madden, Martini Glass- Macy's
Fashion Trend #3: Animal Print Booties
Animal print booties have been spotted on many celebs lately such as Rihanna and Anne V. Although finding the right boots might take some effort, you can always wear them again after the new year! They're definitely going to be hot for a while.
Rule: Shorter or mini dresses are a must when you wear this trend, because it's all about being fierce and fearless. Anything at-the-knee or longer will just make the proportions of your legs look really odd.
Suggestion: Celebs and the like seem to be wearing animal print booties with sweater dresses or 3/4 sleeve draped dresses. These types of dresses would be a unique alternative to the traditional cocktail dress for New Year's Eve!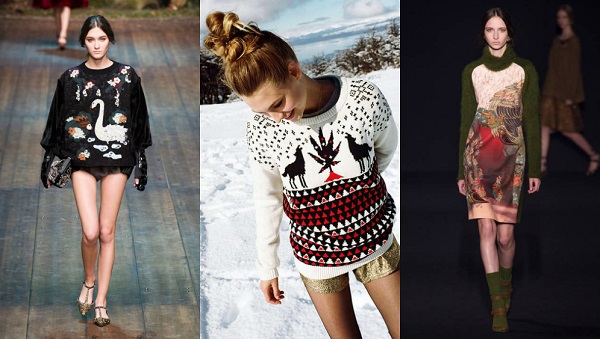 Product Information: Dress- Top Shop, Lipstick- YSL, Booties- Charles by Charles David at Endless.com, Bag- Modcloth
What do you think?
Do you have your outfit picked out for New Years? If so, do you think it incorporates any of these Fall/Winter trends? Leave us a comment!