When I walked into our school newspaper's office and saw Hannah's outfit, I knew I needed to photograph her. On a preppy campus like Elon's, style like Hannah's stands out.
Hannah's outfit perfectly displays her love for classic timeless pieces and her quirky personality. After seeing Hannah's beloved homemade shorts, I'm feeling inspired to DIY something myself!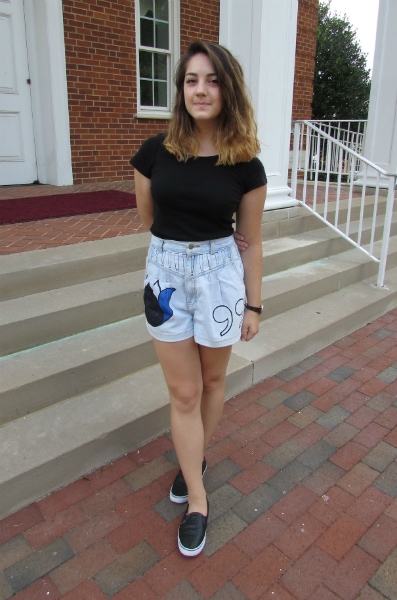 Hannah 101
Name: Hannah
School: Elon University
Year: Junior
Major: English with concentrations in Professional Writing & Rhetoric and Creative Writing, Minor in Economics
Let's Talk Fashion
Who or what inspires your style? "If I could have the personal style of any two people, it would definitely be Natalie Dormer and Cara Delevingne."
Where do you like to shop? "Actually shop or window shop? I love to browse Topshop and SSENSE online, but I actually shop at H&M and the Banana Republic outlets a lot."
How would you describe your sense of style? "I prefer to start with classic pieces but also try to show my personality. I like a very lived-in feel."
Why did you choose this particular outfit? "This was a complete mistake actually. Yesterday, I dressed very professionally in an oxford shirt and oxford shoes. But today, when I was meeting new people and teachers, I wore this more relaxed outfit."
What fashion advice would you give to other students looking to improve their style? "I would say to start classic because you don't want your outfit to be the first thing people notice about you, especially starting out somewhere new. Who you are changes throughout your years at school, so let people learn who you are before committing to an extreme style."
What are your favorite trends right now? "I'm not a big fan of trends, but I love capes and slip-ons. I've got my eye on a houndstooth cape from Topshop right now. Fall is the best fashion season, in my opinion."
Do you have any favorite fashion designers? If so, who? "Tons. I love Oscar de la Renta, Givenchy, Pierre Balmain and Versus by Versace. I also love Originals by Adidas, especially their collaborations like the one with Rita Ora."
What do you do for fun – do you have any unique hobbies or interests? "I'm Copy Chief for our school newspaper and I work at the writing center in the library. I'm also on the non-fiction team for my school's literary magazine. Basically, I love writing and editing."
If you could raid anyone's closet, who would it be and why? "The Korean artist and rapper, CL. She has a very edgy and hip-hop style on stage, but wears the most gorgeous classic outfits for pictorials. I would love to have that variety."
Elements of Hannah's Outfit
1. Ombre Hair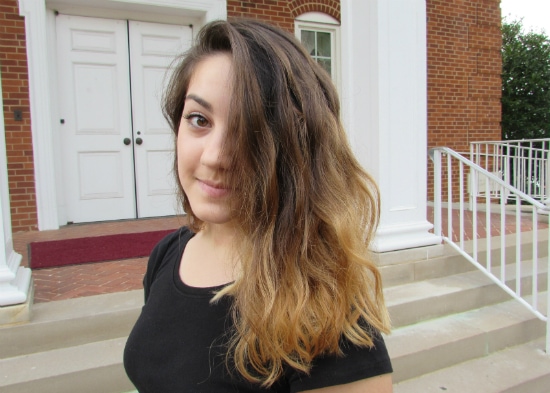 Hannah's curly ombre hair makes all of her outfits a little more interesting. Ombre has been fashionable for a few seasons and I certainly don't think it's going anywhere anytime soon.
2. Slip-Ons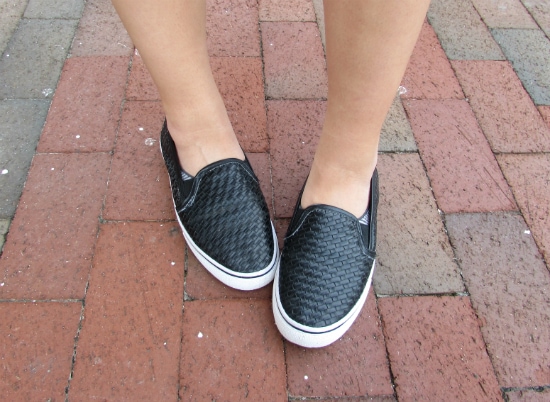 Hannah paired her "punctuation pants" (more on those in a minute) with a black top from Old Navy and these gorgeous Steve Madden slip-ons. These shoes are comfortable while looking more stylish than a pair of sneakers and will easily transition into fall.
3. Watch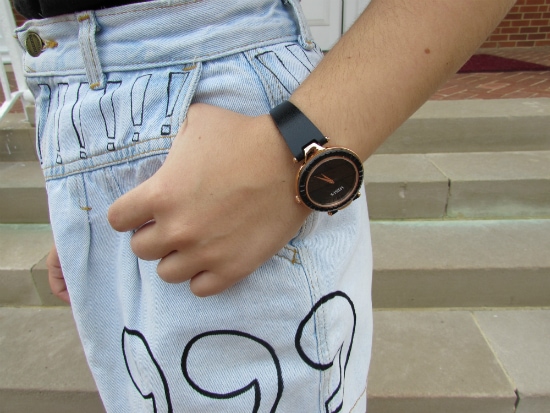 Hannah's Versus by Versace watch is the perfect finishing touch to her look. With shorts this exciting, you don't need many accessories. This watch is perfectly timeless.
4. "Punctuation" Pants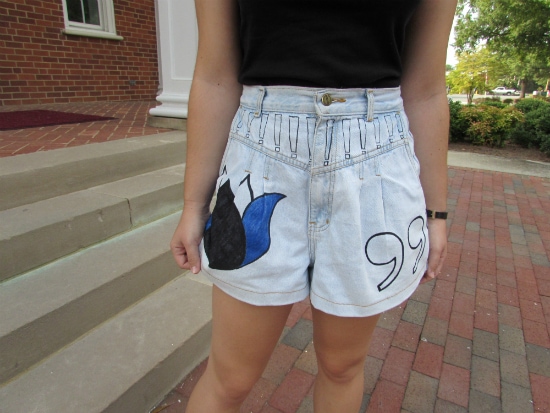 When I saw these shorts, I knew I needed to feature Hannah on CF. While jean shorts are a classic staple, these ones really show off Hannah's personality.
As Copy Chief of the school newspaper, Hannah is passionate about usage rules. To express her love of grammar through her wardrobe, she took a pair of jeans from her grandmother's closet and turned them into shorts, finishing them off with punctuation-themed decorations. She also added a lotus flower to balance each side out. How cool is that?
Do you love Hannah's DIY-ed shorts?
What do you think of her style? Would you rock her flats? Comment below and let us know what you think!