Photo credit:1
Okay, so maybe literally borrowing your boyfriend's clothes isn't the best idea in the world, but one of my favorite trends lately has been the influx of menswear-inspired clothing. Also, why restrict yourself to the women's section when you never know if you will find a great vintage tee or a rugby scarf in the men's section?!
There are several boyfriend-inspired trends out there right now, but I am going to review the three that I feel have become the most prominent throughout the college fashion scene.
1. The Boyfriend Jean
Boyfriend jeans are available from so many different retailers and for such a wide a variety of prices that you have to ask yourself How do I choose the right boyfriend jean? After conducting some research, here are my "rules" for buying and wearing boyfriend jeans:

Go for a straight-leg version. Other styles don't complement the overall relaxed look of boyfriend jeans!

Make sure the bottom hem meets the ankle. Longer versions will give the jean a baggy grunge look, while anything shorter creates a "high water" look that should be avoided when wearing boyfriend jeans (unless you purposely roll up the hems to wear with heels).

Your boyfriend jeans should be the strongest masculine piece in your outfit. If you choose to wear masculine elements such as a leather jacket or vintage sports tee, make them form fitting! Otherwise, you risk looking like you literally got dressed in a boy's closet.
Now that we've reviewed the rules, here are some examples of great boyfriend jeans!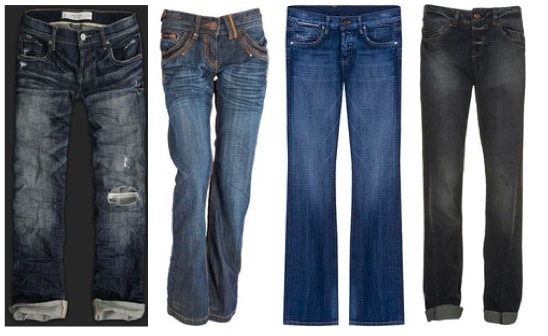 Product Information: Deidre Boyfriend Jean- Abercrombie & Fitch, Crafted Boyfriend Pu Jean- Republic (UK), Citizens of Humanity Boyfriend Jean- Chickdowntown, Tall Indigo Cory Jean- TopShop
2. Men's Vintage-Inspired Tees
I bought my first men's tee from Urban Outfitters recently. I wanted a crew neck screen tee to throw on with my leather jacket, but I couldn't find a screen print I liked in the women's section. My curiosity took me to the men's section where I found an amazing cotton tee that had a vintage advertisment of Madonna's 1985 "Like a Virgin" tour. I purchased the tee in a small and have worn it so many times, it might be time to go hunting for another similar t-shirt.
Now, if you think that venturing into the men's section isn't quite your style, there are certainly options for you that are made for women. Here's what to look for when hunting for a boyfriend-inspired t-shirt:

Look for straighter lines when you try them on. This shouldn't be so striaght that it completely hides your figure, but the relaxed/semi-loose feel is what this trend is all about!

The sleeve should not be a cap sleeve, but rather a t-shirt sleeve!

Try on the next size up in women's t-shirts. Especially because most screen print t-shirts are made of 100% cotton, if you want the loose/relaxed look, it's best to at least try on one size up!
Men's Tees I Love:

Product Information: Clint Eastwood Tee- Urban Outfitters, Bob Ross Tee- Urban Outfitters, Junk Food Men's AC/DC 1973 T-Shirt- Palmer Cash, Men's USA Peace T-Shirt- Palmer Cash
3. Menswear Button-Down Shirt
The menswear button-down shirt has been all over the runways, as well as in several stores lately. The idea of a boyfriend-inspired button-up is no longer a trademark of the "walk of shame," but rather a piece to throw on effortlessly.
The two versions I've noticed are definitely the flannel/plaid/Lumberjack look, and the classic dress shirt. If you are especially keen on the flannel versions, check out Liza's post on how to wear them! This quick photo tutorial from TLC is great for anyone who likes the dress shirt version!
Here are some examples of each, available right now for purchase:

Product Information: Vince Oversized Plaid Roll Sleeve Shirt- Piperlime, Crinkle Plaid Flannel Shirt- Forever 21, H81 Pintucked Woven Button Down- Forever 21, Striped 3/4 Shirt- Forever 21
What do YOU think?
Do you like this trend? Have you tried any boyfriend-inspired pieces? If so, tell us about the experience! How do you wear your boyfriend-inspired clothing items?