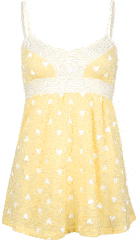 Despite the sub-par weather conditions we've been having lately in the northeast US, girls all over campus are still breaking out their spring clothes. We've been hearing about the trend for a while, but this weekend is when I first started to notice one particular color on every girl I saw.
That's right, the yellow trend has finally exploded onto the college fashion radar. Yellow is officially THE color of spring 2007. This weekend alone, for example, I saw a group of 7 or 8 girls all in matching yellow outfits. I kid you not. This trend is ridiculously popular.
Popular retailers around the country are picking up on this trend too. Wet Seal alone has an entire section dedicated to yellow tops, dresses and accessories, while similar trendy stores like Forever 21 and Charlotte Russe are following suit.
Yellow is a flattering color on practically everyone, and is a nice break from the dark colors we wore all winter. You'll definitely want to try it this season!
Your thoughts?
Are you loving the yellow trend? How are YOU wearing this color? Let me know by leaving a comment below.