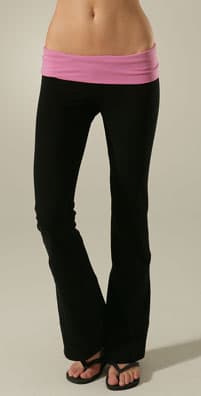 Don't get me wrong here – I don't condone living in sweats 24/7. It just looks sloppy. Besides, why wear sweats when there are so many cute pairs of jeans out there? But… I have to confess, I'm definitely in love with So Low foldover pants for those rare occasions when comfort is the number one priority.
For those of you who don't know about these adorable and super-comfy sweats, I'm sure you've seen them around campus. They come in a billion different colors, and are made in a great soft and stretchy fabric. Also, you can fold them down to make them as low-rise or high-rise as you want. Seriously, don't wear them to class because you might fall asleep in them. They're that comfy.
The other great thing about So Low pants is the colors and styles they come in. These black and pink pants are the Jersey Colorblock Foldover Pants, and come in colors from pink to brown to bright blue. So Low also makes solid jersey foldover pants that don't have contrasting waistbands.
At prices between $64 and $71, So Low pants are a little expensive for the average college student – but these are basically some of the best sweats ever, and the use and comfort you'll get out of these pants definitely justifies the cost.
So Low pants area staple for lazy Sunday mornings and lounging around the dorm. But remember what I said about not wearing them 24/7…