This post may contain affiliate links, which means we may receive a commission if you purchase through our links. Please
read our full disclosure here
.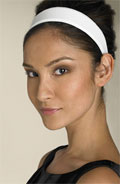 Patent Headband: $14
Buy at Nordstrom
The minute I get to my 12pm bio class, I can't help but zone out. Science just isn't my thing. I'm a business major, and I definitely don't plan to work in a pharmaceutical company in the future. Instead of paying attention to science in bio class, I often stare off into space and check out everyone's outfits.
During today's fashion-scoping session, I was excited to see a girl two rows ahead of me rocking one of my favorite spring hair styles – a shiny patent leather headband. She had on a bright white one that was very similar to the headband pictured here on the left.
This hot trend is popping up everywhere right now, and the options are endless. Headbands are an amazing fix for bed-head hair, and can also look adorable with a dressier updo. They work with casual or formal outfits, and come in many versatile colors for spring.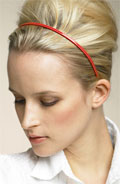 Mini Headband: $16
Buy at Nordstrom
How to Wear this Trend:
Patent, Pleather or Plastic – Choose one of these materials to get the shiniest look. You want as much gloss as possible.
Don't be afraid of color! – These headbands were meant to stand out! My favorite shades for this look: yellow, red and bright white.
Wide or mini? – The choice is yours. Wear one wide band in a solid color or pair a couple of mini headbands for a different twist.
Consider your hair style. – Super-skinny headbands like the one on the right look best with an updo. Wider bands work well with practically any style.
Your thoughts?
Do you like the shiny headband trend? Have you been rocking it in class this season? Let me know with a comment.