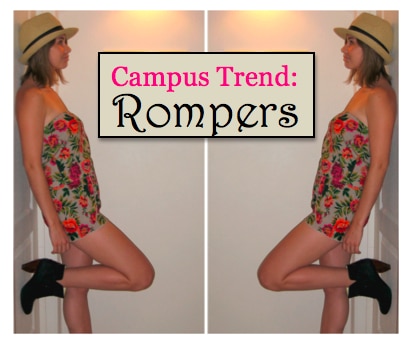 Back-to-school is in full swing across the country, bringing fresh trends for the school year!
I have noticed many girls on campus sporting rompers lately. These rompers often feature interesting prints, are made of fun fabrics, and/or have cute unique details. Rompers are a great item for college girls because they are basically an entire outfit in one piece! They're also very comfortable.
There are dozens of styles out right now, so there is something for everyone! Here are some introductory examples:
Interesting Print: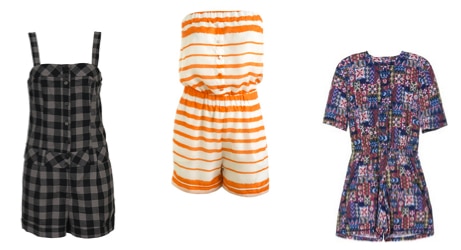 Product Information (from left): Plaid Woven Romper – Forever 21, Striped Tube Romper – Arden B, Vintage Print Romper – Chickdowntown
Interesting prints make a bold statement on their own! This is a great alternative to a dress, while still achieving the same one-piece look. This season, rompers are available in a wide variety of prints. Everything from plaid, to floral, to abstract is available out there and can be a reflection of your personal taste!
Fun Fabric: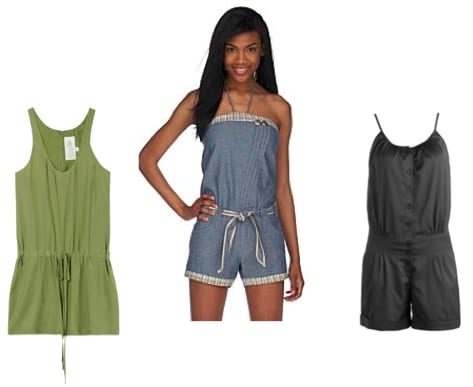 Product Information (from left): Adonis Silk Romper – MyTheresa, Denim Romper – Dillard's, Button Front Cami Romper – Wet Seal
If comfort is your concern, paying attention to the fabric is key. Fabrics that reflect light, such as satin or silk, will give you a soft, lingerie feel. Cotton rompers are also notable for their soft feel. If you desire an modern, comfortable twist on the overall, try a denim romper (center photo above). Playing around with fabrics can be fun!
Unique Detail: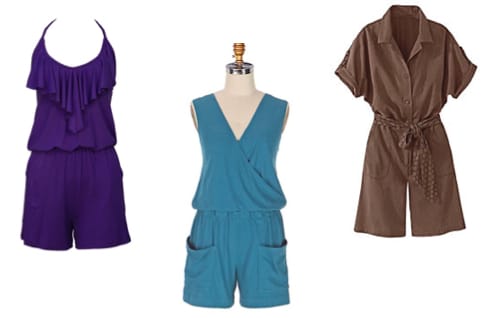 Product Information (from left): Halter Ruffle Romper – Rumor, Pocket Romper – Anthropologie, Brown Cotton Romper – Newport News
Unique details can be a great way to show self-expression! This can be in the form of a girly ruffle (left photo), quirky pockets (center photo), or a printed, artsy belt (right photos). You can even think of these details as a built-in accessory!
How to Wear Rompers:

Use minimal accessories to complete the outfit. I like long necklaces with a charm on the bottom, a cuff bracelet, or a headband.

Complement your romper with basics that you already own! Rompers go great with solid colored cardigans and blazers.

Rompers can be paired with a variety of footwear. For warmer weather, a pair of strappy sandals or ballet flats works well, whereas in cooler weather, ankle, midcalf, and even cowboy boots look super chic and will keep your toes warm.

Add your own pizazz or personal flare to a romper – be daring with a bight, chunky necklace, or even tights!

Be comfortable! Especially for college student on-the-go, a romper can be a great way to throw together a cute, cozy outfit.

Get the most use out of your romper by wearing it for day and night. Check out the outfit examples below!
Example Ensembles:
Interesting Print + Daytime =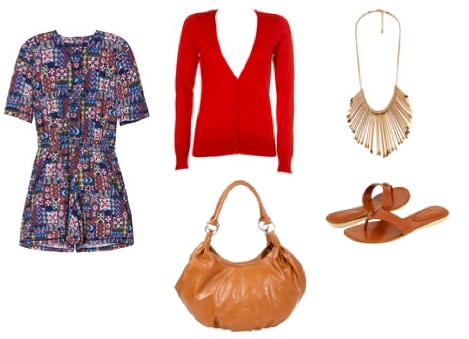 Product Information (clockwise from top): Knitted Cardigan – TopShop, Gold Necklace – Forever 21, Tan Sandal – LAUREN Ralph Lauren, Hobo Bag – Charlotte Russe, Vintage Collection Jersey Romper – Chickdowntown
Fun Fabric + Evening =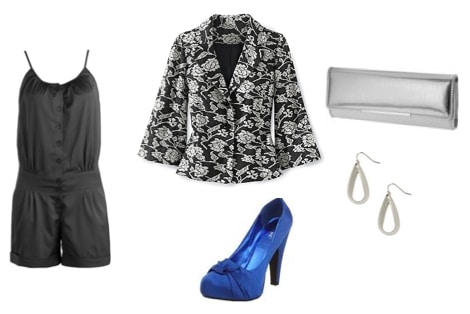 Product Information (clockwise from top): Floral Blazer – Newport News, Poggiomarino Clutch – Aldo, Tear Drop Earrings – Express, Blue Pump Shoes – Miss Me, Button Front Cami Romper – Wet Seal
Your Thoughts?
What do you think about this trend? Do you like the romper look? Do you have any preferences in regards to the print, fabric, or detailing? Leave comments with your opinions!