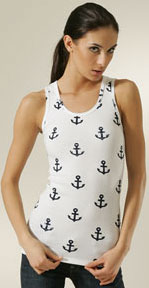 I was born and raised on Cape Cod, MA, which means I live right next to the beach from May to August. Because of where I grew up, I'm absolutely LOVING the latest trend I'm noticing everywhere – nautical fashion! It reminds me of home.
In all seriousness though, the nautical trend is hot and I'm sure it will continue to be for summer. Proceed with caution, however. This trend is easy to go overboard on. (Pun intended.) Here is how you can rock the sailor wear without overdoing it:
1. Stick to one piece at a time.
Head to toe sailor outfits look cute on little kids, not on grown women. Use moderation and stick to one nautical item of clothing at a time. Add a little bit of anchor jewelery if you must.
2. Rock navy, red and/or white
The classic nautical colors work best with the nautical trend. They are also going to be extremely popular colors for summer 2007 anyway.
3. Look for wide stripes and anchors
These two designs are the most popular and recognizable ways to wear the trend. Just remember my rule above and please don't go overboard with them. Moderation is key.
.
My Nautical Fashion Picks: