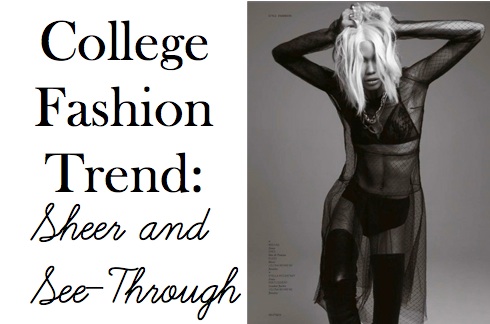 Going to school in Arizona presents many fashion challenges: every Spring, I try to test out all of the new trends, yet by the end of the semester, I always give up and just dress to combat the heat. This year, however, I've resolved to keep my outfits fresh and fun, while avoiding a "uniform" look (AKA a dress and sandals every single day). Dressing well AND staying cool has never been easier, though, thanks to a few skin-baring trends that are perfect for hot weather.
While many of you in colder climates will probably gasp at what we're wearing right now in AZ, the fashion-forward students on my campus are already sporting two of Spring/Summer's upcoming trends: hot pants and tap shorts.
A Bit About Hot Pants
Over the past 10 years, hemlines have become increasingly shorter, but the "hot pant" takes this notion to a whole to level. Originally a trend from the 1970s, the hot pant has been featured by designers like Dolce and Gabbana this season, while celebs such as Gisele Bundchen and Natalie Portman have already showcased this trend on the covers of Vogue and Elle, respectively.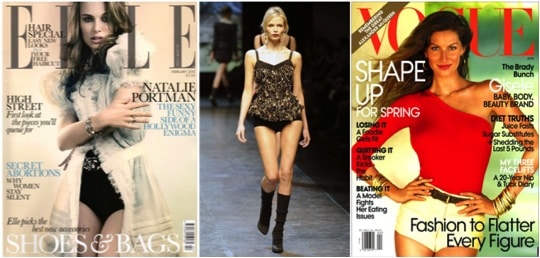 Natalie Portman for Elle, Dolce and Gabbana Spring 2010, Gisele Bundchen for Vogue
Hot Pants 101
Liking the trend but not sure if you can pull these off? Here are a few tips.
When looking for hot pants, look for a hemline that curves up around the outer thigh for the most flattering and fashion-forward look.
Girls with shorter legs should wear heels with hot pants to maximize leg length, whereas longer legged ladies are safe with sandals, wedges, flats, etc. Obviously, short shorts and high heels won't work for your 9 AM Bio lecture, so save them for a fun night-out look.
Have fun with the trend! We're young, so why not try a leather or colored hot pant if you're loving the look? You can always tone it town with the right accessories or neutral toned pieces.
If you aren't comfortable showing so much skin but want to try the trend, wear opaque tights underneath! You'll have coverage but will still be able to sport this style with confidence.
Example Outfit Time!
Here's a budget-friendly outfit that showcases the hot pant. This look could work for a warm night out, or daytime, depending on the occasion.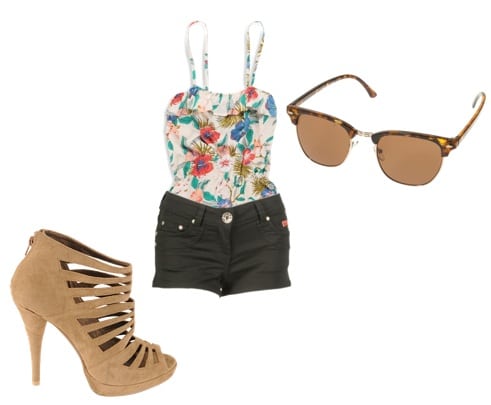 Product Information: Heels- Forever 21, Sunglasses- Top Shop, Shorts- Select Fashion, Top- Forever 21
…and a Bit About Tap Shorts
If you aren't keen on the derriere-hugging look of hot pants, try tap shorts! Tap shorts are like a newspaper boy's short with a feminine twist. This season's tap shorts are heavily influenced by lingerie, as exemplified by designers such as John Patrick and brands such as Kimchi Blue.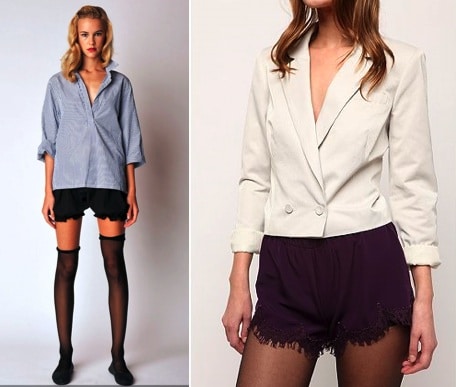 Organic by John Patrick Spring 2010, "Silky Lacy Tap Short" by Kimchi Blue
Hot Pants 101
Tap shorts usually have a hem no longer than 2 inches long, which can be either straight or ruffled.
The tap short is loose and not exactly figure hugging, so bust out your most flattering tops in order to add shape to your look!
Again, if you don't want to show your whole leg, tights are a great option to wear underneath to help you feel more confident.
Example Outfit Time!
Here's an example outfit that shows how to wear tap shorts.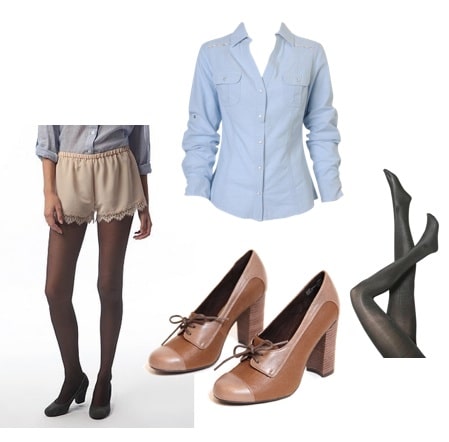 Product Information: Shorts- Urban Outfitters, Oxford Heels-Shop Ruche, Tights- Blouse- Forever 21
A Penny for Your Thoughts…
Do you think hot pants or tap shorts are more wearable for Spring? What are your favorite warm weather looks? Also, if you want to see some more runway inspiration, check out this article by Fashionising!