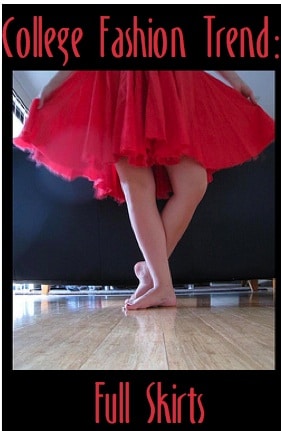 Full skirts are back and the selection is more diverse than ever. I've spotted girls on campus in every possible style: from ballet-inspired skirts to button-adorned denim options. From Marc Jacobs to Forever 21, there is a full skirt out there for every budget and taste!
How to Wear Full Skirts:
Now is the best time to buy and rock a full skirt – they're perfect for the summer-to-fall transition we are going through! Here are some tips to wearing them right.

Still feelin' the heat where you live? Pair your full skirt with flats and a printed tank! Starting to cool down? Bring out your favorite tights and booties!

Watch the fit! Full skirts should fit around the smallest part of your waist and have an "A" line flare that brings the eye straight down. This will create a slim, feminine silhouette!

Start with a neutral. If you aren't sure what the best style is for you, start off with a denim skirt or a neutral tone. (Black is always a safe bet!) Check out my examples below for some cute neutral options!
Examples:
I've divided full skirts into two categories: neutrals and prints. As you can see from my examples below, the most common way to wear a full skirt is to pair a printed skirt with a solid bottom, and vice versa. Don't feel as though you have to follow this idea, though, or that there isn't any room for originality. Look for unique details (buttons, zippers) and personalized prints you love for an extra pop!
Here are a few cute skirts I love: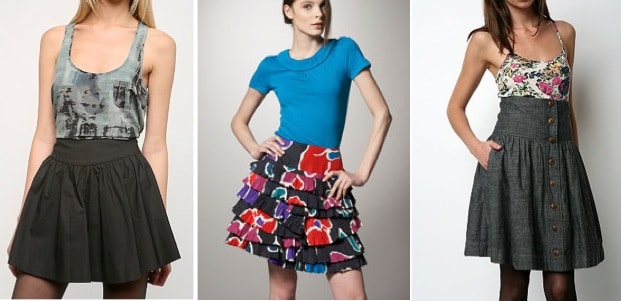 Product information: Black Skirt- Urban Outfitters, Printed Full Skirt- Marc by Marc Jacobs – at ShopBop, Denim Button-Up- Urban Outfitters
Printed Full Skirts:

Product Information: Floral Skirt, Abstract Skirt, Rose Skirt- all from Forever 21
Neutrals:

Product Information: Denim Skirt- Forever 21, Black Skirt- Rokit, Button-down Skirt- Modcloth
Example Ensembles:
Wondering how to wear a full skirt? Look no further than the following example outfits that will keep your look chic and balanced – perfect for going to class or in any casual setting.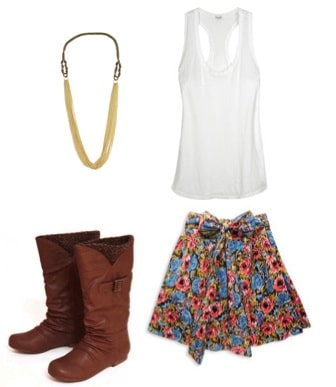 Product Information: Tank- Net-a-Porter, Gold Necklace- Arden B, Boots- ShopRuche.com, Skirt- Forever 21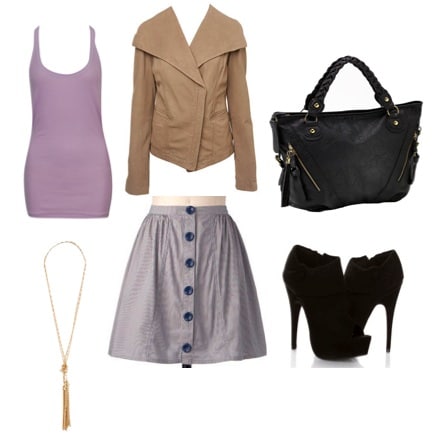 Product Information: Tank- Forever 21, Jacket- Miss Selfridge, Bag- Nordstrom, Black Booties- AmiClubWear.com, Skirt- Modcloth, Necklace- Forever 21
Thoughts?
What do you think about the full skirt trend? Do you own one? If so, how do you like to wear it? Post your thoughts!