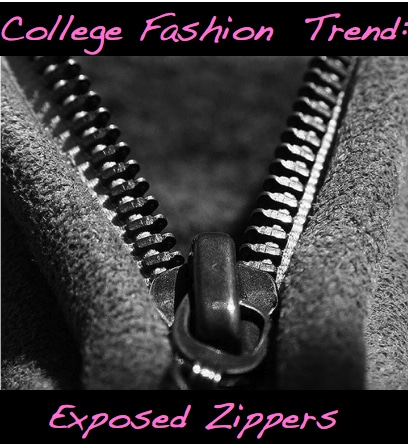 This semester I have definitely noticed a lot of exposed zippers, and at first, I felt uneasy about the trend. On the embarrassment scale, the idea of an exposed fly is right up there with parsley stuck in your teeth, right?
However, zippers have become an accessory- exposed and no longer hidden behind a flap of fabric. The zip-front style is one that I have noticed the most; however, asymmetrical zippers are also becoming widely popular!
Here are different examples of this evolving trend:
Dresses:
At first I thought this trend was a little trashy. I mean, when I think of exposed zippers I think of spandex stripper outfits…yikes! However, there are a variety of zipper dresses that range from cocktail attire to daytime sundresses.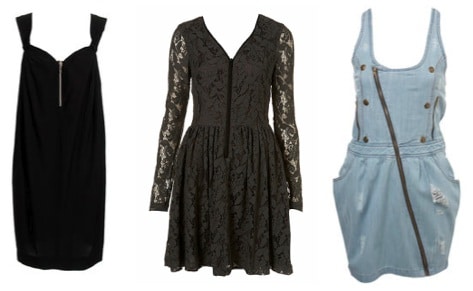 Product Information (left-to-right): Black Zip Dress- Brown's Fashion, Lace Zip Dress- TopShop, Light Denim Dress- missselfridge
Tops:
Zipper tops are also very diverse. The most prevalent zipper style that I've seen is a fitted tank (such as the center tank below) tucked under a high-waisted skirt. See my example outfits below for some more ideas!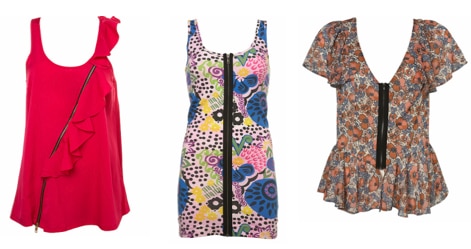 Product Information (left-to-right): Pink Zip Vest, Abstract Top, Floral Blouse- All TopShop
Skirts:
I recently bought a full zipped skirt from Urban Outfitters, and I love it! I've mostly seen full zip-front skirts, but if you spot any other varieties, post links in the comments!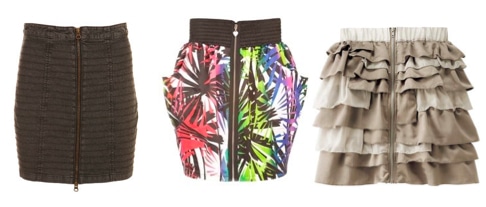 Product Information (left-to-right): Denim Skirt- TopShop, Abstract Skirt- Lipsy, Ruffle Skirt- Maruione (Japan)
How to Wear Exposed Zippers:

Avoid flashy belts! Exposed zippers should be the focal point of the dress, skirt, etc.

Don't go overboard on the grunge effect. If you add leather, studded cuffs, or other hardcore elements, proceed with caution! I would go for a leather strap bracelet, or something that has a hardcore, but quirky look.

Take the time to find your zipper niche! Exposed zippers are also featured on ballet flats, leggings, and even on clutch bags!
Example Ensembles:
On a Date: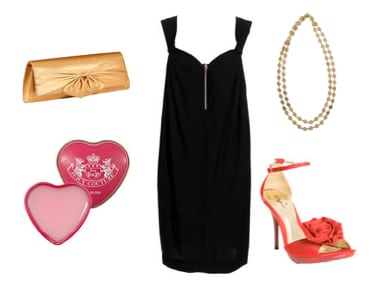 Product Information (clockwise from upper left): Gold Clutch- eBags, Black Dress- Brown's Fashion, Coin Necklace- Banana Republic, Red Shoes- Windsor, Lip Gloss- Sephora
For a Long Day of Classes: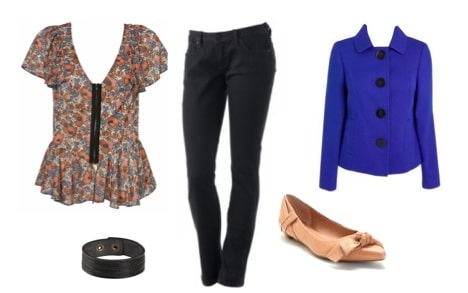 Product Information (clockwise from upper left): Floral Blouse- TopShop, Black Skinny Jeans- Kohl's, Jacket- Debenhams, Nude Flats- Macy's, Leather Cuff- Fossil
While You're Out Shopping:
Product Information (clockwise from upper left): Tan Bag- Fred Flare, Black Tank- Forever 21, Headband- Kitson, Sandals- Old Navy, Ruffle Skirt- Maruione
Your Thoughts?
What do you think about this trend? Which style do you prefer, the asymmetrical or the zip-front?