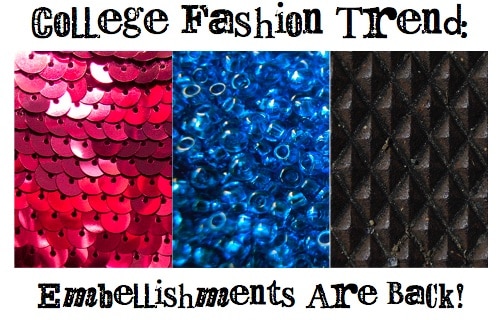 A new semester is about to begin, and what better way to kick of the new year than by adding a little pizazz to your wardrobe? Embellishments, specifically sequins, beading, and studs- are one of the biggest post-winter break trends. It's hard to transition from winter break to the hustle and bustle of a new semester, but with a little glitz or an edgy touch you will enter the spring semester with style!
Exhibit A: Sequins
Sequins are manifesting themselves as accents to basic pieces, such as cardigans and scoop neck tee shirts. Some designers are even choosing to create mosaic pictures or patterns with different colored sequins. This is perfect for those of you who like to wear very artful and exquisite pieces. I like a more subtle approach- black sequins on black material, or something of that sort, but to each her own!
Here are some examples of sequined pieces that are available right now, as well as an example outfit to show you how to wear the trend!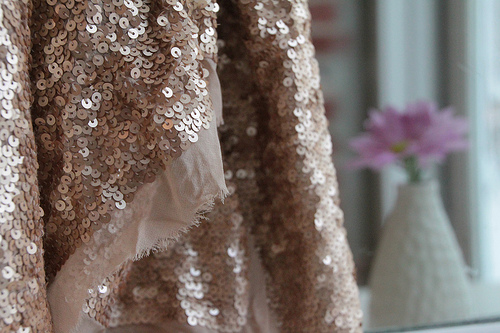 Product Information:Examples: 1. Sequin Top- Forever 21, 2. Sequin Tank- Wal*Mart, 3. Gray Sequin Sweater- Miss Selfridge, Outfit: Skinny Jeans- American Eagle, Watch- ASOS, Boots- Piperlime, Bag- Purse Boutique
Exhibit B: Beading
This season, beading complements solid colored pieces. Beading is basically an alternative to sequins, but the purpose and execution is relatively the same. If you're in the mood for a little D.I.Y., check out this step-by-step guide on how to add beading to an article of clothing you already have! Three cheers for chic on the cheap!
Here are some great finds if you are looking to purchase a piece with beading on it, as well as another inspirational outfit!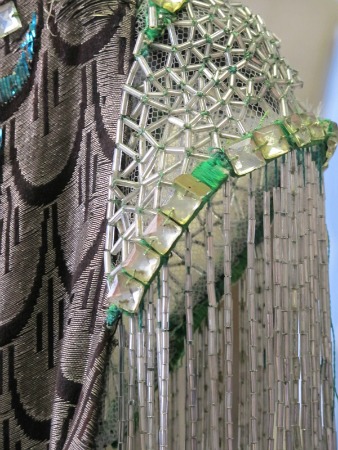 Product Information:Examples: 1. Beaded Cardigan- TopShop, 2. Beaded Tank- Forever 21, 3. Navy Beaded Tank- Oli (UK), Outfit: Tank- Forever 21, Skirt- H&M, Flats- Dorothy Perkins, Messenger Bag- A-Plasticbag
Exhibit C: Studs
Studs are probably my favorite of these three trends, and I'm actually surprised at myself because my style is pretty girly and classic. I guess my affinity for studs is a sign I need to embrace an edgier side I never knew I had! I've seen studs on many jacket and blazer collars lately, as well as on the sleeves of shirts. If you are looking for more information on this trend, checkout About.com's article on studded clothing and accessories!
Here are some cute studded pieces and a final example outfit! Enjoy!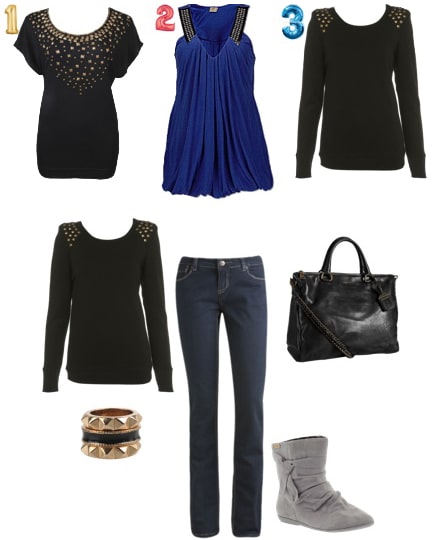 Product Information:Examples: 1. Studded Scoop Neck Top- Forever 21 2. Studded Top- Buckle 3. Studded Sweater- Top Shop, Outfit: Skinny Jeans- Wet Seal, Rings- Forever 21, Prada Bag (a girl can dream, no?)- Bluefly, Boots- Piperlime
What do YOU think?
Are you a fan of any of these three embellishments? Why or why not? If you do own any pieces that fall into one of these three categories, where did you find them, and what do you wear them with? Let me know with a comment!