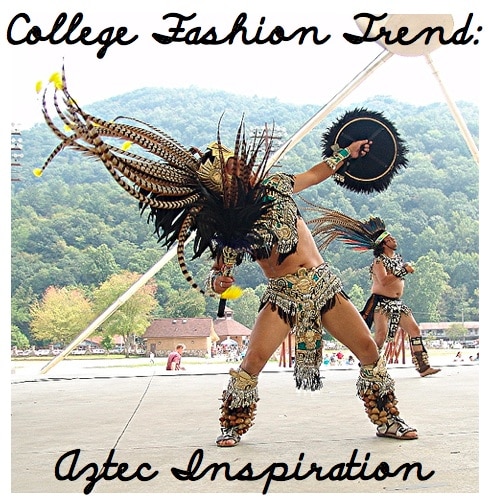 While wandering around campus, I always try and keep an eye in the back of my head in order to spot any new college fashion trends. For the past month or so, I have been sporadically seeing these really interesting prints that I could not quite put my finger on. They're not quite abstract, and they're not 100% geometric either.
Then, as if by fate, I was flipping through an old Spanish textbook when preparing for an exam, and I came across a chapter based on the Aztecs (who we'll discuss more in a bit). There were a few photos depicting traditional Aztec garments and viola, here's a great college fashion trend worth writing about!
The photo featured is a picture of an Aztec dancer who still performs the traditional dances today! The detailing of the costume and color pallet of the headdress really blows me away…how could you NOT be inspired by something so exquisite?
Aztec 101: History to Inspiration

So…who are the Aztecs? The Aztecs are a Central American Indian people best known for their domination of the central and southern regions of Mexico during the 14th and 16th centuries. A few more facts about them:
1) Aztec architecture is also a notable component of Aztecan history. The aztecs are famous for their pyramids, which were used for sacrifices and religious worship.
2) Basic clothing included a breechcloth and cape. Additional accessories (especially sandals) were a sign of wealth. See the middle picture above!
3) The traditional Aztec clothing color palette included shades of deep blue, red, and yellow. Jewelry was made of copper, silver, gold, turquoise, emerald and jade.
Want to know more? Here is a great article by the History Channel.
Modern Interpretation
Contemporary Aztec-inspired pieces use the elements I mentioned above, while adding a new twist or flare to keep things modern. I have seen diverse color palettes that stray away from traditional Aztec shades, as well as an emphasis on embellishments or geometry within the fabric chosen.
Here are my favorite budget-friendly pieces, so you can get an idea of what's out there if you decide to add an Aztec-inspired piece to your wardrobe!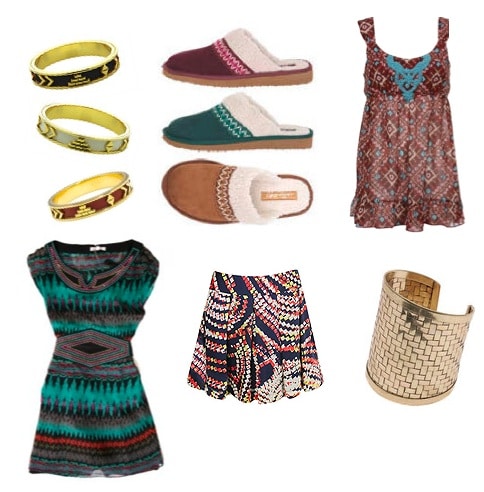 Product Information (clockwise from upper left): Aztec Bangles by House of Harlow- Pink Mascara, Aztec Cozi Slipper- Alloy, Beaded Aztec Top- Charlotte Russe, Oricola Bangle- Aldo, Digital Cube Skirt- Forever 21, Anacoana Aztec Chiffon Dress- Shop Ruche
Example Ensembles: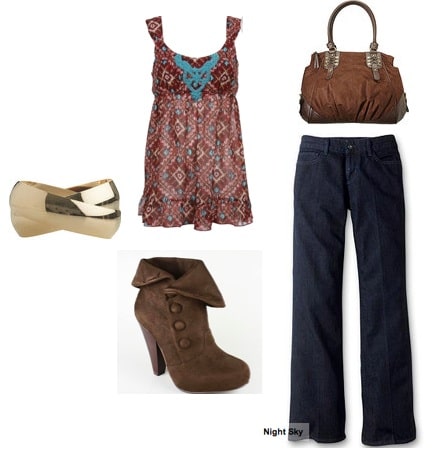 Product Information: Beaded Aztec Top- Charlotte Russe, Bootcut Jeans in Night Sky- Eddie Bauer, Silva Large Tote- Nine West at Zappos, Suede Cuff Button Boots- Go Jane, Interlocked Bangles- Wet Seal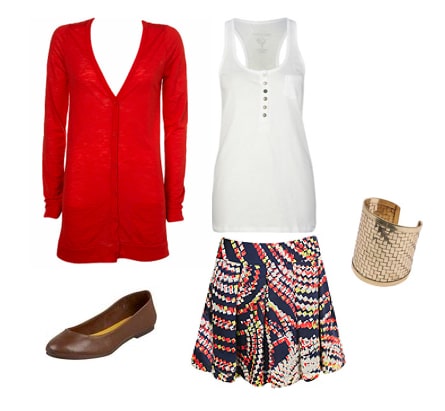 Product Information: Digital Cube Skirt- Forever 21, Full Tilt Henley Tank- Tilly's, Oricola Bangle- Aldo, Tall Long Sleeve Cardi- Top Shop, BC Limousine Flat- Endless.com
To Aztec or Not to Aztec?
What are your thoughts on the Aztec-inspired trend? How can you take history or other cultures and draw inspiration from them? Is it important to stay historically accurate, or are modern interpretations just as good?