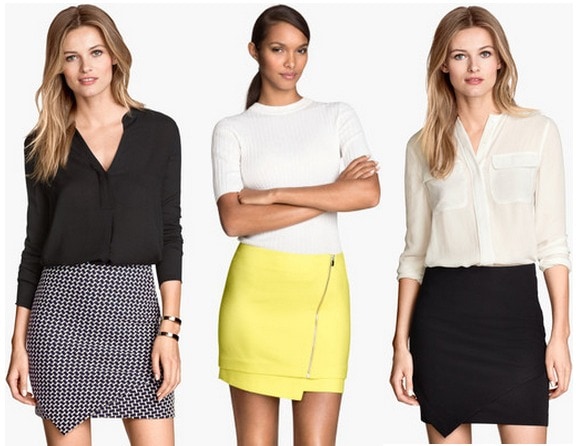 H&M Asymmetrical Skirts: 1. Printed, 2. Yellow, 3. Black
Now that it's officially spring, I'm even more eager to pack away my winter clothes and break out everything I own that's light and floral. Unfortunately, it's not quite warm enough for all my breezy, flowered sundresses, but that doesn't mean it isn't skirt weather yet.
Asymmetrical skirts can be worn bare-legged or with tights, so they're the perfect piece to wear as we transition into (hopefully) warmer weather. Below, I'll show you two ways to wear an asymmetrical skirt – one look that's appropriate for class, and another that's ideal for a night out. Keep reading to find out how to rock this look!
Asymmetrical Skirt: Class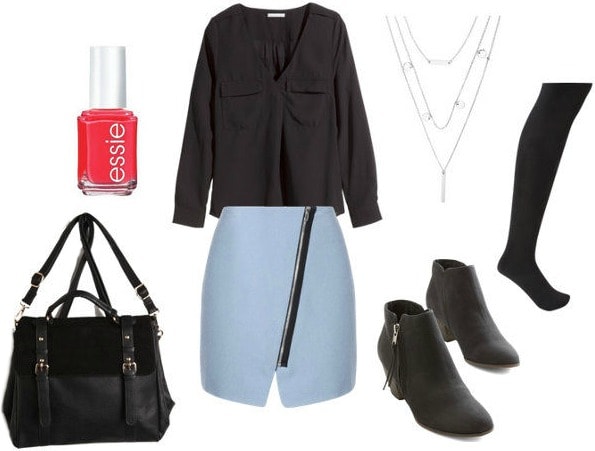 Product Info: Skirt, Blouse, Necklace, Tights, Booties, Bag, Nail Polish
An asymmetrical skirt is edgy in any color, but to really pack a punch, pick something bright, like this periwinkle one. Tuck a sheer blouse into the skirt for an elegant look. To keep with the polished vibe of this outfit, add a pair of low-heeled black booties (and black tights, if the weather requires it!).
For jewelry, all you need is a thin, layered silver necklace. Grab a structured black backpack to hold all your belongings. For a final pop of color, paint your nails a pretty shade of coral.
Asymmetrical Skirt: Night Out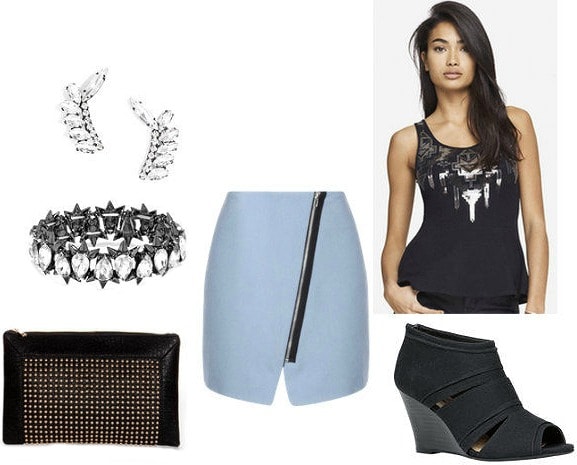 Product Info: Skirt, Top, Wedges, Bracelet, Earrings, Clutch
What's a night out without a little sparkle? Start by pairing your asymmetrical skirt with a metallic-printed peplum top. Add some height with adorable peep-toe wedges. Edgy earrings and a spiked cuff bracelet toughen up this look, and a studded clutch will fit all of your essentials.
Thoughts?
Would you wear an asymmetrical skirt? What do you think of the outfits above? Do you have any items you'd like to see styled for class and a night out? Leave me a comment; I'd love to hear from you!