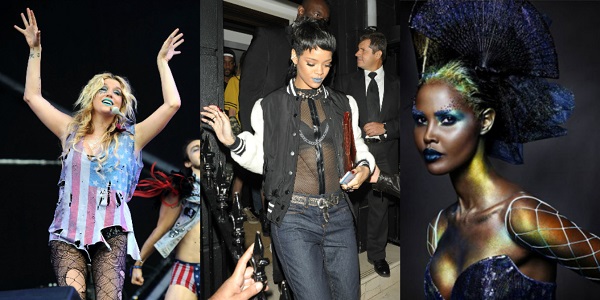 1. Ke$ha via Pacific Coast News, 2. Rihanna via Pacific Coast News, 3. CoverGirl Capitol Collection
Believe it or not, the reason you've been seeing blue lips lately has nothing to do with the cold weather. Celebs and fashion-forward girls alike are proudly rocking cobalt lips this season. Ke$ha is known for donning hers on stage and our girl RiRi was spotted out and about with a bold blue pucker recently. Even a recent Looks on Campus pick opted for a standout azure lip color on campus.
When CoverGirl released their Capitol Collection in association with The Hunger Games: Catching Fire, the craze went viral. One of the models from the campaign looks incredibly chic in a deep, navy lipstick. Although the collection is about couture-style makeup, the lips alone are portrayed in a reasonably wearable way.
Although this look is not ideal for a group presentation or anything school-related, it may be a beautiful option for catching a band or going dancing. Personally, we prefer a dark, moody navy to a bright hue.
Our picks…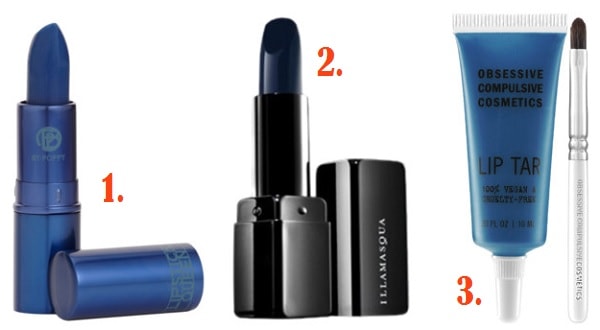 Product Information: 1 -Lipstick Queen (Hello Sailor) from Barney's New York, 2 – Disciple from Illamasqua, Obsessive Compulsive Cosmetics Lip Tar in RX from Sephora
Now we want to know, would YOU wear blue lipstick?
Or is this look a little on the cartoonish side? Do you think this beauty trend has any real staying power, or is it already on its way out the door? Do you like the way Rihanna and Ke$ha are wearing it? Let us know by leaving us a comment below.