At my school the temperature today is a high of 63 degrees! We all know what that means – spring is here! To celebrate my favorite season for fashion, I purchased myself some adorable spring footwear: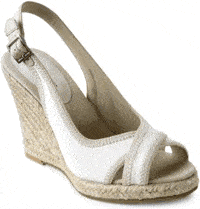 Banana Republic
Slingback Open-Toe Espadrille
I think it's safe to say that I'm in love with these shoes! I've been buying cute spring dresses like crazy, and now I finally have the perfect footwear to pair them with. It's a little too cold to go bare legged just yet, but that's what leggings are for.
These espadrilles also pair together two of the latest spring trends I'm loving right now – white everything and wedge heels. They would look great with the monochrome look, and also work just as well with a more earth-toned palette.
Also, did I mention how comfy they are? I was a little intimidated by the size of the wedge, but I could walk miles in these. Its rare to find a shoe that will endure walking in a hurry, but these are comfy enough to make it.
At $68 a pair ($57 with 15% off coupon and free shipping for BR Card holders), the price of my newest footwear obsession wasn't half bad either.
You can find these shoes and more in similar styles at Banana Republic.