If you visited College Fashion yesterday (April 1st), you probably noticed a weird article at the top of the home page. It was totally fake, and hopefully that was obvious! In case you missed the joke, click below to check it out…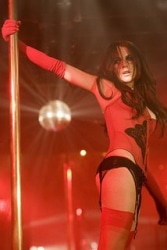 Lilo in Stripper Chic
I'm really excited to talk today about one of my absolute favorite looks ever. It's been out for a while, but now it's coming back into style for Spring 2008 and I know you are all gonna think it's fab! Hope you have a pair of thigh highs handy in your closet…
That's right ladies, stripper chic is back this season!
Inspired by great pole dancers of the past, this look is one part Jenna Jameson and one part Paris Hilton (before her whole "I'm dating a pop-punk-rocker so I'm going to wear nothing but his clothing line" phase.) Its uber sexy and over-the top! Perfect for parties (or to impress that hot guy in your 8AM math class!)
Want to rock the burlesque dancer look but really don't know where to start? Don't break out last year's velcro policewoman costume just yet girls; this season's stripper chic isn't about dressing as someone else! It's all about expressing YOU… in an overtly sexy way.
The key to rocking this hot look is to invest in big shoes and tiny bottoms. Hope you can handle a 5-inch heel with a 5-inch long pair of shorts, cuz that's the trendiest look around this spring.
Elements Of Stripper Chic:
To start off this look, make sure you have a pair of super-high platform heels in either black, red, or clear. If you can't walk in them, remember: practice makes perfect! Here are a few of my faves from around the web:

A great corset is an absolute must. It cinches your waist in and creates those sexy curves that are so much a part of the stripper look! Check these hot corsets out: Can't you picture yourself wearing them everywhere? So cute.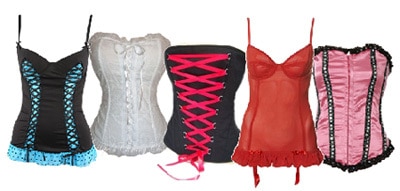 Finish your hot look off with super hot hosiery. This season, the stripper look is alll about fishnets, but if you can't find those, any thigh-high will do! Check out these ones below: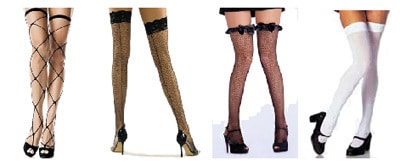 In honor of this trend, I'm also super-psyched to announce that College Fashion is branching out and I'm starting a sex advice column! Who needs fashion anyway when you're getting busy all day?Check back for that soon: no topic is off-limits and I'll feature all the latest trends for bedroom wear! Oh, and…………………….
Happy April Fools Day!!!!! In case it wasn't really obvious, that article was totally fake. 🙂
Normal CF posts will resume tomorrow. Xoxo.