Can you believe we're heading into the end of August? While I'm not quite ready to bid goodbye to beach days and backyard barbecues, summer's not quite over yet. Thank goodness, too– there are still so many summer trends I haven't had the chance to try!
If you're like me and suffer from a serious case of "too many trends, too little time", zooming in on a few key pieces might help expand your style arsenal without completely overwhelming you with options.
For my wallet and personal sanity, I've chosen five trends to try before fall rolls around– and you should try them with me!
1. Bold Sneakers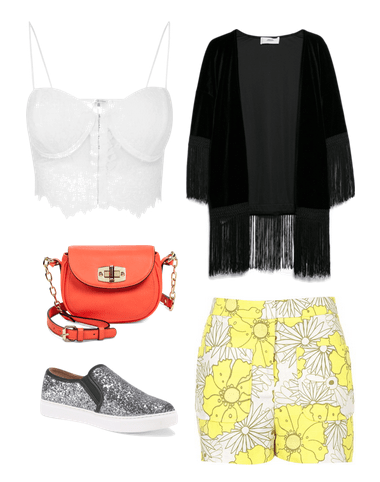 Product Information: Top – Topshop, Kimono Cardigan – Mango, Shorts – Topshop, Bag – Target, Shoes – Gap
Statement sneakers are super-fun and summery, but you can still wear them with an array of cute socks when temperatures cool. Pair them with your summer staples, or throw them in with printed shorts for an interesting take on pattern-mixing.
I've gone with glittery slip-ons because I'm a total sucker for sparkle, but this is a trend you could totally shop your closet for. Even if you don't own a pair of floral or polka-dot Keds, you could always decorate a pair of old sneakers. If you're stuck, Brit + Co has some incredible DIY ideas.
2. Button-Down Skirts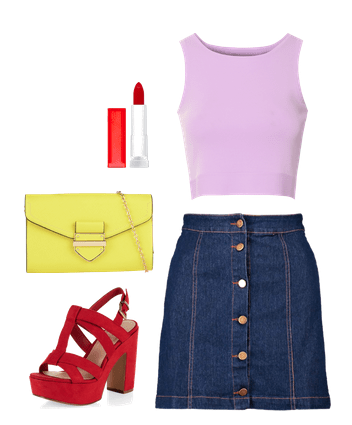 Product Information: Top – Glamorous, Skirt – Boohoo, Heels – New Look, Clutch – ALDO, Lipstick – Maybelline
The A-line, button-front silhouette is here to stay– 'til next season at least, where the '70s are still in full force on the runways. For A/W 2015, denim is slated to give way to suede iterations. Since suede isn't really my thing and I find denim to be much more wearable, I'm jumping on this bandwagon now.
Crop top weather only really ends in October if you live on the Northeast coast like I do, but I've worn them all summer and really don't see myself stopping until the weather forces me to. If you share my stubborn love for crop tops, rock them shamelessly on your last few beach days!
3. Platform Heels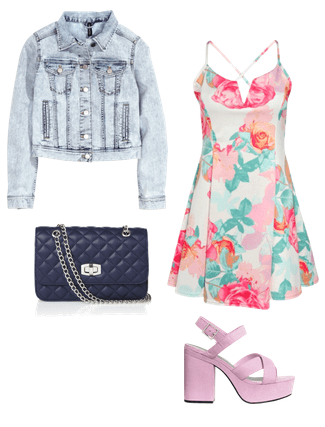 Product Information: Jacket – H&M, Dress – Boohoo, Bag – Express, Heels – H&M
Everything about this outfit screams "summer" to me, but you can take a denim jacket and floral dress into the colder months with clever layering. Platform heels, however gorgeous, don't have the same versatility– once you break out the tights and socks, you'll wish you wore them more when it was warm out.
If you're still on the fence about platform heels, boots are a good alternative (and Forever 21 already stocks them). Even if they don't look as polished and put-together as heels, platform boots will last you through all of your fall ensembles (and if you live in California, they might get you through winter, too!)
4. Slip Dresses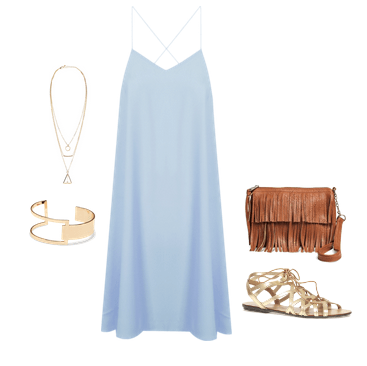 Product Information: Dress – Glamorous, Necklace – Aeropostale, Bracelet – Sole Society, Bag – Target, Sandals – Dorothy Perkins
Depending on where you live, a slip dress could also work for fall, but I'm eager to try this trend out in warm weather because it's so easy to throw on and gives me total resort vibes.
Though a slip dress is incredibly versatile, the breezy silhouette isn't for everyone. It skims over everything, so even though it's really good for days when you feel particularly bloated after a feast, it might be a bit too shapeless if you usually like structured pieces, or if you like to emphasize your curves. Try it with me anyway– you might like it!
5. Off-Shoulder Tops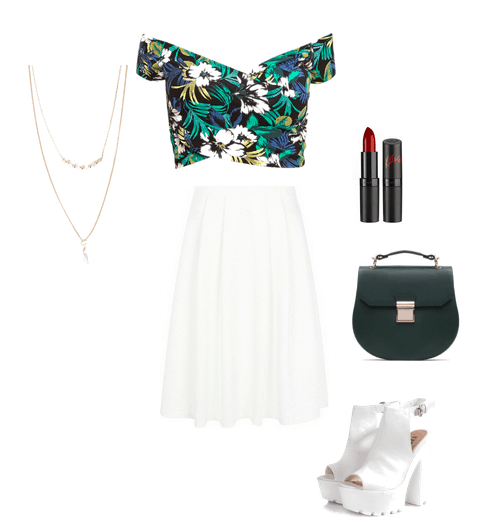 Product Information: Top – New Look, Skirt – New Look, Necklace – Forever 21, Lipstick – Rimmel, Bag – Zara, Heels – Glamorous
If fall is great for layering moto jackets, flannels, and cardigans, then summer is great for shoulder details. The effortlessly girlish flair of off-the-shoulder tops have made them my absolute favorite piece this summer, but they lose their impact once you start covering up your shoulders in colder months.
The Chloé Drew bag is my pick for 2015's "It Bag", and I've seen it on so many style bloggers and editors since New York Fashion Week in February. I can't afford Chloé, but brands like Zara and Forever 21 have finally begun putting out their versions of the bag, so this is one trend I'm definitely trying out before Labor Day.
What do you think?
Are there any trends you'd like try, but haven't yet? What are your favorite trends from this summer? How would you style these key pieces? Let me know in the comments!