As every College Fashion girl knows, with new seasons come new styles! And even though Punxsutawny Phil claims that we're due for another six weeks of winter, it's never too soon to start incorporating some warmer-weather fashion into that wardrobe of yours.
Wishful thinking? Probably. Regardless, these five trends speak to the seasons to come, and can be totally college-girl appropriate. It's a win-win! Go ahead and indulge–spring will be here before we know it.
1. Floral Print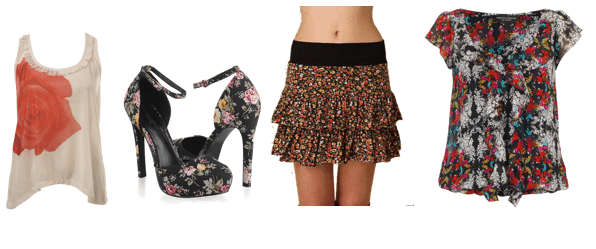 Product Information: Cream Rose Crop Vest, Miss Selfridge. Boutique Floral Pump, Forever 21. Tea Party Skirt, Free People. Floral Print Ruffle Top, Dorothy Perkins.
A perennial spring favorite, floral print isn't exactly a cutting-edge trend. Its serious staying power is deserved, however (even Herve Leger's famous bandage dresses were peppered with florals this week!), so expect to see cute florals a lot in the coming months!
The great thing about this season's incarnation of the floral print, however, is its ability to be either sweet or edgy. Designers are offering larger, graphic florals in bright neons, bold "exploding florals" in black and white, and of course, the traditional: dainty, pastel floral prints. For an updated way to rock this time-honored trend, try pairing your adorable florals with tougher accent pieces–think leather jackets or fringed boots- for a model-off-duty look that's the perfect mix of sugar and spice.
Outfit Inspiration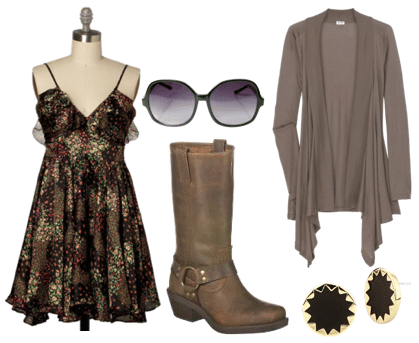 Product Information: Floral Frill Dress, Mod Cloth. Oversized Sunglasses, Steve Madden. Katherine Leather Engineer Boots, Target. Splendid Draped Jersey Cardigan, Net-a-Porter. House of Harlow 1960 Starburst Earrings, The Trend Boutique.
2. Chambray
Product Information: Strapless Chambray Wild Rose Dress, J.Crew. The Hill-Side Chambray Scarf, Blackbird. Quinn Chambray Romper, Abercrombie & Fitch. Blowfish Cruize Flats, Zappos.
If you're a denim diva, you might already know about chambray, its lighter, less-structured little sister. A throwback to the 90's, this fine-woven cotton fabric is great for the coming warm weather. Expect to see chambray everywhere this spring from shirts to shorts to bags, both in classic light-blue to colorful dyed hues.
If you're a traditionalist, pick up a chambray shirt. They're comfortable, cute, and totally on-trend! Just be careful what you wear it with–chambray works well with khaki and white, but it's best to avoid pairing it with denim, unless you're trying to channel Justin and Britney at the VMAs!
Outfit Inspiration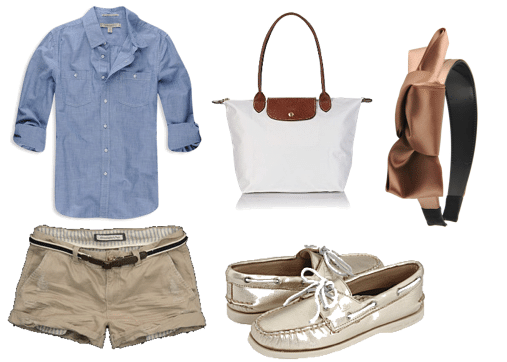 Product Information: Chambray Woven Shirt, Forever 21. Brieann Shorts, Abercrombie & Fitch. Longchamp Le Pilage Medium Nylon Tote, Bloomingdales. Sperry Top-Sider A/O 2 Eye, Zappos. Sateen Bow Headband, Forever 21.
3. Lace
Product Information: Oat Lace Insert Top, Miss Selfridge. Lace Front Sweat Shirt, Forever 21. Black Floral Lace Tights, Miss Selfridge. Vintage Tribute Woven Top, Forever 21.
Stemming from the popular boudoir styles of the season, lace has started to appear everywhere from leggings to nails! 2010's lace trend is anything but old-fashioned, but is instead is totally figure-flattering and sexy.
Accent pieces like lace-covered shoes and jewelry, or clothing with lace accents, will give you a taste of the trend. Ready to go all out? Lace-back tops and lace dresses are fearless fashion do's. Wearing lace on the day-to-day? Remember to layer for a campus-friendly look!
Outfit Inspiration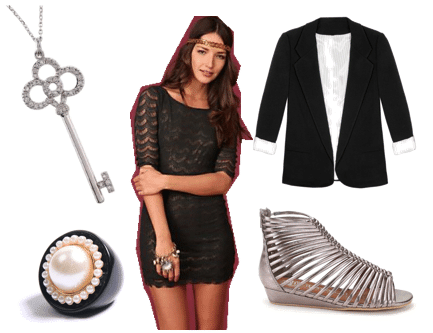 Product Information: Open Circles Key Pendant, Amazon.com. Big Pearl Black Ring, Papaya. On The Fringe Lace Dress, Free People. Jeffrey Campbell Cast Sandals, Lori's Shoes.
4. Nude Tones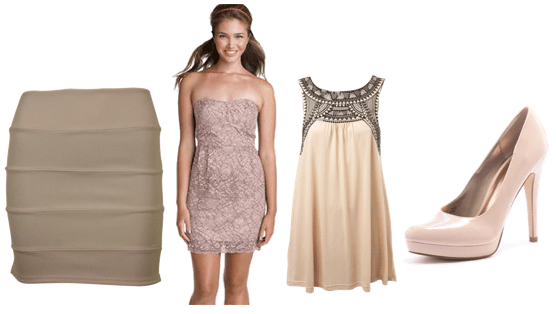 Product Information: Peach Bodycon Skirt, Desire Clothing. As U Wish Lace Tube Dress, Nordstrom. Tribal Embellished Tunic, Miss Selfridge. Nude Almond Toe Platform Shoes, Dorothy Perkins.
Neutral, feminine nude shades are big for spring 2010. Easily wearable, they'll fit perfectly into your wardrobe. Nude tones are natural and effortlessly sexy, and look great with a wide variety of skin tones. While I think that nude pumps should be a staple in every girl's closet, spring's trendy buff tops and dresses are equally flattering and easy to wear. For a lingerie-inspired twist, try nude tones next to pink or black. When considering this trend, choose a shade that is either a slightly imperfect match to your skin tone or a total contrast to avoid looking naked!
Outfit Inspiration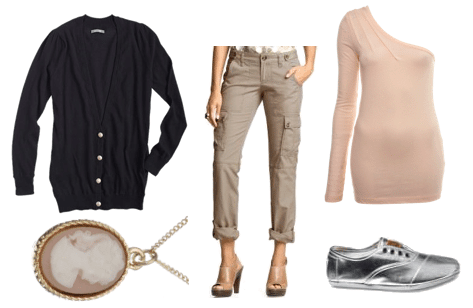 Product Information: Arielle Girlfriend Cardigan, Delia's. Cameo Pendant Necklace, Monsoon. Cargo Chino Pant, Banana Republic. Nude One Shoulder Long Top, Miss Selfridge. Borges Cordones Shoes, TOMS.
5. Sheer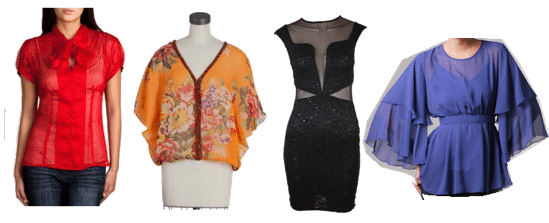 Product Information: Striped Tie Blouse, Charlotte Russe. Free People Sheer Genius Floral Top, Piperlime. Black Netted Glitter Dress, Desire Clothing. Ruffle Sleeve Sheer Tunic, Akira.
The sheer trend has been covered in depth on CF for good reason: it's one of spring's top trends! Many of you thought sheer blouses wouldn't be particularly wearable for a college girl, but with the right layers, the sheer trend is definitely doable!
Aside from layers, a less-fitted silhouette creates a classy, more conservative look. A high-neck blouse is made flirty with the addition of sheer fabric, and wearable with a tank top underneath. Or, try a peak-a-boo style mesh panel. While it's still cool outside, look for dark jewel-toned pieces. As the weather warms, expect pieces in prints and pastels. Sheer styles are floaty and feminine, the perfect picks for spring.
Outfit Inspiration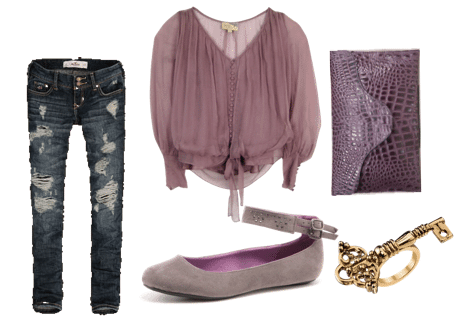 Product Information: Oceanside Super Skinny Legging Jeans, Hollister. Rosy Blouse, Joan Shepp. Stud Cuff Pumps, Dorothy Perkins. JJ Winters Blake Lively Croco Envelope Clutch, The Trend Boutique. House of Harlow 1960 Key Ring, Kitson.
Your thoughts?
For more spring fashion, see our list of Spring 2010 Runway Trends as well.
Now we want to know what you think! What are your favorite fashion trends for the upcoming season? Are any of your favorites showcased in this post? Let us know with your comments!