This post may contain affiliate links, which means we may receive a commission if you purchase through our links. Please
read our full disclosure here
.
It's bikini season, and my Instagram feed has been flooded with non-stop it-girl inspiration. Since I've been inspired to go #nofilter this summer, I'm trying to make up for Nashville and Walden with infinitely photogenic outfits.
While I certainly can't afford the same $200 cover-up and Quay sunglasses I see on my feed, I've put together four beach-ready looks with this summer's key pieces, inspired by what I've been seeing all over Instagram.
1. Mixing It Up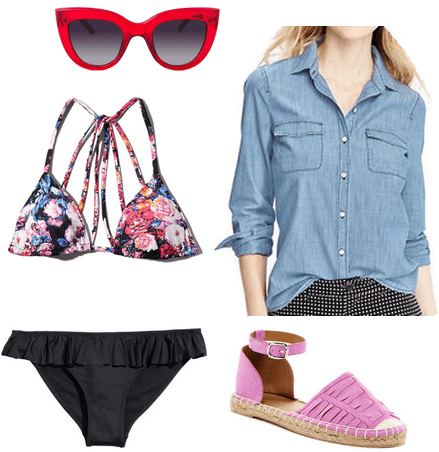 Product Information: Top – Abercrombie, Bottoms – H&M, Shirt – Old Navy, Shoes – Nordstrom Rack, Sunglasses – Mango
A chambray shirt makes for an unusual beach cover-up– it doesn't quite have the boho flair of a kimono cardigan, but it can be styled in so many different ways. If you usually wear your denim shirts cardigan-style, try tying your chambray shirt so it looks like a cute crop top.
I personally really like the way chambray looks with a bright floral print, so I've gone with this floral bikini top. I'm not quite bold enough to rock bikini bottoms in the same print, though, so I picked this pair of black bottoms with a ruffle detail. If you have no qualms going full-on floral, though, more power to you– go for it!
2. Resort-Worthy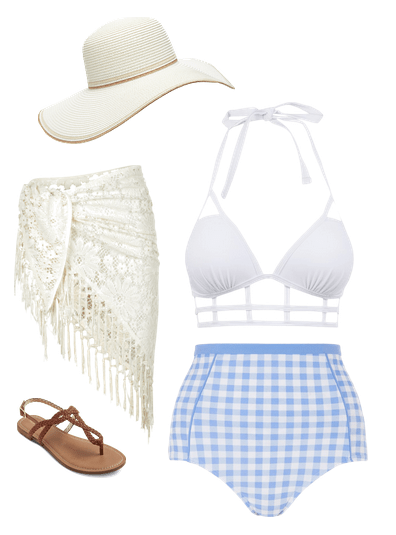 Product Information: Top – New Look, Bottoms – New Look, Sarong – Accessorize, Hat – Forever 21, Sandals – Target
Can you tell I really love mix-and-match bikinis? They make packing light for any summer getaway so easy, because you get twice as many options. If you're looking to soften a caged bikini top, try a pair of high-waisted bottoms in a girly, retro print. Gingham is super on-trend this season, but you could also go with polka dots for a similar look.
Sarongs are not a particularly popular beach cover-up, but I think they're an interesting addition to any summer-ready outfit. Though I've opted for one with a subtle pattern, they also come in really interesting prints and colors. Bonus: There are about ten million ways to wear and tie a sarong, so it can easily be styled to match any of your bikini combinations!
3. One-Piece Frenzy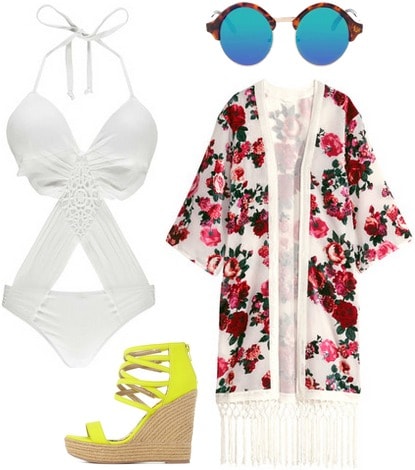 Product Information: Swimsuit – Boohoo, Kimono Cardigan – H&M, Sunglasses – Mango, Wedges – Charlotte Russe
Would this be a beach outfit post without a kimono cardigan? I don't think so. If you prefer one-piece swimsuits, cutouts are a great way to add interest, and you can always pick one that shows less skin. I love the crochet detail on this swimsuit– and the triangular belly-button cutout, which is everywhere this summer.
If you're working with a tight budget but still want a variety of outfits for the beach, go with a white or black swimsuit and play around with colorful cover-ups. A plain-colored piece is a fail-safe way to style a statement kimono cardigan like this one– and you also get to wear neon shoes without worrying if it clashes.
4. In the Tropics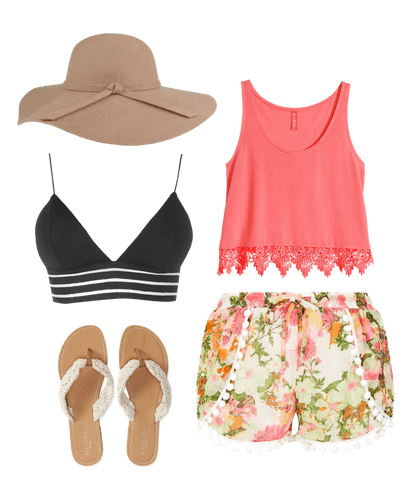 Product Information: Tank Top – H&M, Shorts – New Look, Bikini Top – Topshop, Hat – Amazon, Sandals – Aeropostale
Contrary to what swimwear advertisements would have us believe, there's really no shame in wearing shorts and a tank top to the beach! I've made my love for crochet tanks painfully obvious by now, but the coral color of this one makes it a great piece to throw on over your bikini top.
The unexpected star of this season's collections has to be pom-pom shorts. I love my floral print ones (again), because they're both cute and super-comfy– perfect for lazy days lounging by the water!
What do you think?
Do you have any unusual ways of wearing a beach cover-up? What are your favorite beach-ready outfits? What do you think of this summer's trends? Let me know in the comments!