So now that the New York Fashion Week excitement has died down while other cities take their turn on the catwalk, it's time to figure out what you're going to be wearing in spring. Better yet, you can take it one step further to really stay ahead of the crowd – why not work NYFW's hottest looks into your wardrobe now?
For this post, I put together a compilation of items based on one key trend each from three of my favorite designers–Zac Posen, Ralph Lauren and Jason Wu.
These three collections are extremely well suited to your lifestyle as a college student and are perfect for transition dressing as you ease your way into fall. Aside from that, all three collections are so fabulous that there's no need for us to suffer through winter before we let them inspire us for Spring/Summer 2010. Here are three hot trends you can rock today.
1. Neon Pieces à la Zac Posen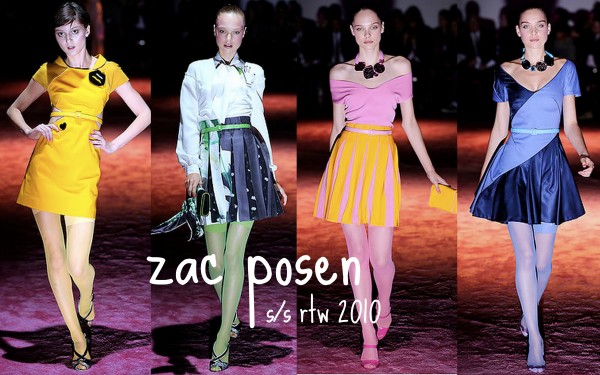 Zac Posen's Spring 2010 collection was all about bright colors. Neon was everywhere, proving the 80's revival trend isn't dead yet. He took the bright colors, however, and refined them into playful, yet work appropriate ensembles. Pretty a-line dresses, colorful tights, and pleated skirts were all important components of his Spring looks.
Here are some items that you can use to help inject a little Zac Posen glamour into your wardrobe. Even better, tights are fabulous for fall – so you don't have to wait 'til spring to wear them!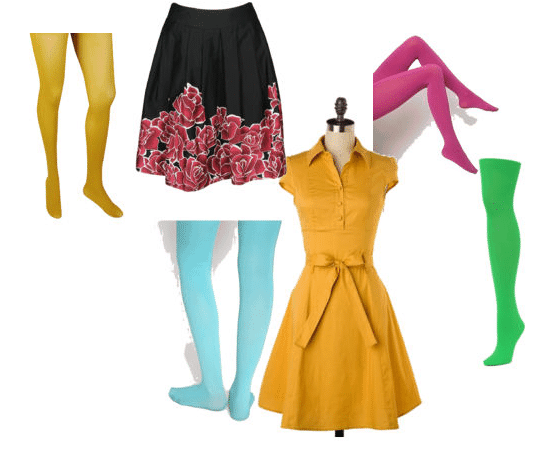 Dress – Modcloth; Skirt and Yellow Tights – Forever21; Pink and Blue Tights – Urban Outfitters; Green Tights – welovecolors.com
2. American Elegance à la Ralph Lauren
Ralph Lauren is one of my favorite designers. He has always been able to do American elegance really well, and this season he used the economy as part of his inspiration to create a collection of amazing, classic pieces.
Much of the Spring 2010 Ralph Lauren collection had an industrialized worker, Great Depression sort of feel. Yet at the end, the entire collection turned into a Cinderella story – complete with clean cut work and silvery blue gowns for the final few looks. The overall vibe was classic, elegant, and inspiring.
One of the best parts about Ralph Lauren's Spring 2010 collection was its wearability–from boyfriend jeans to oxfords to sundresses, Ralph was all about making those classics go the extra mile. It would be easy to recreate many of his looks with pieces you already own. In addition, his use of many traditionally male pieces helped rough up a very girly collection – another hot trend you can totally rock for fall.
Below are some pieces that go with the Ralph Lauren Spring 2010 vision.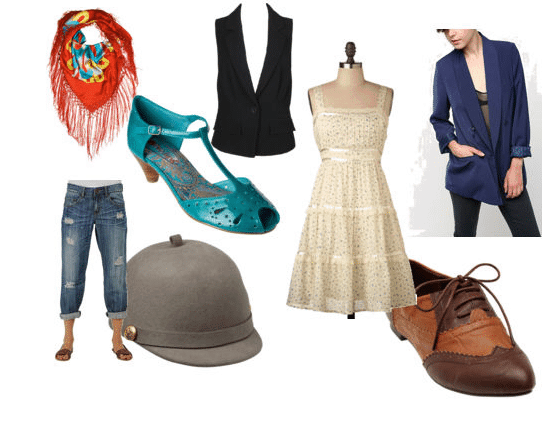 Hat, Shoes, Dress and Scarf – Modcloth; Boyfriend Jeans – Old Navy; Blazer – Urban Outfitters; Sleeveless Vest – Forever21
3. Feminine Silhouettes à la Jason Wu
My final pick, as well as one of First Lady Michelle Obama's favorite designers, is rising star Jason Wu. I loved the entire thought process behind his Spring 2010 collection, from the pink tweed rompers to the one-shoulder cocktail dresses.
The Jason Wu collection this season focused primarily on skirts and a very feminine silhouette. To get a similar look for yourself, try to keep the focus on your waist by choosing items that will give you a hourglass appearance, such as paper-bag skirts paired with looser, more flowy tops. To really get the Jason Wu S/S '10 vibe right, stick with a darker color palette as opposed to the neons of Zac Posen.
Here are some pieces that will help you get the Jason Wu look.
Dress and black pencil skirt – Modcloth; Black tulle skirt, gray pencil skirt and lace top – Forever21; Sheer blouse – Piperlime
What do you think?
So now that you have the basics of these three designers' spring collections, will you try these trends before the weather cools down? Or do you plan to wait until spring?
Also, who were your favorite designers from New York Fashion Week, and do you have any plans to work their looks into your wardrobe soon? What do you think of my picks? I love feedback, so don't be afraid to tell me what you think! Be sure to leave a comment with your thoughts.