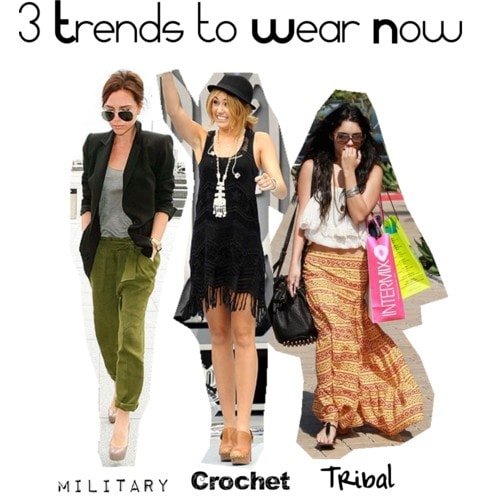 I am the biggest fan of fall fashion you will ever meet – I love the thought of chunky sweaters, wool shorts, and the anticipation of wearing tights again! However, since we are still many weeks away from fall weather, I have been obsessed with finding fall pieces you can wear right now.
There are lots of trends on tap for fall, but the military, crochet, and tribal trends are three of the biggest. I've rounded up 15 of my favorite pieces from each trend that you can wear NOW,and the best part? They're all under $100! Talk about looking chic on a budget!
Trend #1: Military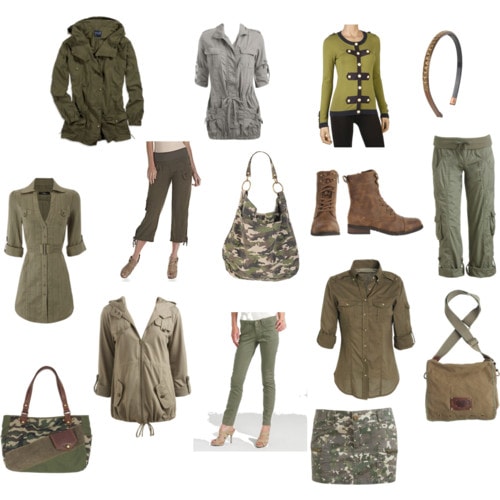 From top left to right: Anorak, Jacket, Sweater, Headband, Shirt, Cargos, Purse, Boots, Cargos, Purse, Tunic, Pants, Shirt, Skirt, Purse
The military look has been one of this year's hottest trends, and will continue to stay popular through the fall. If you're a bit hesitant to try this look, the key is to rock one militarypiece at a time and then leave the rest of your outfit simple.
My favorite military-inspired warm-weather outfit is a pair of army green cargos topped with a sparkly tee for a fun night out. (This tank looks great with cargos!) Another great way to rock this trend now is to wear one of the shirts pictured above with some denim cutoffs. Not only are all of these pieces great to wear now, but you can also wear the jacket, headband and purses once the weather is cooler, as well.
Trend #2: Crochet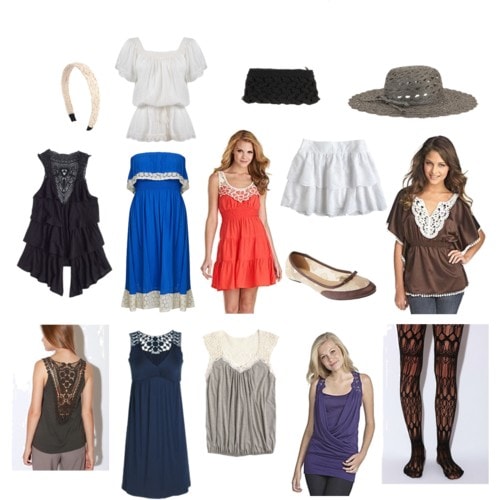 From top left to right: Headband, Top, Clutch, Hat, Vest, Strapless Dress, Dress, Skirt, Flats, Shirt, Tank, Dress, Top, Tank, Tights
Crocheted pieces practically scream "summer days" to me: Their light, airy feel makes them a great option on those unbearably hot days. Even better, crochet is a hot fall 2010 fashion trend, so any crochet pieces you buy now will be just as stylish come October!
Above, I chose a number of pieces that would work perfectly with jeans, sandals and tanks. If crochet brings up bad memories of ugly sweaters that your granny used to make you, than the crochet tights would be the perfect way to subtly incorporate this trend into your closet. By wearing the tights under a skirt and throwing on some boots, you've instantly created more of a tough-girl look, without even the slightest tinge of granny aesthetic!
Trend #3: Tribal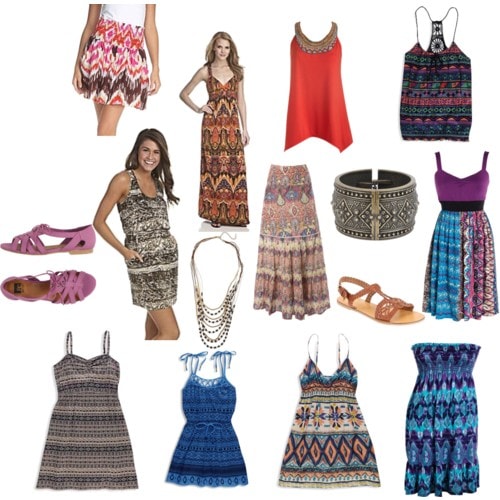 From top left to right: Skirt, Maxi Dress, Tunic, Tank, Shoes, Dress, Necklace, Maxi Skirt, Bracelet, Sandals, Dress, Tank Dress, Tie Dress, Tank Dress, Strapless Dress
How light and flowy are these gorgeous tribal-inspired pieces? They're oh-so-summery and perfect for right now, but will also look amazing in the fall.
Because tribal pieces are often very loud, it's best to pair them with simple accessories. If you're going to wear one of the dresses, just slip into some flip-flops or simple leather sandals and you're good to go! Or, if you're wearing a tribal print skirt, pair it with a basic tee. If the print is still too much for you, don't despair! You can still rock this trend by wearing tribal-inspired accessories, like the jewelry or shoes I featured above.
Thoughts?
What are you thoughts on these trends? Which is your favorite? Will you be rocking any of these now or in the fall? As always, let us know with a comment!