This post may contain affiliate links, which means we may receive a commission if you purchase through our links. Please
read our full disclosure here
.
A wise lady-mentor once told me one of the best thing about having a job that requires a professional wardrobe is that you can have two sets of styles: your professional style and your 'weekend' style.
In the spring and summer, I think I do a good job of keeping my 'polished and creative' professional style and my 'edgy but comfy' personal style separate, but once the fall rolls around, all I want to wear is my coziest cardigans and sweaters everywhere I go, because it is cold here in the mitten. And chances are, your office heating system is not keeping up.
Sure, you could stash a snuggie in your office or keep one of these bad boys under your desk, or you could layer up like fashion blogger and not look like this when your boss wanders into your office to invite you on a sbux run. Your choice.
Thinking the latter is the better option? Here are some warm – and trendy – work outfit ideas, perfect for casual workplaces.
Turtleneck Sweaters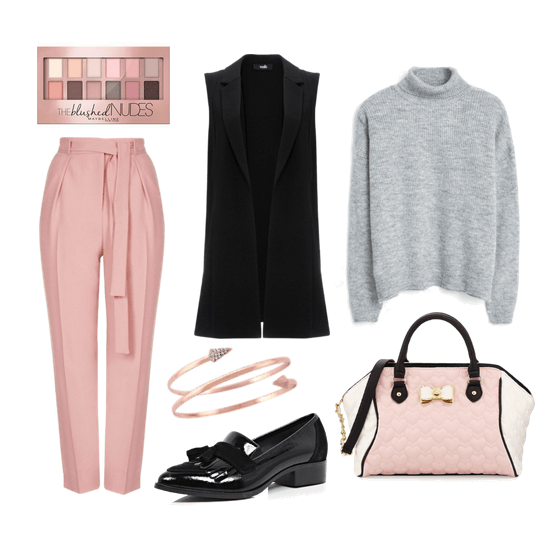 Products: Eyeshadow, vest, turtleneck, pants, bracelet, shoes, bag
'70s fashion is still ruling the runways, so the turtleneck is here to stay – at least for now. Take advantage of this cozy but sleek staple's popularity and switch up your chunky sweater game with one of these bad boys when you're getting bored with your off-the-shoulder cable knits.
For a look that #slays at the office, pair a gray turtleneck with a super trendy longline vest in a neutral color, then add a pair of tie-waist pants in a feminine color to add a little definition to your waist and balance out the masculine vest. Other ultra-femme accessories, like a quilted pink bag and rose-gold jewelry, balance out tough tasseled loafers. Finish the look with a subtle rose gold eyeshadow.
Fur Vests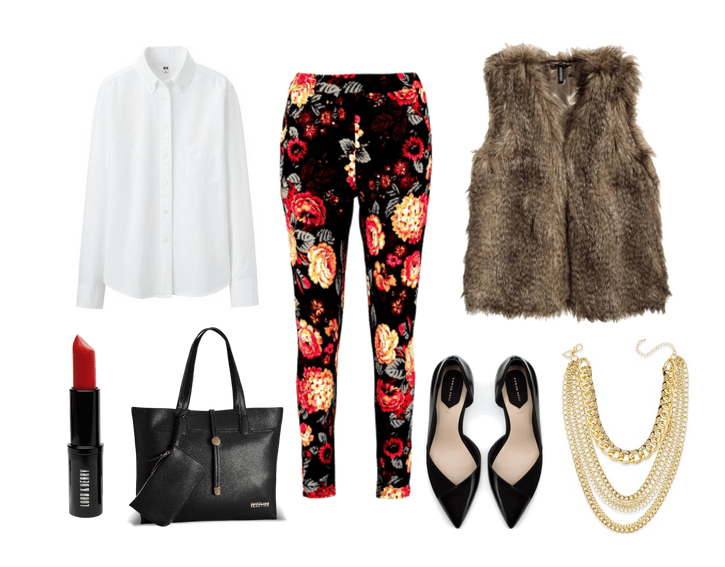 Products: Shirt, pants, vest, lipstick, bag, shoes, necklace
Fur is always huge for fall, but it can feel a little…divaish?..for the office. As long as you keep the faux fur neutral (avoid pink fur vests and bright leopards here) and wear it with your other office go-tos, like crisp shirts, tailored pants, and heels, you should be good.
For the look pictured here, reach for a pair of dark floral-patterned pants and a classic white oxford shirt, then layer on your fur vest. Classic accessories – like a red lip, pointy toed black heels, and a giant black bag – give the look a timeless feel, while layers of gold chains add an edgy and youthful vibe.
Flannel Shirts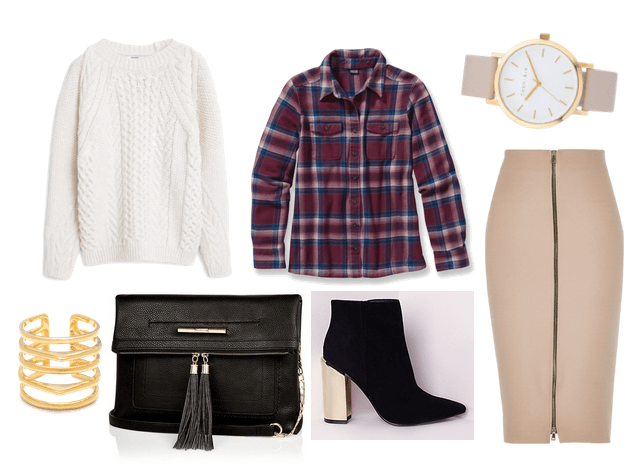 Products: Sweater, flannel, watch, ring, bag, booties, skirt
Plaid shirts for fall aren't groundbreaking, but when paired with uber trendy pieces like chunky, creamy knits, gold heeled booties, and zipper details, these tough/preppy staples become polished and girly.
Start with your flannel – the one pictured here combines two super hot colors for fall: cobalt and marsala. Wear this under a creamy sweater so just the cuffs, the collar, and maybe the hem shows. Add luxe, ladylike details, like gold heeled black suede booties, a blush zip-front pencil skirt, and a fun tasseled bag. Finish with polished but trendy accessories like a cage ring and a giant watch.
What do you think?
Would you wear any of these looks? Do you have a separate "office look" and "casual look?" What is your favorite cozy trend this fall? Let us know in the comments below!