It's finally mid-May: Classes have ended, projects have been turned in, and final exams have been aced. We made it! Summer 2011 is here.
And now, in order to complement the flirty sundresses, denim shorts, and sheer tanks that have been hiding in the back of our closets all semester, it's time to bring out the sandals! Whatever your style, there's a pair for you. Want to treat yourself to some new summer footwear?! Read on for 24 of our favorite picks!
Wedges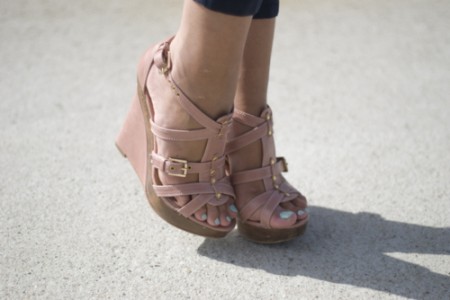 Anything '70s-inspired continues to be huge on the runway and in stores and the wedge sandal is no exception! Super versatile, easy to wear, and universally flattering, a great pair of wedges will get you through any summer engagement. Poolside to party, if there's a single style to invest in this season, make it the wedge.
There are a few variables to consider when picking a wedge. First, consider the height of your platform! Though wedges are (generally) more comfortable and easier to walk in than traditional pumps, they can be surprisingly wobbly. Next, make a decision about straps. Ankle straps are great for adding a feminine touch to an outfit, and can make it easier to balance. Girls with more athletic body types, however, may prefer slingback or slide wedges that don't "cut the leg" and draw attention away from the ankle.
Whatever style you choose, rest assured that they'll look fabulous with any of your outfits. Bonus? The right wedge can be worn all the way into fall!
Hot Picks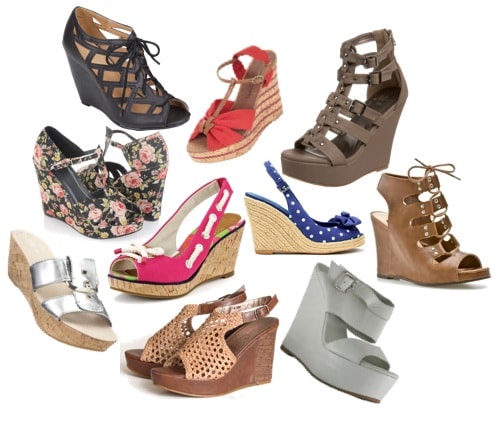 Product Information: Black Lace-Up Wedges, Floral Wedges, Metallic Mules, Red Wedges, Pink Nautical Wedges, Woven Wedges, Taupe Gladiator Wedges, Polka Dot Wedges, Cognac Lace-Up Wedges, Grey Platform Wedges.
Embellished Flats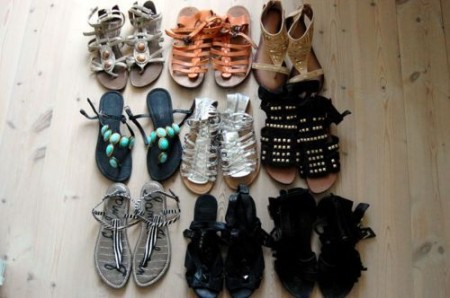 While bejeweled shoes are always in style, the summer season is the ideal time to add some additional glitz and glamour to your outfits with embellished sandals. After all, what girl doesn't love to sparkle?!
This trend embraces eye-catching detail: gems, sequins, glitter, studs, fringe, metallics and even feathers are used to spice up basic footwear. There's truly something for everyone!
We love the look of a great, super-embellished flat with a solid mini-dress — you get to show off your legs and your flat sandals will keep the look classy and steal the show! Just as easy as throwing on a pair of flip flops, these shoes are the perfect solution for girls on the go — they're stylish, comfortable, and transition seamlessly from day to night.
Hot Picks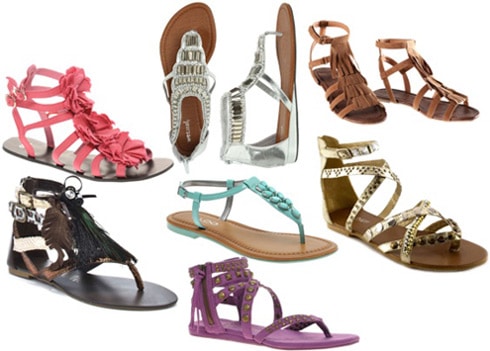 Product Information: Floral Gladiators, Mixed Media Feather Flats, Jeweled Flats, Turquoise Flats, Purple Studded Sandals, Fringe Sandals, Studded Sequin Sandals.
Minimalist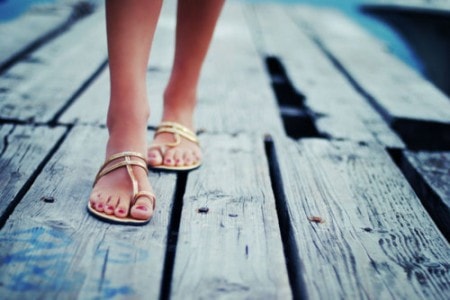 Minimalism often makes an appearance in fashion when designers embrace an oddball combination of simplicity and luxury. And it's back!
This season, the trendiest way to rock a minimalist-inspired look is to use key pieces to punctuate your outfit. It's all about rocking basics and adding pops of detail, or conversely, wearing eye-catching pieces and using minimalist accessories.
When it comes to sandals, "minimalism" can have a few definitions regarding either their style or material/color. In any regard, think simple. Classic. Effortless. These sandals are typically unadorned and basic, letting the rest of your outfit take center stage.
Fan of the past year's gladiators? You're in luck — new varieties that are understated and decidedly minimalist-inspired are the freshest way to wear the trend! Though flat sandals may seem the most obvious choice for minimalist sandals, girls who crave additional height and leg-lengthening benefits can rock the trend, too! Simply look for uncomplicated sandals in neutral hues.
Hot Picks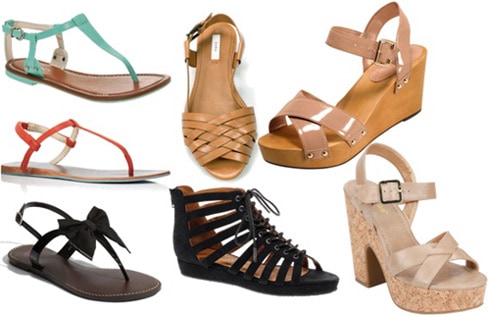 Product Information: Turquoise Flats, Orange Flats, Black Bow Flats, Braided Sandals, Black Gladiators, Wooden Wedges, Simple Cork Sandals.
Your thoughts?
What do you think? What are your favorite sandal trends for Summer 2011? Will you be wearing any of these styles? Any new trends we missed? Leave a comment and share your two cents!