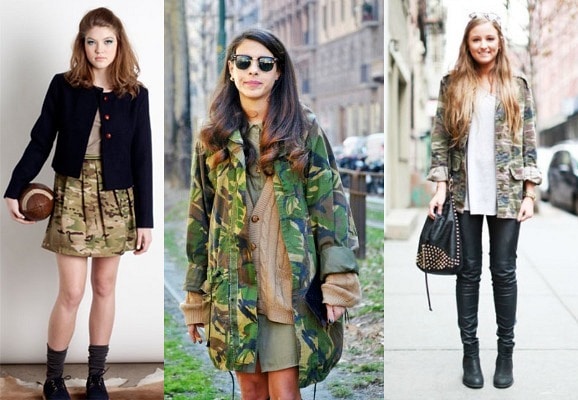 Photos: ELLE
Now that fall fashion is in full swing, one trend that has stood out for me amidst all the rest has been camouflage. I've been a fan of this print for quite some time, so I have been trying to rock it in every way possible this season.
Below, I've created two separate looks featuring easy, cute, and casual ways to wear camo print this fall. Scroll down to see them both!
How to Wear Camo Pants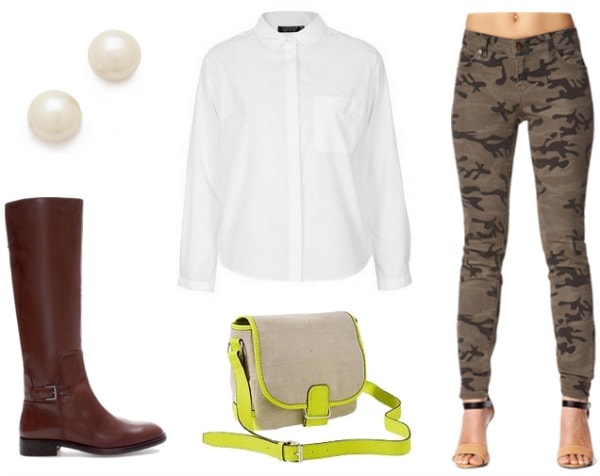 Top, Pants, Boots, Bag, Earrings
Go for a classic look with a bit of an edge for fall. Wear a crisp white button-up shirt over a pair of camo pants. Slip on riding boots, grab a trendy neon-outline crossbody bag, and complete the ensemble with timeless pearl earrings.
How to Wear a Camo Utility Jacket
Top, Jacket, Jeans, Shoes, Necklace, Earrings
Switch up a classic jeans-and-tee look with a pop of camo! Wear a grey tee over a pair of distressed boyfriend jeans. Slip on some Converse and throw on a camo print utility jacket for a trendy twist. Finish the outfit with a gold chain link necklace and black stud earrings.
What do you think?
Are you a fan of the camo trend? How would you wear the print? Would you wear any of the looks above? Which outfit is your favorite? Would you like to see more posts like these in the future? Let me know in a comment below!