Thanks to the overwhelmingly positive response to my last post on 3 ways to wear a gray dress, I've decided to continue with another "one piece three ways" article.
This time, I took a cue from one of the comments you guys left me, and decided to have a look at another really versatile piece: the tube top! Tube tops come in a lot of different shapes, the most common being the curve-hugging variety, which I decided to use today. I opted to go with the curve-hugging style because I think it's probably the most frequently mis-worn.
So, here it is: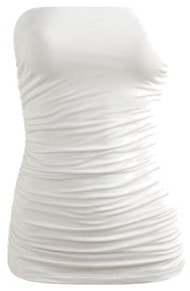 A tube top is really revealing, being as there are no sleeves, so there are two ways you can make it work proportionally: you can either cover up the top part of you with a little sweater or jacket, and then wear shorts or a mini skirt, OR you can cover up a bit more on the bottom to balance out the top.
Look 1: Work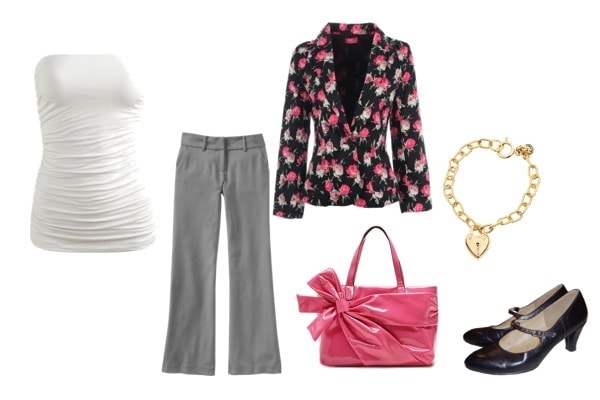 Product Info: Blazer, Pants, Bag, Bracelet, Shoes
The first look I put together is work (or interview)-appropriate. The tube top under the blazer doesn't look quite as stuffy as an oxford shirt would, and if it's really hot on your way to/from work, it'll stop you from baking in your own clothes.
I love this blazer, because it's so much fun! Florals are really popular right now, and this is a cute alternative to the floral skirt. It's an interesting piece that doesn't require much jewelry or other accessories, because it stands out on its own. I tried to match the bag I picked to the pink flowers on the blazer, but if you're not sure, it's always okay to go with a neutral colour (like black, white, or gray, in this case)!
Look 2: Daytime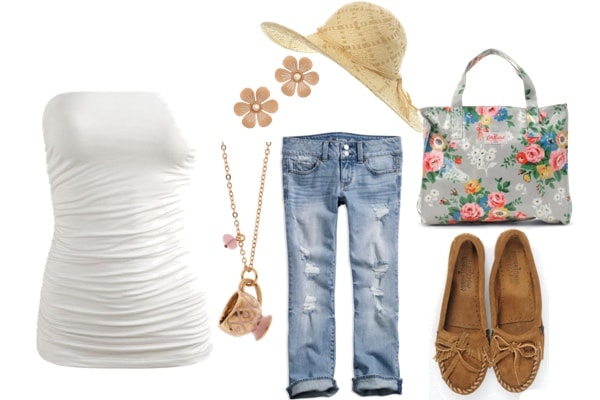 Product Info: Jeans, Earrings, Necklace, Hat, Bag, Shoes
The second look that I picked out is a more relaxed and beach-ready look. It's also my favorite!
I am kind of obsessed with moccasins right now, and because this look is meant to be both cute and comfortable, I couldn't not include them! If moccasins aren't your thing, feel free to substitute them for your favorite sandals! Because the top I picked is white, I tried to add fun and funky accessories, like the floral bag, and the tea cup necklace. For sitting in the sun, or even walking around at a festival, I love this big floppy hat! It's chic in an "I'm not trying" way. The bag is also big enough that if you were heading to the beach, you could throw your towel, sunblock and a book in and head off!
Look 3: Night Out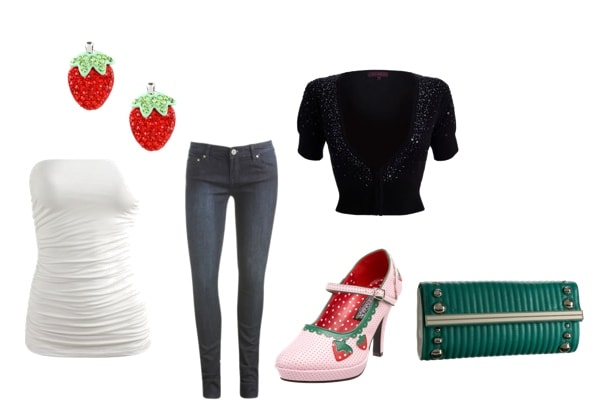 Product Info: Sweater, Jeans, Clutch, Shoes, Earrings
The third look I picked is really cute for a night out, whether you're on a date, or going to a party. Because you're not at work, it's totally okay to show off your shape in more fitted clothes!
Just a word of caution, though: make sure your jeans and your top really do fit. If both are too small, it can make for a really uncomfortable time, and a really unsightly muffin-top effect! If you're not comfortable with the skinny jeans AND fitted top, you can always substitute trouser jeans or a straight-leg pair for these. They will create an equally sleek silhouette.
As for the accessories, I feel like I went a little Katy Perry on you here… I found the shoes and ran with them! They're really fun, and I wanted the rest of the outfit to be fun too. I echoed the strawberries on the shoe in the earrings, which are just small studs, and pulled from the green trim to find the clutch.
So, what do you think?
What's your favorite way to wear a tube top? Which outfit is your favorite? Do you have any tips for rocking a tube top without looking trashy? Let me know in the comments!