This post may contain affiliate links, which means we may receive a commission if you purchase through our links. Please
read our full disclosure here
.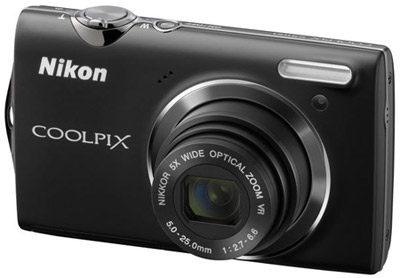 As we discussed in our recent post, 5 Things Every College Girl Needs in Her Bag – Nighttime Edition, a purse-sized digital camera is a college girl must-have. Whether you're documenting the antics at a party or snapping self-portraits of you and your BFFs (and your amazing outfits) for the Facebook album, your camera will help you record all of those priceless college memories.
So to help you document your college experience, and to promote their photo storage service, My Picturetown, Nikon is giving away a perfectly purse-sized COOLPIX S5100 digital camera to one lucky CF reader!
About My Picturetown:
Before we get to the prize, here's some more info about My Picturetown: Basically, it gives users not only a place to store and share photos, but also provides a platform they can use to create original "Photo Shows." Check it out and let us know what you think! If you like what you see, Nikon has also offered CF readers 3 free months on a Gold Membership with code FREE3MTHS.
How to Enter:
Want to win the Nikon COOLPIX camera pictured above? Here's how:
Entering is super simple. Just leave a comment on this article and share your favorite photo-worthy college moment so far. Did you throw a fabulous dress-up party with your BFFs? Jump into the campus fountain at midnight? Witness a guy on your floor riding a tricycle down the hallway while covered in shaving cream? (This actually happened at my school.) If you're not in college, just tell us one of your recent photo-worthy moments.
Make sure to put your real email address in the "Email" section of the form so we can contact you if you win.
Giveaway Rules & Eligibility:
This giveaway is open to CF readers in the US only. One entry per person will be allowed – those who try to enter more than once will have all their entries deleted and will not be eligible to win. If your entry doesn't show up right away, wait a few hours before you try again – sometimes entries are caught by our spam filter and we need to approve them manually.
You have until Wednesday, February 23rd at 10 AM Eastern to enter, at which time we'll randomly choose a winner from all eligible entries and announce their name on our Facebook page and our Twitter.
Finally, don't forget to check out Nikon's My Picturetown website and use the code FREE3MTHS for 3 months of Gold Membership. Thanks to Nikon for offering to do this, and best of luck to all of you! Can't wait to check out your entries!
Disclosure: The prize was generously provided to us by Nikon.