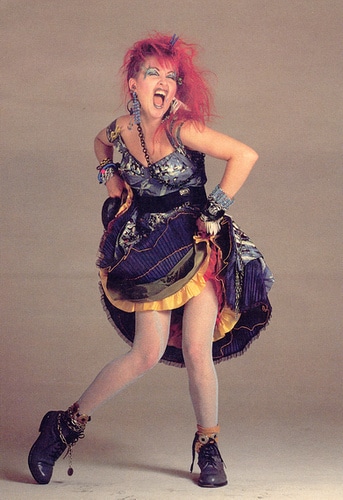 Cyndi Lauper – what would the 1980s have been without her? A lot of people call Madonna the major fashion inspiration for the 80s, but I'm putting my money on Cyndi. She embodied candy-colored, loud, obnoxious, in-your-face, punk fashion – which, while not everyone's favorite, is what fashion in the 80s was all about.
1980s-style skirts are not necessarily new: for the past few years, there have been lots of tiered skirts made of gauzy or cotton material with various patterns. But only recently has there been very good examples of well-made skirts that would have made you the most popular girl at the roller rink. Most fashion in the 1980s was about volume – oversized tee shirts, teased hair, bubble hem dresses, lots of taffeta, and, as we will see today, tiered skirts, bubble hem skirts, and long skirts.
The Tiered Skirt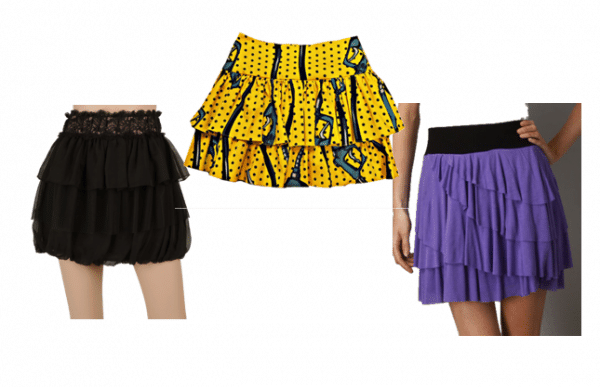 Product Information: Chiffon Ruffle Skirt, Forever 21. Jeremy Scott "Rara" Skirt, MashKULTURE Juicy. Giggle Ruffle Skirt in Purple, Lulu's.
These skirts are fun and flirty – they pair well with tights or bare legs; with flats or low heels (or Doc Martens!); and with intricate or plain tops. They are a versatile silhouette that will integrate seamlessly into your wardrobe. (It's hard to tell, but Cyndi is actually wearing a slew of different tiered skirts under her dress – fashion inspiration?)
You would have good luck finding skirts like these in shops that advertise themselves as retro shops, which usually means they feature very specific items from certain eras (usually they are heavy on the 1940s-1960s and the 1980s). To find similar skirts, look for the obvious – tiers. But also pay attention to how those tiers lie on your hips, as you don't want to add too much volume. The waist should be slightly higher than most skirts, but should not be too short for your height, so you avoid any embarrassing slip-ups, as these skirts will be a bit looser on the leg.
The Bubble Skirt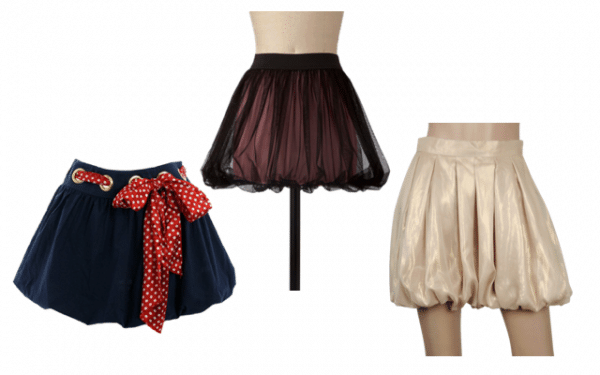 Product Information: Bubble Skirt, Missguided.co.uk. Rizzo Skirt, ModCloth. Shimmer Bubble skirt, Forever21.
These skirts are defined by the bubble effect of the hem and can be a playful piece for any wardrobe. They would pair well with stirrup tights, high heels, and a sweater for a chilly fall day on campus, but they would also look great with just a plain tank top and some fancy sandals! They can be a bit trickier to find a proper fit, but the effect is definitely worth it – they have the distinct aura of fun and fabulousity.
Bubble skirts can be difficult to find in vintage and retro stores – the bubble hem is seen more commonly on dresses. However, you can occasionally find bubble-hemmed skirts in retro shops and sometimes also in costume shops. Keep your eyes peeled for fancier pieces, as they will be the most high quality. To find the proper fit, look for a waist-line that hits high (like with tiered skirts) and make sure the skirt is not too long – it should hit around mid-calf and not much lower.
The Long Skirt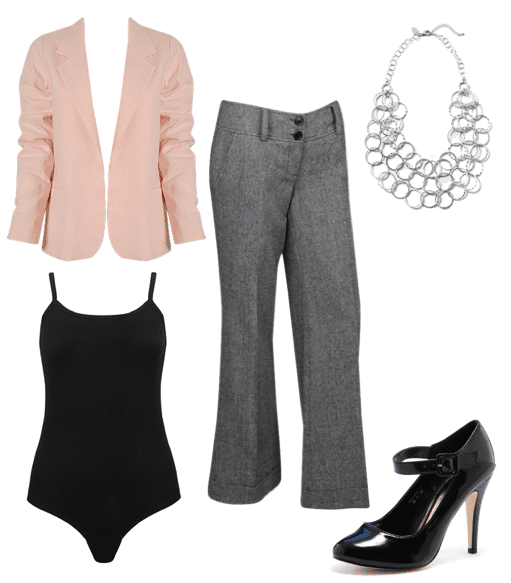 Product Information:Long Flutter Skirt, Amazon. Geoffrey Beene Skirt, Posh Girl Vintage. Straight Lace Skirt, Lulu's.
These skirts are the most common type of skirt you will find in any vintage, retro, or thrift shop. They usually hit somewhere between the bottom of the knee and mid calf – while somewhat universally unflattering, these skirts actually provide a lot of leeway for a DIY project or a tailoring job (since you can find them so cheap, you can splurge on some great tailoring). They are typically made with some type of soft, gauzy cotton that lies relatively flat on the body without being stiff.
Long skirts can be extremely good for day wear. They pair well with long sleeved shirts or sweaters, and would look great with tights and boots. These skirts are definitely not for everyone, but they can look great if the fit and length is correct.
Since these are so easy to find in vintage, retro, and thrift shops, it would be possible to go home with four or five of these skirts at a time. However, make sure to try them on and guarantee that they can be tailored if too long (if the fabric is too gauzy or stretchy, or is lace, it will be difficult to shorten.) Also, look for a waistband that lies flat (as with the Geoffrey Beene Skirt); if it looks anything like the waistband of a pair of sweatpants with a drawstring, then leave it.
Your Thoughts?
What do you think of these skirts? Would you ever wear any of them? What do you think about the 80's revival in general? Leave your thoughts in the comments section!