What college girl doesn't love shoes? Right now, I have two large bins of shoes in my dorm room and I still can't get enough!
Shoes are one of the best things to buy in vintage or thrift shops! They have a lot of personality and can be a really unique way to spice up your wardrobe. You can also find classic, stylish basics to match with just about anything. Today, I'm going to be showing you three great shoe styles with a fabulous vintage feel.
Low-Heeled Pumps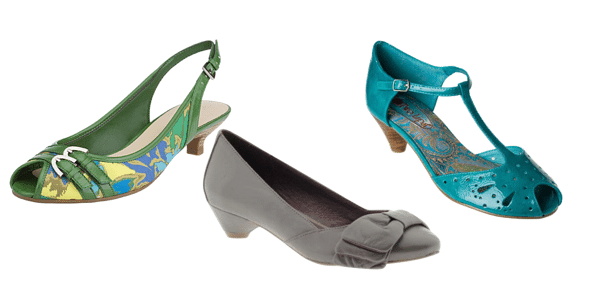 Product Information: Nine West Rookie – Zappos. Pink Studio Zadora – Piperlime. Splish Splash T-Straps – ModCloth.
Low-heeled pumps are great for day wear, because you get the benefits of heels with the versatility of flats. Certain styles recall certain decades, but otherwise, low-heeled pumps have almost always been a wardrobe staple.
These pumps are abundant in vintage and thrift stores. When purchasing, check the shoes for any damage – if it is minor, you could possibly get a discount on the shoes. If it is major (such as, the heel is coming off of the body of the shoe), assess whether you can fix it or not before purchasing.
How to Wear Low-Heeled Pumps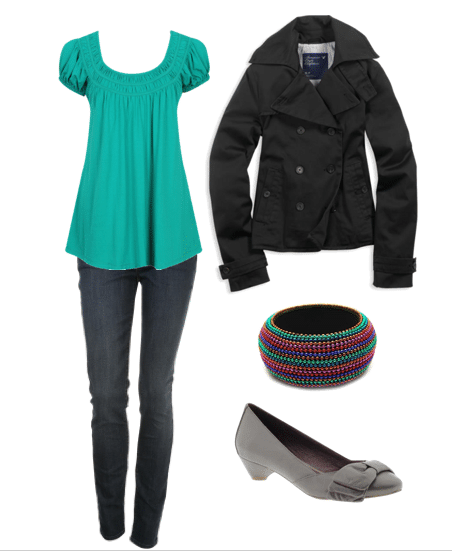 Product Information: Granite Skinny Jeans – Charlotte Russe. Sandra Knit Top – Forever 21. Light Peacoat – American Eagle Outfitters. Rayna's Chunky Beaded Bangle – Fantasy Jewelry Box.
This is a great day outfit – perfect for going to class or running around doing errands. For a date outfit, you could change into leggings and a cute dress, keeping the shoes and the bracelet. The gray pumps are neutral enough in color and design that they can be paired with just about anything.
Platform Heels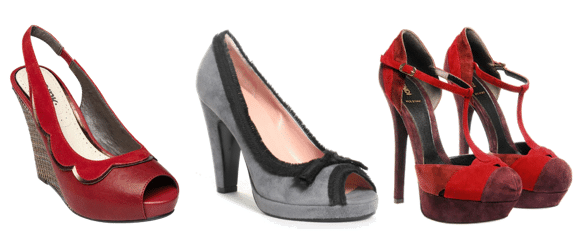 Product Information: Toulouse Lau Wedges – ModCloth. Marc by Marc Jacobs Platform – Heels.com. T-Bar Platform Shoe – Browns Fashion.
I love platforms – they are such a great shoe for evening, because they make your legs look spectacular! Platforms were THE footwear of choice in the 1970's and have remained a popular shoe style ever since.
In vintage and thrift shops, you will usually find platforms with a chunkier heel or wedge, like those on the ModCloth and Marc Jacobs shoes, rather than a stiletto heel. As with the low-heeled pumps, check for any damage. With platforms, make sure the shoes are not too small or too big – no matter how cute they are, if they're not the right size, you'll only hurt yourself in the end!
How to Wear Platforms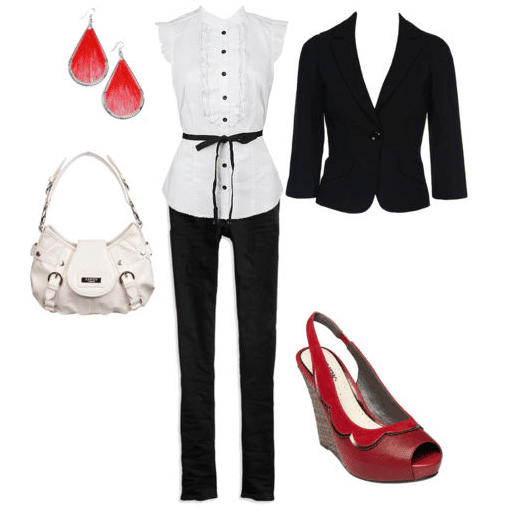 Product Information: Super Skinny Jean in Midnight Black – American Eagle Outfitters. Simple Chic One Button Blazer – Papaya Clothing. Ruffle Front Shirt – Forever 21. Lipsy Buckle Bag – Lipsy. Teardrop Dreamcatcher Earring – Torrid.
I love this look for work or an internship with a business casual dress code. You can always mix up the color scheme, change up the jewelry, or throw in a bright colored bag, especially depending on the style and color of your platforms!
"Edwardian" Heels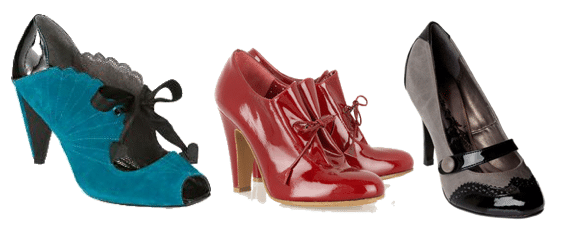 Product Information: Poetic Licence Fan Ribbon Tie Court – Oli. Moschino Leather Boots – the Outnet. High Stakes Heels in Smoke – ModCloth.
I love these shoes! I call them "Edwardian" style, but really, they just remind me of something I could imagine women wearing in the early 1900's. There is something very delicate, proper, and feminine about them.
Shoes like these are a rarity to find in vintage shops, but that doesn't mean you shouldn't look! Once and a while, you will notice something with a vaguely Oxford-esque look (like the shoe on the right) or something with a unique detail (like the shoe on the left.) Look for little details like ties, straps, and ribbons, and, as with the other shoes, make sure they fit and there is no severe damage to the shoe.
How to Wear "Edwardian" Heels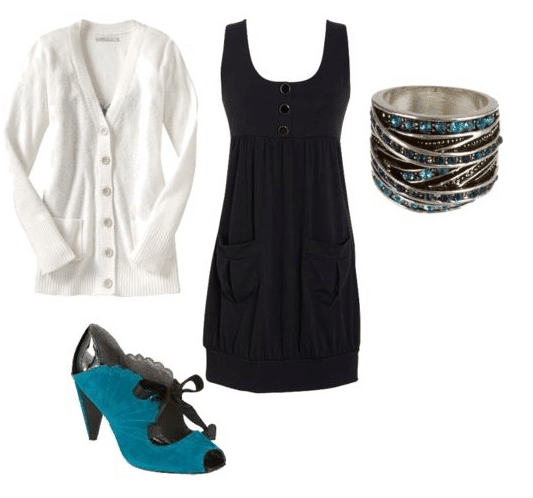 Product Information: Natalie Solid Jumper – Delias. Button-front Cardigan – Old Navy. Rhinestone Stacked Ring – Charlotte Russe.
I kept this outfit plain because the shoes are so interesting that they stand out on their own! You could definitely add tights or a different colored cardigan, as well as mix up the jewelry. This would be a great, flattering outfit for a date or a night out with the girls.
Speak Up!
What do you think of these shoes? Would you ever wear any of them and what would you wear them with? Also, do you have any ideas for future vintage-inspired fashion posts that you would like to see? Tell me what you think in the comments!