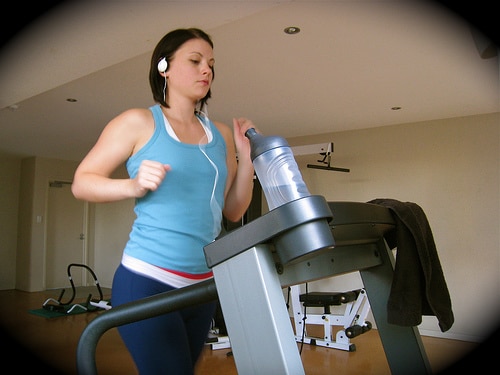 As a college student, it can be tricky to find the time to work out. Although scheduling time to exercise, making workouts fun, and hitting the gym with friends are all great strategies, I think that as fellow college fashionistas, you will agree that having some cute new athletic swag to show off at the gym is a pretty fool-proof motivator.
Here are five stylish and functional must-have additions to your workout wardrobe. As a bonus, my Top 5 picks will look cute whether you're in class or on the elliptical, so you can go from class to the gym without stopping at home to change if you're in a pinch for time.
1. Lululemon Groove Pants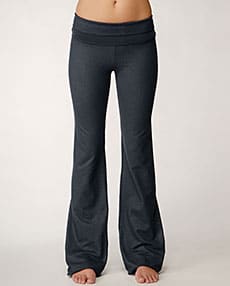 If you've never tried Lululemon pants, you must! So much chicer than your average pair of baggy sweatpants, Lululemon's Groove pants are the holy grail of stretchy pants–they're thick but not too thick, just the right length, and come in numbered sizes instead of your standard S, M, and L. If you're a tall girl, you're in luck–Lulu makes long lengths as well!
One caveat: Groove pants start at $98. But these pants will make any butt, big or small, look FAN-TAS-TIC. Plus, you'll wear the heck out of them, so the price is worth it! Groove pants are great for yoga or pilates due to their stretchy construction and movable fit, but they can also make a seamless transition to class attire in a pinch–talk about versatile.
Find a Lululemon store near you here or shop online for a huge selection and special exclusives, like the Dark Denim luon pair featured above.
2. Nike Tempo Running Shorts
Available in a plethora of fun colors, Nike's Tempo shorts are a favorite pick among female college students, athletes or otherwise. A perennial warm weather favorite, you've probably noticed girls on campus in these shorts. If you're in the market for new exercise bottoms of your own, Tempos are definitely the way to go.
Made from Nike's special Dri-Fit fabric that wicks away sweat to keep you dry, Tempo shorts feature a 3 inch inseam, built-in briefs, and mesh side panels in contrasting colors. Don't have time to change before class? Throw on a graphic T, a hoodie, and flip flops for a look that is casual and sporty.
You can find these shorts at all major sporting goods stores, including Dick's Sporting Goods, Sport's Authority, and R.E.I.. If you prefer to shop online, they're on sale for $19.99 on Nike's website right now.
3. C9 Champion Sports Bra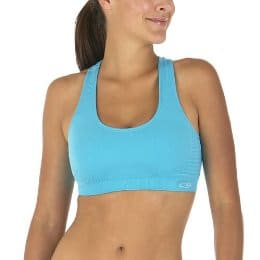 If you read my recent post on bras, you know just how important a good sports bra is for your workout! The inexpensive Champion line sold at Target makes my favorite sports bra ever. Their bras fit well, don't lose their elasticity over time, and provide great support, plus they come in super cute colors and patterns. If you have a large bust, Champion bras might not work for you, but definitely head to Target and try one on just to be sure.
At under $20, these bras are an absolute must have–in more colors than one! Get to your nearest Target store and pick one up, or check out the selection at Target.com.
4. Nike+ Shoe & Sensor System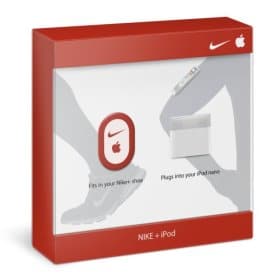 If you're looking for the latest in active shoe technology, Nike+ shoes are the way to go.
First, find your perfect shoe on the Nike site. Almost all of Nike's running shoes have the "plus" feature, you just have to purchase the additional hardware to make it work. Next, pick up the Nike + Sport Kit and you're good to go.
The Nike+ system works by using an accelerometer–a motion sensor tucked into a special compartment under your insole, and a receiver that attaches to your iPod Nano or iPhone. The sensor tracks every step you take, and with that information, calculates your distance and time. You can then track your statistics on the Nike+ website and set goals, view your progress, and compare stats with other runners.
The Nike + Sport Kit itself costs only $30, and though it's not technically a wardrobe addition, it's a great piece of technology to consider if you're a runner!
5. Under Armour HeatGear Tank Top
Under Armour's HeatGear tank tops are great in and out of the gym. They come in a variety of colors, have a comfortable compression fit, cute racerback, built in bra, and a flattering long length.
Of course, these tanks also boast some great technological features, too–the HeatGear fabric wicks away moisture to keep you cool, and the fabric has anti-microbial properties, plus an impressive 30+ SPF sun protection which will come in handy if you're taking your workouts outside.
While probably not appropriate for everyday classes, in an emergency, the HeatGear top is okay for normal wear, especially because of its long length. True story: when I locked myself out of my house this summer and needed to go to a nearby grocery store to use a phone, I was so glad I was wearing this top and a pair of shorts instead of a sports bra!
Order your own top from Amazon, or try one on in person at any Under Armour or sporting goods store.
What do you guys think?
You've seen my favorite picks for workout wear, but I want to know what YOU wear to the gym! What are your gym essentials? Do you ever wear gym clothes to class? If you do, what are your tips on staying cute and fresh? Let me (and everyone else!) know in the comments!