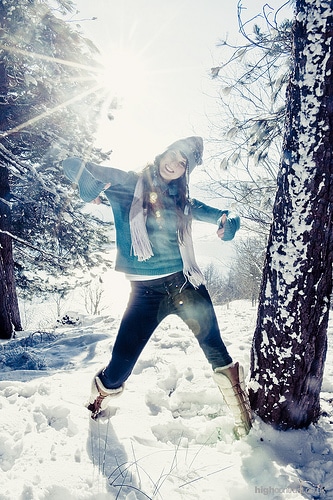 With temperatures continuing to drop and snow already on the ground Monday morning in Minnesota, I thought I would write a little something up about cold-weather gear that is absolutely essential for really cold days.
When I say really cold days, I'm not talking about your typical 40 degree temperatures. I'm talking 20° and under. With snow and ice.
I hate to break it to you angels, but unless you live in the Southern Hemisphere, it's only going to get colder. Not to worry, though: these five must-have items will keep you toasty all through our Northern winter! As always, expect to invest a bit more in quality pieces–I promise they're worth it!
Thermal Shirts:
Thermals are great pieces for layering in winter months. Their long-sleeve, insulating waffle knits lock in warmth! Wear them over tank tops, under vests or hoodies, or under your favorite tees for added heat.
Don't want to look like a little boy in long underwear? You don't have to! Brands like Primp, Juicy Couture, and even American Eagle and Target carry adorable thermals. Comfy enough to wear to bed, but cute enough to wear to class, thermals provide the best of both worlds in cold winter weather!
Pick up a few solid thermals, one with embellishments, and one with a girly print and you're all set for the season. Make sure to add cute accessories to keep your outfit from looking too utilitarian!
Hot Picks:

Product Information: Washed Thermal Knit, Forever 21. Aerie Thermal Henley Sweater, ae.com. Kew Velvet Trim Thermal Camisole, johnlewis.com. Primp Giraffe Thermal Long Sleeve, emoda.com. Audrey Lace Trim Thermal Top, Delias.
Leggings:
So I know you're probably thinking, "Um, what? Leggings are NOT warm!" And you'd be right: they're not. At least, not on their own.
However, on a really cold day, leggings function as totally cute long underwear that you can wear under your favorite jeans or pants. They work especially well under baggier/boyfriend-fit styles, and will help keep you toasty even if you're wearing a destroyed pair.
When buying leggings to wear under pants, it's a good idea to purchase the longest styles available in order to eliminate any annoying gaps of uncovered skin! Stirrup and ankle-length leggings are great choices for colder months!
Hot Picks: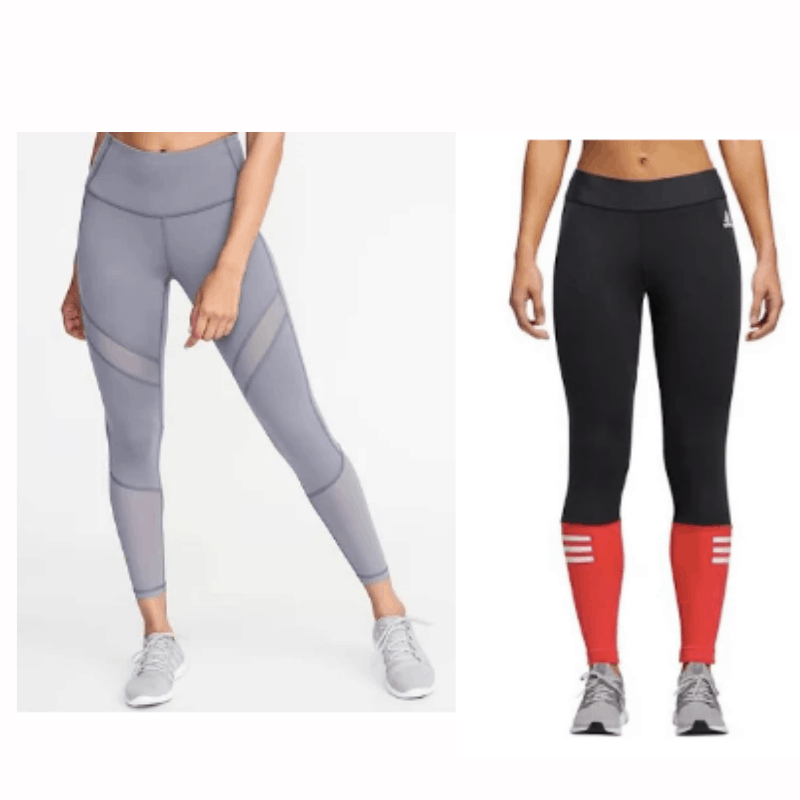 Product Information: Thermal Stirrup Leggings, Saks Fifth Avenue. Aerie Leggings, ae.com. French Connection Mexican Leggings, Bloomingdales.Grey Burn Out Leggings, missselfridge.com.
Warm Boots:
Warm boots are always nice to have for colder weather, but when snow is involved, they are a downright must. Who wants to slush through their walk to class? Not me! Personally, I prefer my toes to be warm and dry.
The obvious choice for many college girls is a pair of Ugg boots–their fur-lined boots keep toes cozy, warm, and protected from the elements. They can be a little clunky, but I'm personally a fan. Promise not to wear them with skirts or dresses in any other season and you'll be fine.
If Uggs aren't your style or you need something more heavy-duty, the company Sorel makes great boots with waterproof uppers, removable lining, and rubber traction-enhancing soles for the coldest and snowiest of winter days!
Finally, Wellington rain boots can be another great option in slushy weather–just make sure to size up so you can wear an extra pair of socks or add a boot-liner for warmth!
Hot Picks: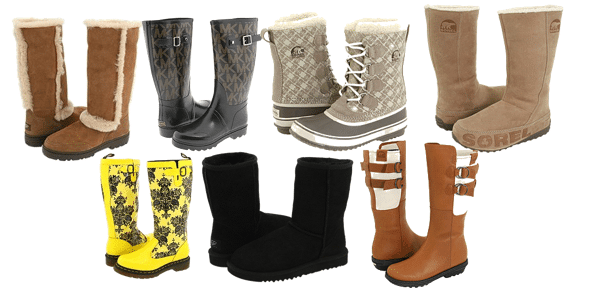 Product Information: Ugg Sundance II Boots, Zappos. MICHAEL Michael Kors MK Logo Rain Boot, Zappos. Sorel 1964 Pac, Zappos. Sorel Suka, Zappos. Dr. Martens Nellie Wellington Boots, shoebuy.com. Ugg Classic Short, Nordstrom. Sorel Hoonah, Endless.com.
Down (or Synthetic Down):
Down jackets and vests provide great insulation and protection from the elements. Editor's Note: If you're an animal lover, synthetic down is a cruelty-free option that's just as functional, too!
Down jackets can look bit puffy, but that extra insulation is just what will keep you warm! Down is a definite don't in wet weather, however, as it gets soggy and loses all of its insulating power – that's where synthetic is preferable. Look for pieces with water-resitent outer layers to stay dry!
If you find down jackets too unwieldy, try a down vest! Vests are great for layering with long shirts, or even over other jackets for particularly freezing days.
Hot Picks:

Product Information: The North Face Aconcagua Down Jacket in Knight Purple, The North Face. Esprit Fur Trim Down-Filled Belted Jacket, johnlewis.com. Nike Essential Women's Down Vest, nike.com. Premium Down Vest, UNIQLO.
Wool:
If you're looking to stay really warm this winter, wool clothing is a great option. From jackets to skirts to socks to scarves, wool picks are easy to find and provide great insulation. Unlike cotton or down, breathable wool has the ability to keep you warm when wet.
Worried about the itchiness? Try Merino wool–a finer-fiber variety made from the Merino Sheep–to get wool's warming benefits without the scratchiness. Wool is incredibly durable and will keep you warm in the coldest weather due to its thick knits. If you don't want to splurge on a 100% wool jacket, try wool socks, scarves, and hats for a similar effect. Wool's great texture will look fabulous against any outfit!
Editor's Note: Again, if you're an animal lover, there are great cruelty-free wool alternatives out there, too. A few examples include cotton flannel, polyester fleece, synthetic shearling, and Tencel— a breathable, durable, and biodegradable wool substitute. There are tons of options out there, so shop around!
Hot Picks:

Product Information: Fringed Wool Scarf, Gap.com. Miriam Sweater, Abercrombie and Fitch. Juicy Couture Button Detail Wool-Blend Gloves, Nordstrom. Smart Wool Cable Socks, REI. Logan Solid Wool Peacoat, Delias.
What do you think?
What do you think? What are your cold-weather staples, girls? How do you stay warm (and cute!) in Winter?! Let us know with your comments!