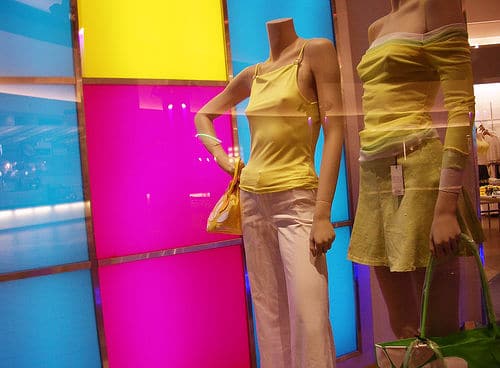 Inspired by Noel's fabulous post on her Hermes sample sale scarves, I thought I would let all of you girls in on five great stores where you can get awesome clothes way below their usual prices!
With these stores, even if you don't live in NY, you can still get sample sale prices! The shops I picked are all national chains, but I'm sure you all know of amazing thrift/resale stores in your neighborhoods and online, too, so definitely share them in the comment section! I'm interested to know where you guys do your shopping.
If you're looking to make a big purchase or just want to treat yourself and update your wardrobe with something special, try one of these five stores for chic clothes on the cheap!
5. Plato's Closet:
While finding high-end, designer pieces at Plato's can be pretty hit or miss, this is a great store to pick up cute brand-name basics from mall stores at cheap prices.
Plato's buys and sells gently used, current in-style teen clothing at a fraction of their going prices. Expect to find items well under $40 from Bebe, Gap, American Eagle, J.Crew, the A&F brands, Express and Forever 21. Also, make sure to search for the occasional pair of designer jeans, Juicy Couture track suits, and designer once-worn dresses donated after homecoming or prom!
Find a list of Plato's Closet locations near you here.
4. Marshall's & TJ Maxx:
While both these stores require digging to get to their designer gold, they're great places to go for new designer purses, sunglasses, and clothing. Case in point: I've gotten Coach shoes for $39, Michael Kors sunglasses for $15, J.Brand jeans for $60, and Cole Haan bags for $100 at these two stores, owned by the same company.
Shopping Marshall's and TJ Maxx can definitely be overwhelming, so it's a good idea to go with an idea of what you want and how much you're willing to spend. Skip the cheesy "teen" sections of the stores that are full of unexciting pieces and go straight for the women's, shoe, and purse sections to search for the best stuff.
TJ Maxx locations with Runway departments are the best–there you'll find a selection of very high end pieces for hundreds, even thousands of dollars off. They're definitely worth checking out and saving those dollars for! You never know when you'll find a marked-down Balenciaga bag or Missoni dress The Runway!
Search for stores near you at TJMaxx.com and Marshalls.com.
3. Premium Outlet Malls:
For a fun girl's day out and endless variety, premium outlet malls are the way to go!
With premium outlet malls, you'll get to choose between typical mall brands and if you're lucky, you'll be treated to big-name outlet stores of BCBG, Coach, Burberry, Betsey Johnson, Kate Spade, and Versace, just to name a few. While prices will still be considerable, there is definitely something good to be said about driving for hours, having lunch at a cafe with the girls, and finding an amazing Gucci wallet or Burberry scarf for 50% off.
Premium outlet malls aren't just for casual purchases–they're all out shopping events! For a list of outlets near you, or to find outlet stores by brand, check out Outlet Bound.
2. Nordstrom Rack:
If you love Nordstrom but aren't in love with their prices, Nordstrom Rack is the perfect option to get the same great style while saving some money. Stocked with everything a traditional Nordstrom store has, The Rack has everything from shoes to lingerie, plus fun seasonal favorites like summer bikinis and winter outerwear.
Though you'll have to search for the best deals and your favorite brands, there never seems to be a shortage of 7 For All Mankind, Free People, True Religion, Juicy Couture, or Matty M, at least at my favorite Rack. My favorite departments include samples from Savvy and t.b.d., as well as the extensive shoe selection! You'll be able to find pieces that are trendy and current and classy investment items here on a good day!
A final perk? If you're lucky enough to have a Nordstrom gift card, it also works at The Rack, so you can buy even more great stuff than you would have at the original store. Find your locations here!
1. Saks Off 5th:
A final favorite for Chic on the Cheap is undoubtedly Saks Off 5th. It's the best of both worlds–an upscale shopping experience coupled with bargain prices!
Off 5th outlets feature a wide variety of brands and incredible selection. You'll find great clothing, accessories, and shoes here for at least 40% off retail, plus save additional percentages with ongoing promotions and store coupons. Off 5th stores are also known to host glitzy private shopping events for Saks cardholders and e-mail subscribers, so look out for invite-only sample sales if you're a frequent shopper.
Saks off 5th is also a great place to look for things you loved last season marked way down. Missed purchasing Primp thermals, denim cut offs, wellington boots, or liquid leggings? Look no further than Off 5th for amazing selection!
Find your nearest Off 5th here.
Your thoughts?
Where do you girls go if you want to shop designer but stick to your budget? Do you have favorite thrift stores, outlets, or resale shops to share? Most importantly, what's the best designer deal you've ever gotten?! Let everyone know with your comments!