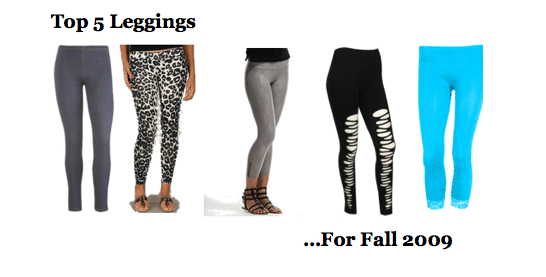 Because of their wearability, leggings have remained a staple in many girls' wardrobes for numerous seasons. They're easy to pull on, look cute, and are perfect pieces for layering.
This fall, our favorite basics are getting a major style upgrade. If you're looking for an inexpensive way to spice up your back to school shopping bag, look no further than these five legging trends!
Denim Leggings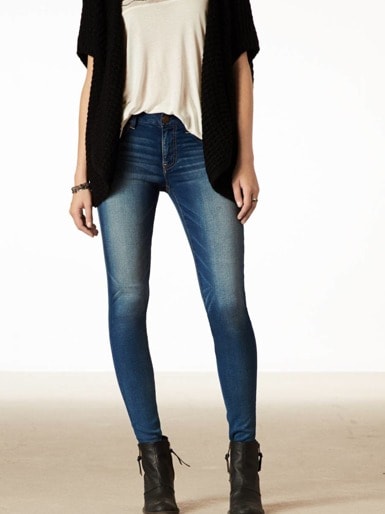 Product Information: Brett Super Skinny Legging Jean – Abercrombie & Fitch, Juicy Couture Fashion Denim Legging – Bloomingdales, Silence & Noise Pull-On Jean – Urban Outfitters, Faux Denim Leggings – Wet Seal
After being embraced by some of our favorite celebrities, denim leggings, aka "jeggings," seem to be the hottest trend of the moment. Like traditional jeans, they come in many different washes from almost black, to super faded, and even acid wash.
When picking a denim legging, it's important to consider what you will wear with your pair. If you pick a simple, tight style without accents or buttons, it's best to wear a longer shirt over them, just as you might with traditional leggings. The newest denim leggings however, are styled exactly like jeans: buttons, pockets, and all, and can be worn as such! A good pair of jean-style denim leggings will be a godsend during finals week, and essential for lazy days!
Printed Leggings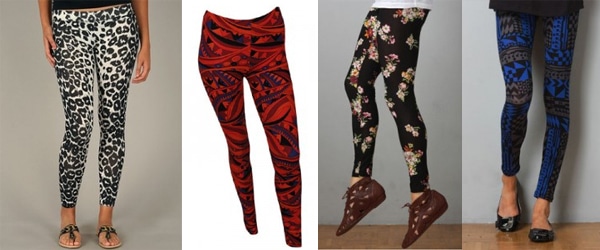 Product Information: Leopard Print Leggings – Go Jane, Groovy Tulip Leggings – Forever 21, Garden Delight Leggings – Lulu's, Boombastic Leggings – Lulu's
Printed leggings are another hot trend for fall. It's easy to find leggings with floral patterns, stripes, animal print, and abstract designs at many retailers, online and in stores.
Large patterns and prints can be hard to wear, so if you're looking to try this trend it's super nice that there are plenty of inexpensive options to pick from. When you wear printed leggings, keep the rest of your look simple to avoid clutter and highlight their cuteness! These Lulu's Garden Delight leggings would look adorable under a flowy black dress and black leather jacket.
Accent Leggings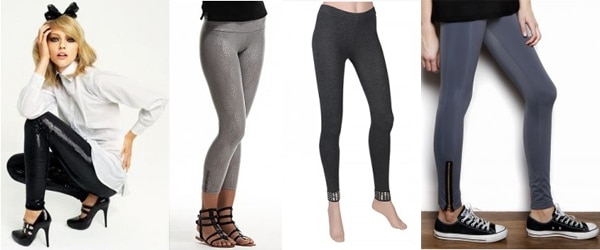 Product Information: All-Over Sequin Leggings – H&M, Free People Metalic Faux Croc Leggings with Ankle Snaps – Bloomingdales, Jewel Trim Leggings – Forever 21, Zipper Leggings – LnA at ShopBop
Whether it's zipper detail, studs, or sequins, accented pieces are a huge trend for fall. The classic legging sillohuette is made fresh and interesting with unusual accents and embellishments. Try a pair with basic flats and a princess top and you're good to go for your next big event. These leggings are made to be seen!
Cut-Out Leggings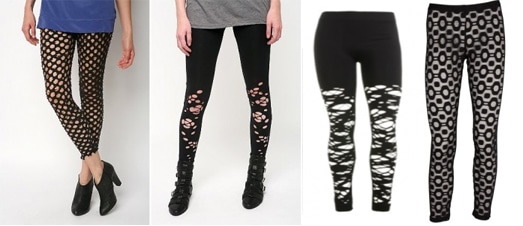 Product Information: Evil Genius Holey Leggings – Urban Outfitters, Silence & Noise Floral Laser Cut Leggings – Urban Outfitters, Seamless Rip Leggings – Wet Seal, Geometric Lace Leggings – Charlotte Russe
Zephyr wrote a Would You Wear post on cut-out leggings back in May, and the response to them was mixed. If any of you are itching to try cut-outs, there's no better time than fall 09!
Cut-out leggings come in a bunch of different varieties from completely shredded to lace to fishnet style, and because of this, can be worn in many different ways. Arguably the most wearable, however, are the no-nonsense shredded leggings that only expose a bit of skin like the ones from Wet Seal and Urban Outfitters above. Cut-out leggings provide a daring, bad-girl look for parties and nights out; just make sure to pair them with a more conservative top and shoes to keep the outfit from looking trashy!
Colorful Leggings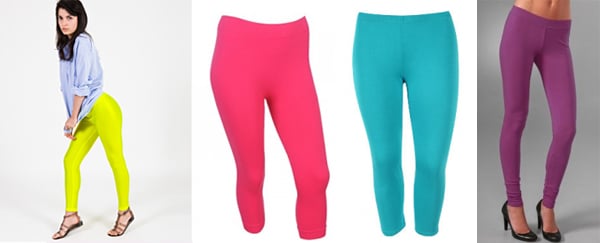 Product Information: Nylon Tricot Leggings – American Apparel, Stretch Basic Leggings – Forever 21, Solid Color Legging in Aqua – Go Jane, Marc by Marc Jacobs Solid Leggings – ShopBop
Like the colored denim trend, bright leggings are a great way to spice up your wardrobe. It's also a great way to try out the color fad on the cheap, since a pair of teal leggings almost always cost significantly less than jeans. Plus, if you decide you don't love the brights, you'll still have some super comfy and cute new leggings to lounge around in!
Bright leggings can be worn in the style of pants with big t-shirts, sweat shirts, or tunics, but also look adorable under dresses in place of opaque tights. Single-color leggings are perfect for pairing with a summer sundress, even into fall!
What do you think?
So, what do you all think? Are you going to try these or any other legging trends for fall? Which trend is your favorite? Let us know in the comments!