This post may contain affiliate links, which means we may receive a commission if you purchase through our links. Please
read our full disclosure here
.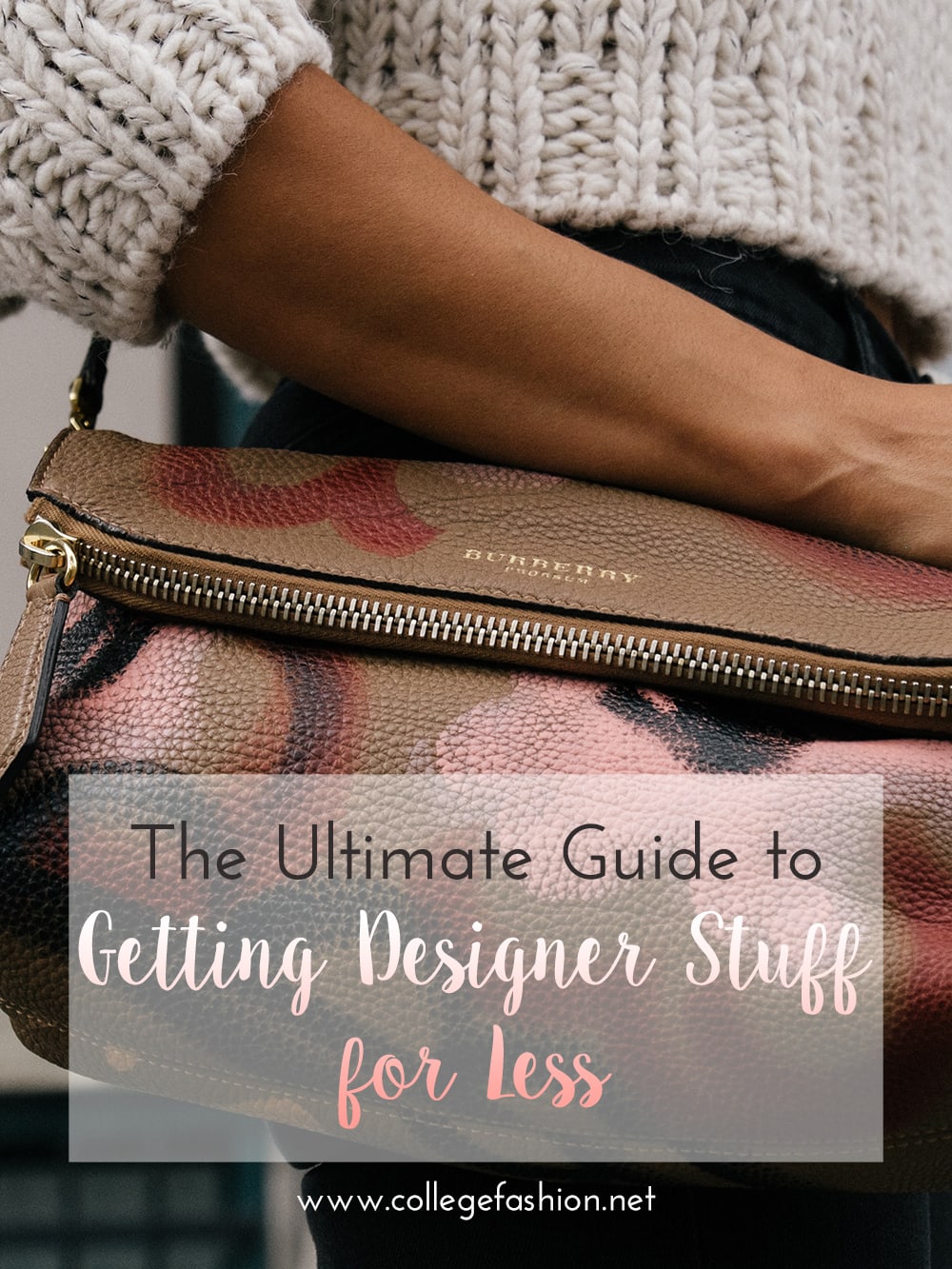 "OMG, it's DESIGNER!" sounds like a line out of the mouth of Cher Horowitz, Regina George, or Elle Woods pre-Harvard. But liking high-fashion stuff doesn't make you shallow or snooty — even us gals who love shopping at Target have to admit there's something about the feeling of wearing a piece of sartorial art.
The thing about designer fashion for college girls is that it's not very accessible — but it may be more so than you think. You don't have to bring your no-limit credit card to Barney's to get your hands on luxe fashion goodies.
To help you out, I've written up a guide on how to get designer stuff for less so you can get maximum luxury without maxing out your credit card. (And for more ideas, check out this vintage CF article!).
1. Know where to look (and when).
These days, there are plenty of stores, physical and virtual, made for stylish ladies on a budget.
Nordstrom Rack, TJ Maxx (TJ Maxx Runway stores in particular), and Neiman Marcus Last Call have jaw-dropping discounts on all your favorite brands. I'm talking Rag & Bone blazers, Kate Spade bags, Alice and Olivia dresses, and Tommy Hilfiger boots at up to half off. Online only, Net-a-Porter's outlet The Outnet has deals just as amazing with an even better selection.
If there's a particular piece you're not seeing in outlet stores but are totally lusting after, wait until the end of each season when sales happen. There's a chance it will be sold out (especially if you're in the middle range of sizes) but there's also a chance that it'll now have a hundred bucks shaved off the price.
My best advice: write down the exact name of the style on the brand's site, then scour the internet for it at the end of the season.
2. Diffusion lines and collabs are your friend.
Designers themselves want to see more people wearing their clothes. That's why so many have been doing collaborations with more affordable stores like H&M, Kohl's, and Target. Designer collaborations are a great way to get your hands on a piece by your favorite brand (as long as it doesn't sell out as fast as Balmain for H&M).
But you don't just have to wait for temporary collaborations. Many popular brands do "diffusion," or lower-priced lines that are just as if not more popular than their main collection (here's looking at you, MICHAEL Michael Kors), or long-term lines at affordable stores like JCPenney. Here are some to check out:
3. Go animal-friendly.
I always advocate shopping animal-friendly (which means not buying things made from animal byproducts such as fur, leather, or silk) and yet another reason to go veg is that it's good for your budget.
Even though the majority of designer accessories are leather and many designer dresses are silk, the rare ones that aren't will probably be a couple hundred dollars cheaper than the ones that are. Look out for the occasional Kate Spade PVC wallet (like the one below!) or fabric clutch, Furla's all-jelly Candy bag, or rubber sandals by your fave designer.
4. Luxe up your everyday essentials.
Snag something little by your favorite designer that you'll use every day, like a wallet, key ring, ID holder, or phone case. It may be a little more pricey than other versions, but it will be worth it since you'll use it for years and smile whenever you pull it out of your tote.
5. Think beyond Chanel.
In 2015, when I say "designer," I don't just mean the ever elusive Chanel, Dior, Gucci, Lanvin and the like. There are a huge range of brands, from luxury houses like Louis Vuitton to everyday cool labels like Current/Elliot that bring design to the masses. And some chic labels are actually pretty affordable.
For example, Betsey Johnson and Steve Madden are names everyone knows, and most of their stuff is under $200. Sam Edelman makes clothes that are often more affordable than his shoes. And there are all sorts of cool-girl labels in the $60-$300 range, like Wildfox, Free People, Minkpink, Rails, and J.O.A.
In the past, a big part of the appeal of designer duds was getting the look of a celeb. But these days, you're just as likely to see stars wearing H&M as you are to see them in Herve Leger.
6. Second time's the charm.
Of course, you don't have to get your designer stuff new. Vintage and consignment stores are awesome for finding one-of-a-kind items for less than their original price.
And you can always share and borrow with friends, or even strangers– Rent the Runway has more than just fancy dresses and jewelry. You can now rent casual clothes from all the brands you lust after.
Finally, remember that whether you're wearing Kmart or Kenzo, what matters is that you wear it confidently and feel amazing in it.
What do you think?
How do you score designer duds on a budget? What labels do you lust after the most? Did you find these tips helpful? Let me know in the comments!